Embracing the Other in the Adirondacks
Jackie Bowen - Adirondack Council Conservation Fellow
Tuesday, November 13, 2018

I can still feel the deep longing I had last spring to be out hiking in the mountains, unencumbered by cold-weather gear, after what felt like a never-ending winter. The receding of the cold weather and arrival of spring seemed to be moving at a snail's pace as I anxiously awaited that final transition into summer. Then, it was here, in all its recreational glory!
As summer progressed, all those warm-weather obligations seemed to commandeer what was supposed to be my hiking time! Weddings, family gatherings, work, on and on. I would often pass by the High Peaks on my way to work meetings in Lake Placid, which took me by Cascade Mountain trailhead. There, Route 73 was consistently encased by endless lines of cars on either side of the road, full of hikers headed up the mountain. I felt that intense longing to be out hiking a High Peak begin to weaken…considerably. This first-hand experience combined with the Council's engagement on overuse caused me to truly reflect on how I interact with and recreate in the Park.
It felt like I achieved another level of my slow-moving personal paradigm shift because I didn't climb a single High Peak this summer.
Having grown up hiking in the 'Dacks nearly every summer since childhood, it felt like an achievement to choose something different. While not a 46'er, I have hiked around a 1/3 of the peaks with multiple repeats mixed in there. Seeing the destruction first-hand and having a more in-depth understanding of the issue compared to most, I found myself consciously and subconsciously deterred from wanting to hit the trails during their busiest times of the year.
While my heart lamented not seeing the epic views from Adirondack mountaintops, I found myself embracing a different, and quieter, connection to the Park. Rather than waking up at five in the morning to head to the trail to beat the masses, I opted to sleep in and explore the new and unfamiliar. I lounged in rivers and I hiked smaller, less vertical trails where the beauty laid in the journey and not the view at the top. It was a shift to embracing the slower side of summer and the Park. It was glorious. But that's not to say I didn't enjoy other sweat-inducing recreational opportunities the Adirondacks have to offer…
In the beginning of summer, I had decided to invest in a mountain bike. It was a sport I was interested in and knowing the summits would be filled for the next four months, I thought a mountain bike offered a win-win opportunity for the Park and me.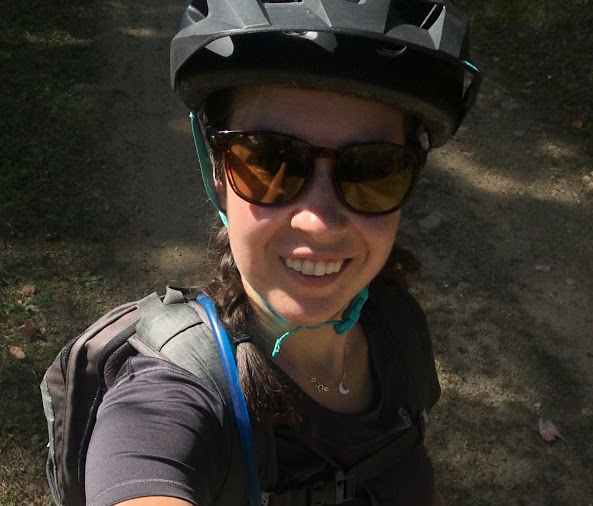 Being new to mountain biking, my first several outings were slow. It started with a few rides on the dirt, back roads of Essex County so my brain could acclimate to what felt like a complex gear-shifting scheme compared to my simple bike growing up. Then, I progressed to old logging roads at Boreas Ponds, Split Rock Wild Forest and Essex Chain of Lakes. Side-note, biking at Essex Chain of Lakes was awesome. It provided me with a beautiful, quiet and serene experience where I could push my thoughts away, listen to the birds and smell everything, all without seeing another recreator (minus some of the vehicles passing through) – heavenly.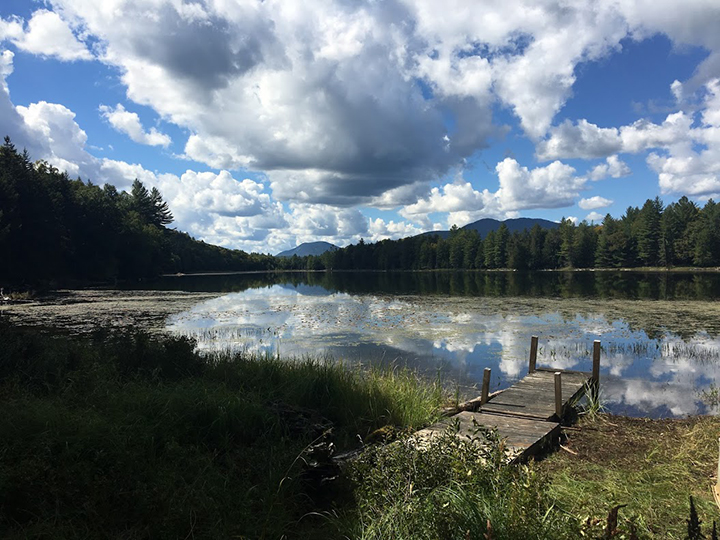 Essex Chain of Lakes
Once I had the gear basics down, I then embraced actual mountain biking at Ausable Chasm. It was technical, thrilling and sweaty; it was my new mountain. It encouraged me to be acutely aware of trail grade, width and obstacles to ensure efficient and practical navigation of the trails. It helped me be more organic and fluid in my movements to flow easily down hills and over rocks. And, it has helped connect me with a new community of women riders. What started as an opportunity to be less of a contributor to overuse emerged as an opportunity to learn something fun and thrilling while getting to meet new people.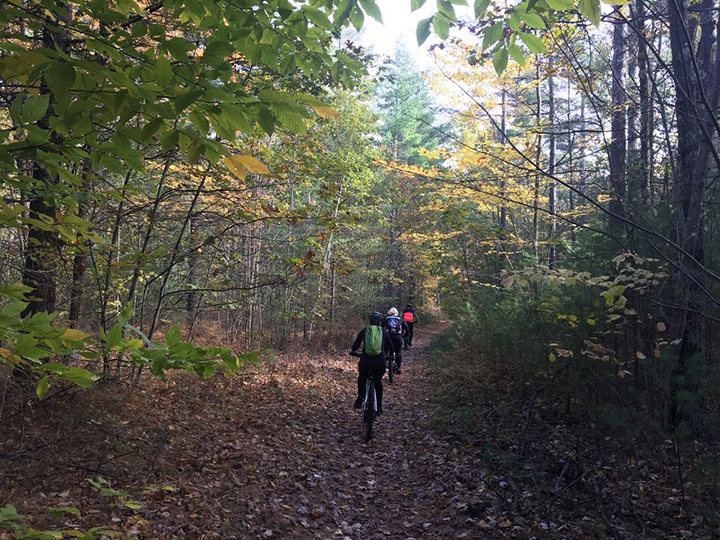 As fall (and biking season) come to an end, I find myself invigorated by this newly discovered 'other' connection I have forged with the Adirondacks. It was something I had not anticipated but allowed myself to be open to, and I am already excited about the new parts of the Park I will discover next year.
I share this perspective to remind us all that we benefit from being open to embracing the other opportunities (and places) the Park has to offer, particularly as we see some of our mountain-scapes increasingly impacted by people and overuse.
As Meg Desmond, one of our Conservation interns this past summer, pondered in her own blog post: "The 46 High Peaks are an excellent example of a specific and attainable goal that can be achieved one step, or peak, at a time. Truly, any hike can serve to create a tangible objective. However, when the success of a personal goal is confronted with a potential negative impact on natural resources, we must consider the consequences of our actions."
Looking to a new type of recreation in addition to hiking less-used hiking trails is something I would urge more Adirondack lovers and recreators to consider.
If you need a little inspiration...
8 Great Underrated Adirondack Hikes
Family Friendly Hikes in the Adirondacks
10 Must-See Spots in the Adirondacks (That Aren't Above 4,000 ft)
How will you re-define your relationship to the Park? What new ways can you recreate in, enjoy or connect to the Adirondacks to help preserve our natural resources and wild experiences?
---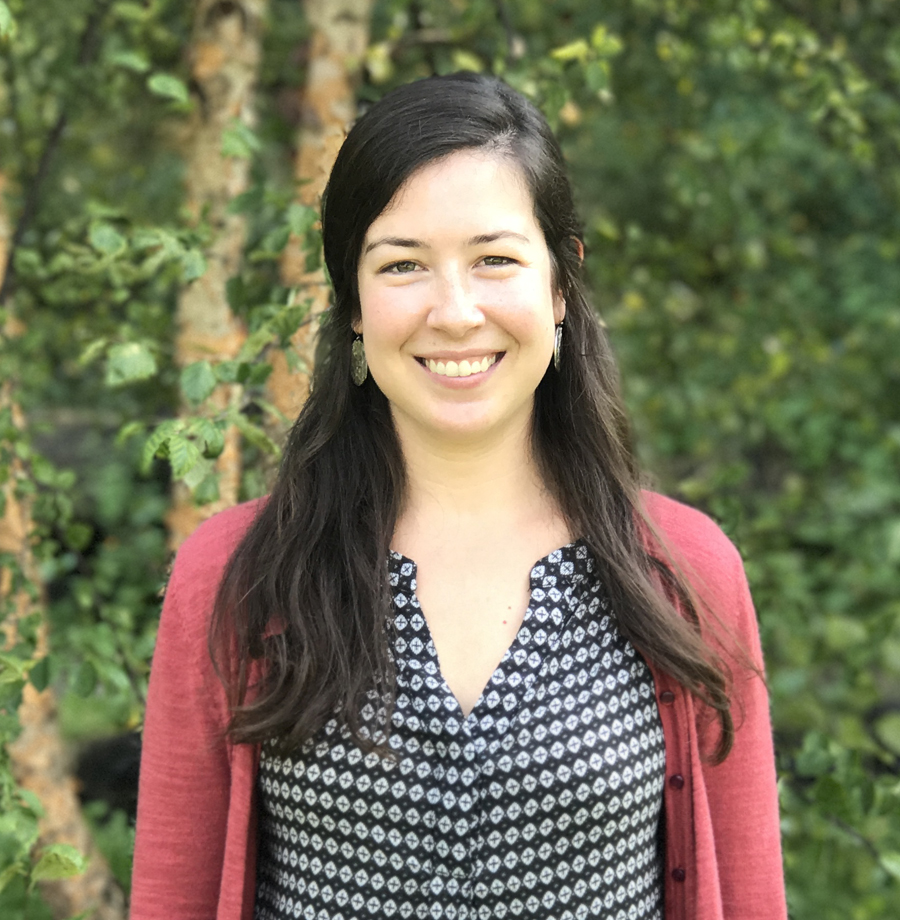 Jackie is the Council's Conservation Fellow. She has a Master's Degree in Environmental Law and Policy, with a certificate in Land Use Law, from Vermont Law School. During this program she interned in Washington, D.C. at American Rivers where she worked with the Government Relations team to track legislation, identify federal funding sources and research tribal water rights.

As a native of nearby Plattsburgh, Jackie grew up hiking, swimming, cross-country skiing, and camping in the Adirondacks. To her, the 'Dacks represent restorative and spiritual beauty and the intersectional balance between human and natural life.