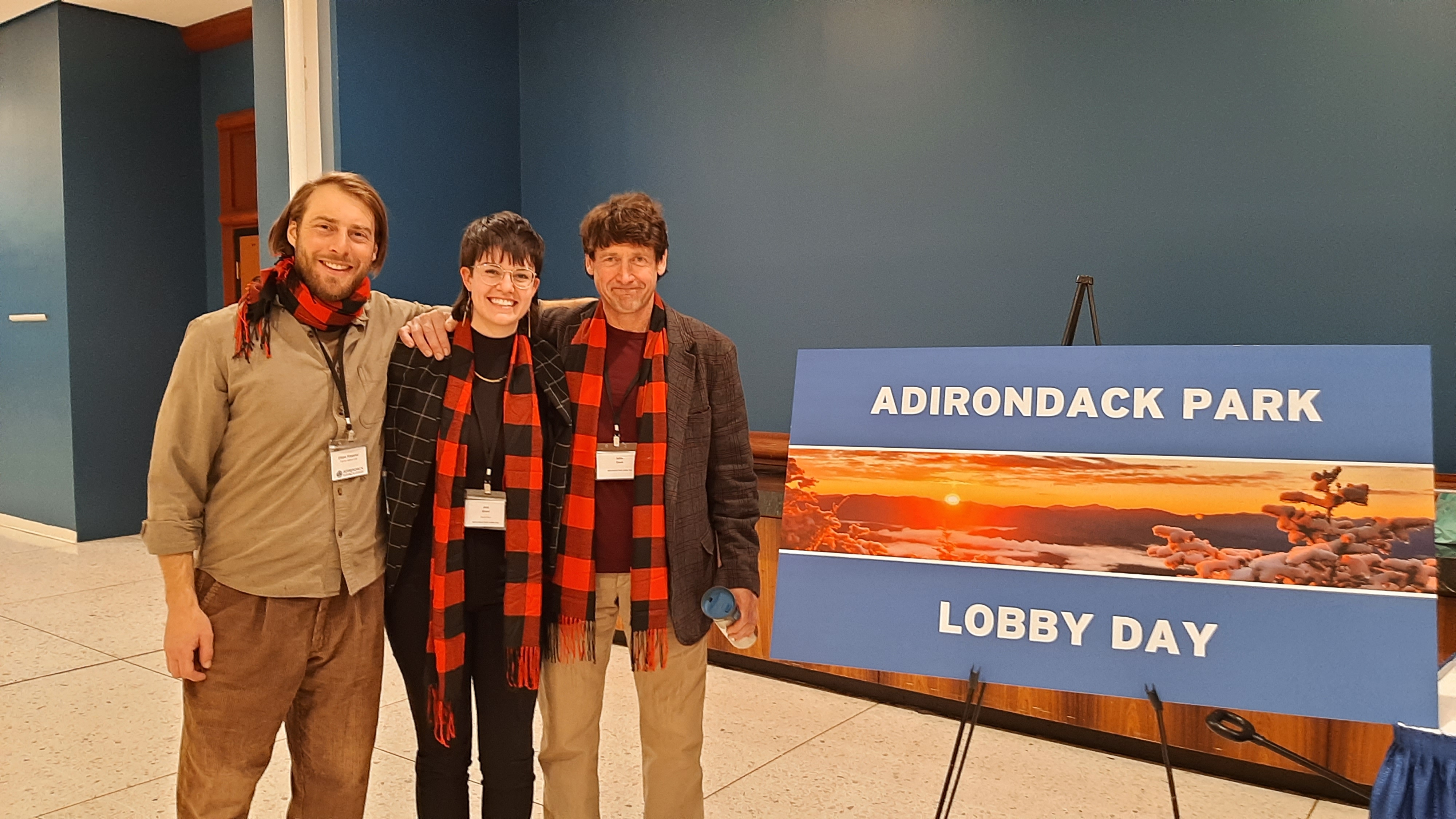 Staff
Raul J. Aguirre, Executive Director

After a brief sabbatical, Rocci returned to the Adirondack Council as the Deputy Director in October 2021. Prior to his current role, he served as the Council's Director of Conservation for eight years. As Deputy Director, Rocci brings over 27 years of conservation experience to the position, as well as a deep love and commitment to the mountains, wildlands, and people of the Adirondacks. His past conservation work includes working as a wilderness ranger and firefighter with the National Park Service and U.S. Forest Service, field staff for Trout Unlimited, and overseeing land protection efforts in NY and NH. Rocci is an avid hunter, fly fisherman, and sportsman who enjoys skiing, hiking, paddling, and exploring the entire North Country with his wife, Emily.

Jackie Bowen, Director of Conservation

Jackie joined the Council in 2017 as the Grant Conservation Fellow and is now the Director of Conservation. Jackie leads the Council's engagement on climate change policies and issues for the Adirondacks, monitors regional land use and natural resource policies and projects, coordinates research efforts, and manages the Clarence Petty Internship program. She holds a Master's of Environmental Law and Policy from Vermont Law School. Jackie appreciates the natural, recreational and spiritual qualities of the Adirondacks. She particularly loves hiking, finding a good swimming hole, and cross-country skiing.

Elaine Burke, Director of Operations

Elaine joined the Adirondack Council staff in 1988. As Director of Operations, she is responsible for managing the daily finances, human resources, and office systems that support the Council's operations to achieve its mission. Growing up in the Champlain Valley provides a great appreciation for the Council's work and a love for the Adirondacks. She enjoys the outdoors and spends time fishing on Lake Champlain. She likes exploring different areas of the Park to experience the distinct differences that make the Park as a whole unique.

Kevin Chlad, Director of Government Relations

Kevin joined the Adirondack Council staff in 2011. He leads the Council's Albany-based Government Relations team, building coalitions and lobbying government officials to improve protection and grow funding for the Adirondack Park. In his spare time, Kevin enjoys the wild places of the Park with his wife and children.

John Davis, Rewilding Advocate

John returned to the Adirondack Council staff in 2021. He is now the Rewilding Advocate for the Council and also the Director of The Rewilding Institute. In these complementary positions, he promotes the protection and restoration of wilderness and wildlife throughout Adirondack Park and beyond. In recent years, John has also worked as a land steward with Adirondack Land Trust, Eddy Foundation, and Northeast Wilderness Trust, especially in Split Rock Wildway – a wildlife corridor linking Lake Champlain with the High Peaks. John often explores wild places, by hiking, paddling, and cross-country skiing. His long conservation treks are described in his book Big, Wild, and Connected: Scouting an Eastern Wildway from Florida to Quebec and in the TrekWest film Born to Rewild. John lives with his wife Denise Wilson-Davis in Essex, NY.

J.A. Tyler Frakes, Membership Director

Tyler joined the Adirondack Council staff in 2007. He keeps the Adirondack Council's members and supporters informed, working with program staff to create letters and publications covering Adirondack conservation topics of interest and importance. A North Country native from Port Kent, NY, Tyler can be found enjoying the beauty of the Adirondacks and Champlain Valley in his free time. He is an avid gardener, hiker, fisherman, golfer, and sailor.

Lisa M. Genier, Program Analyst

Lisa grew up in Mineville in the Adirondacks and joined the Council in 1992 working as its Legislative Associate in the Albany office. She played a role in the creation of the Environmental Protection Fund, which is used to fund land purchases and environmental programs in the Adirondacks and around the state. Lisa now works part-time as Program Analyst writing action alerts, managing the Council's website, and serving in a consultative role on legislative and other issues. Lisa is a member of the Department of Environmental Conservation's Accessibility Advisory Committee that works to make the Forest Preserve more accessible for people with disabilities. In her free time, Lisa enjoys listening to music, spending time with family and friends, enjoying her family camp in the Adirondacks.

Nicholle Gotham, Assistant Director of Development

Nicholle joined the Adirondack Council in 2022 as the Assistant Director of Development. As a North Country native, she spent her childhood exploring the Adirondacks with her family. Upon her graduation from St. Lawrence University, Nicholle served as an AmeriCorps VISTA with the Center for Nonprofits and Philanthropy at Texas A&M University. Her previous experiences include work in higher education development and at North Country Public Radio. She is deeply passionate about philanthropy and supporting her local community and looks forward to building upon these interests through her work with the Council. Outside the office, you can find Nicholle venturing off in the Park either running, climbing, hiking, or in pursuit of the best swimming hole.

Jessica Grant, Conservation Associate

Jess joined the Adirondack Council team in 2021 and is now the Conservation Associate. Originally from rural Alaska and Oregon, Jess pursued a Bachelor of Science in Conservation Biology at ESF to protect all of the wildlands, waterways, and working farms and forests she calls home. She previously interned at the New York State Senate and then with the Adirondack Land Trust, solidifying her passions of environmental policy and conservation communications. The Adirondack Park is a sacred place to her, and she is dedicated to supporting efforts to protect these spaces. Outside of the office, Jess enjoys making new friends on the trail, foraging for fungi, and whitewater kayaking.

Jess Kelley, Donor Database Manager

Jess is a native of Keene, NY. Upon graduation from Keuka College, she began her career as a high school biology teacher. After earning a master's degree in Cell and Molecular Biology from the Illinois Institute of Technology, Jess worked as a Stem Cell Biologist for a Fortune 500 company. As an 8th generation ADKer, she returned to her beloved Adirondacks with her husband and son to be closer to her extended family and friends. In her spare time, she enjoys camping, fishing, singing, and making custom jewelry. She's thrilled to be a part of the team at the Adirondack Council working with colleagues who share her passion for protecting the wildlands of the Adirondacks.

Dillon Klepetar, Farm Advocate

Dillon joined the Adirondack Council staff in September 2021. As the Farm Advocate, he serves as the project leader for the Essex Farm Institute, which collaborates with farmers to pursue sustainable projects on working lands. He also monitors and advocates for agricultural policies that promote the ecological integrity of the Park at the state and local levels. After studying public policy and working in the transportation and conservation nonprofit sectors, Dillon spent the past 10 years working on sustainability on his own farm. Growing up in the southern Adirondacks and his farm stewardship experience provide Dillon a passion for wildlands and an appreciation for sound land management. He enjoys farming (obviously), fly fishing for native Brookies, bow hunting, and making biodiesel.

Justin Levine, Communications Associate

Justin joined the Council staff in 2021 as the Communications and Outreach Assistant. He previously worked as a regional marketing manager for the Regional Office of Sustainable Tourism and was an award-winning journalist and photographer for the Adirondack Daily Enterprise and Lake Placid News. Since graduating from Paul Smith's College in 2004, Justin has worked in the environmental field in various roles in both the Adirondacks and Florida. When not working, Justin loves spending time with his family, running, and doing all the outdoor things the Park has to offer.


Aaron Mair, "Forever Adirondacks" Director

Aaron joined the Council in May 2021. He is an environmental justice pioneer who has worked over the last 40 years in the spaces of health, environment, climate change disparities, and wilderness protection. He is an urban environmental activist and a regional and national environmental justice organizer and strategist who has advised two presidents and Congress, served on the national board of directors of the Sierra Club as its 57th president, and as the New York State Atlantic Chapter Chair.


David Miller, Clean Water Program Coordinator

David has been the Council's Clean Water Program Coordinator since 2016 as a consultant and joined the Adirondack Council staff in January of 2021 as a part-time employee. He has researched and written reports aimed toward clean water solutions for the Adirondacks. David works with other stakeholders on clean water infrastructure needs and septic system pollution issues in the Park. He also assists with the Council's road salt pollution campaign and the need for expanded water quality monitoring programs in the Park.

Blake Neumann, Clean Water Advocate

Blake joined the Council in 2021 as the Clean Water Advocate. A Kentucky native, his deep love of the Adirondacks comes from his childhood summers spent paddling and camping with family around the Park. Blake holds a Master's in Public Administration from Syracuse University and a Master's of Science in Water & Wetland Resource Studies from SUNY-ESF. He most recently was doing similar watershed planning for The Nature Conservancy in Wisconsin. When not working, Blake can be found running or skiing nearby trails, swimming anywhere he can, or in his canoe with his furry co-pilot, Jackson.

Aimee Privitera, Legislative Associate

Aimee joined the Council's Government Relations team in 2022. As a Capital Region native, she spent much of her childhood adventuring in the Adirondack Mountains. Aimee earned her bachelor's degrees in Political Science and Sociology from SUNY Geneseo and her master's degree in Social and Public Policy from SUNY ESC, where she specialized in Women's and Gender Studies. At the Council, Aimee advocates for the protection of the Park and all its inhabitants through direct lobbying and grassroots efforts. When not in the Albany-based office, Aimee can often be found exploring new trails and checking out local farmers markets with her family.

John F. Sheehan, Director of Communications

For the past 30 years, John has been the voice of the Adirondack Council on radio and television and in local, regional, and national media. He helps the public and the media understand the unique nature of the Adirondack Park and the Council's efforts to sustain its clean air, wilderness, wildlife, clean water, and vibrant communities. John is a frequent guest lecturer at New York colleges and addresses civic and not-for-profit organizations, scientific societies, and community forums to provide guidance on how to employ media strategies to help with advocacy efforts. John lives in Albany where he is an active volunteer and baseball fan and player. He also enjoys time at a family camp in the Adirondacks.