Family Friendly Hikes in the Adirondacks
This article first ran on November 16, 2017
By: Mary Godnick - Former Adirondack Council Marketing and Fund Development Assistant
It's safe to say the Adirondacks have hit "peak" fall foliage this week. The mountains, valleys, and forests look like they've been colored with an orange, yellow and red crayon where green once was. The bugs have mostly retreated, there is a cool breeze, and trails are carpeted with crunchy leaves. If you're looking for a way to get the whole family out to enjoy autumn in the Adirondacks, we have a few ideas ranging in difficulty and accessibility for you. We've compiled a list of our members' and Facebook fans' favorite short, easy, and rewarding nature walks in the Adirondacks.
Before you go
Safety First: Especially this time of year, the weather at the top of a mountain can be very different than the weather in the parking lot. Wear plenty of warm (not cotton) layers and carry rain protection. Wear proper footwear and carry traction such as crampons, microspikes, or snowshoes when necessary so you can stay on the trail and not add to widening by trying to avoid icy sections. Bring extra water and snacks, a flashlight with extra batteries, and a map of the area. As always, sign in to the trail register, and have a good time! See more safety information from the New York State Department of Environmental Conservation (DEC) here.
Know Your Level: If you haven't hiked much, or someone in your group needs to take it slow, go for a loop trail around a lake. If you know the kids will behave better in a stroller, take a disabled persons' accessible trail. Don't attempt anything that may be unsafe for you or anyone in your group.
Leave No Trace: Carry out any trash you bring in (yes, that includes apple cores and orange peels!). Please stay on the trails, leave flora and fauna where it is and make sure your dogs (and kids) are under control and do not bother wildlife. Make sure to pick up any pet waste and carry it out.
More Trail Information: For trails and State Parks outside the Adirondacks, visit the New York State Parks website.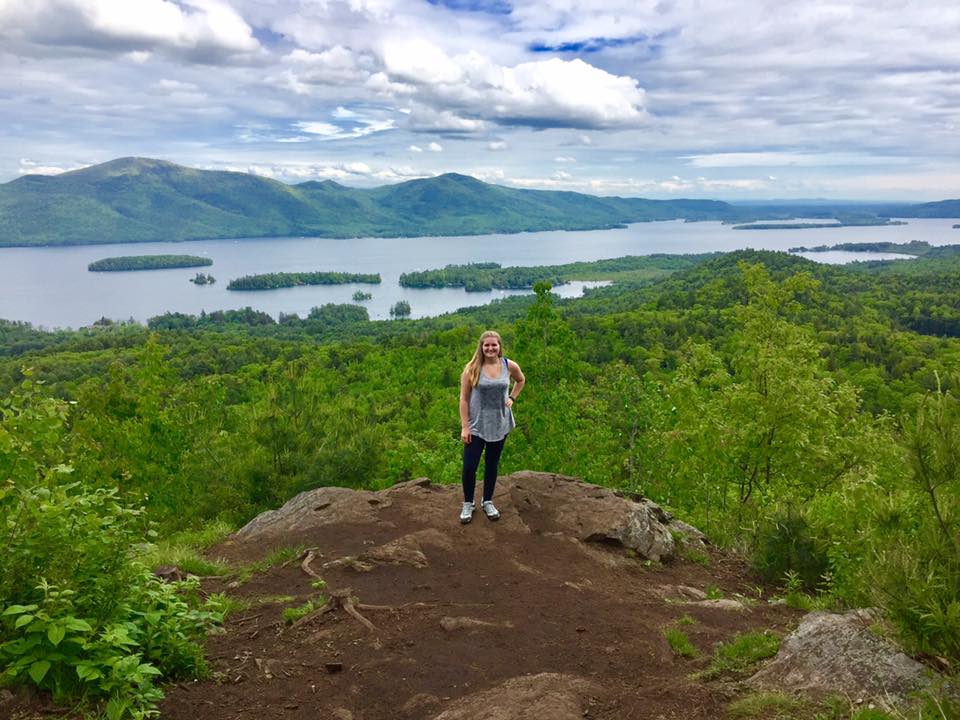 Pinnacle Trail (Photo: Danielle Record)
Lake George Area
Pilot Knob - (1.8 mi loop) This is a great hike for a family of all ages. Pack a lunch and enjoy the view from the gazebo. From the parking area, it is a steady ascent of just over 600 feet. There are also waterfalls on this property, so if you'd like to continue your trip you can do that too.
Pinnacle Trail - (2 mi round trip) A great introduction to hiking in the Adirondacks. This short moderate hike features a panoramic view of Lake George. Mountain bikers can also use this trail.
Pack Forest - (1mi - 4 mi network of trails) In the midst of the SUNY Environmental Science and Forestry demonstration forest. there is a beautiful network of gentle and flat trails. A must-see is the one-mile Grandmother's Tree Trail that is mostly flat through a hemlock-white pine forest showcasing one of the area's oldest trees.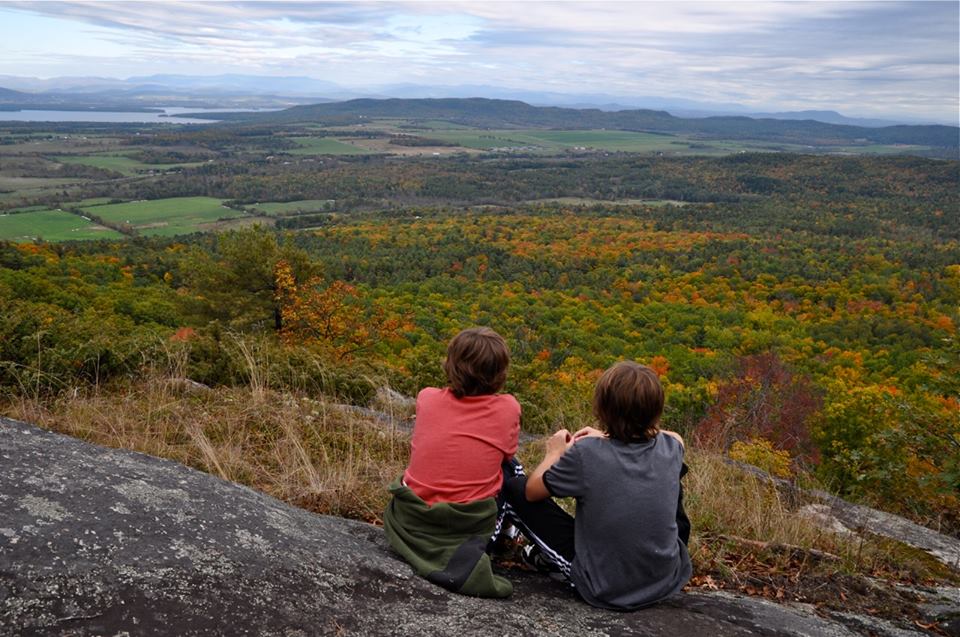 Wildway Overlook (Photo: Chris Maron)
Lake Champlain Region
We love the Champlain Area Trails (CAT) trails! Check their website for a full list of their network of hikes. A few of our favorite walks with awesome views below.
Belfry Mt.- (0.8 mi round trip) Short, sweet, and an awesome view! Very easy old logging road leads you to a fire tower at the top. Views can be seen without the tower- but from the top of the tower, you can see Lake Champlain, the High Peaks, and Vermont!
Wildway Overlook - (1.5 mi round trip) This easy/moderate trail has a nice path without any major rocky sections to navigate. There are interpretive signs to read along the way and an incredible view at the top of the Split Rock Wildway with a nice bench to take a break.
Bouquet River Nature Preserve - (1.5 mi loop) This brand-new disabled persons and stroller accessible trail just opened weeks ago. This crushed stone trail meanders through the forest allowing everyone an opportunity to enjoy the sights, smells, and sounds of nature.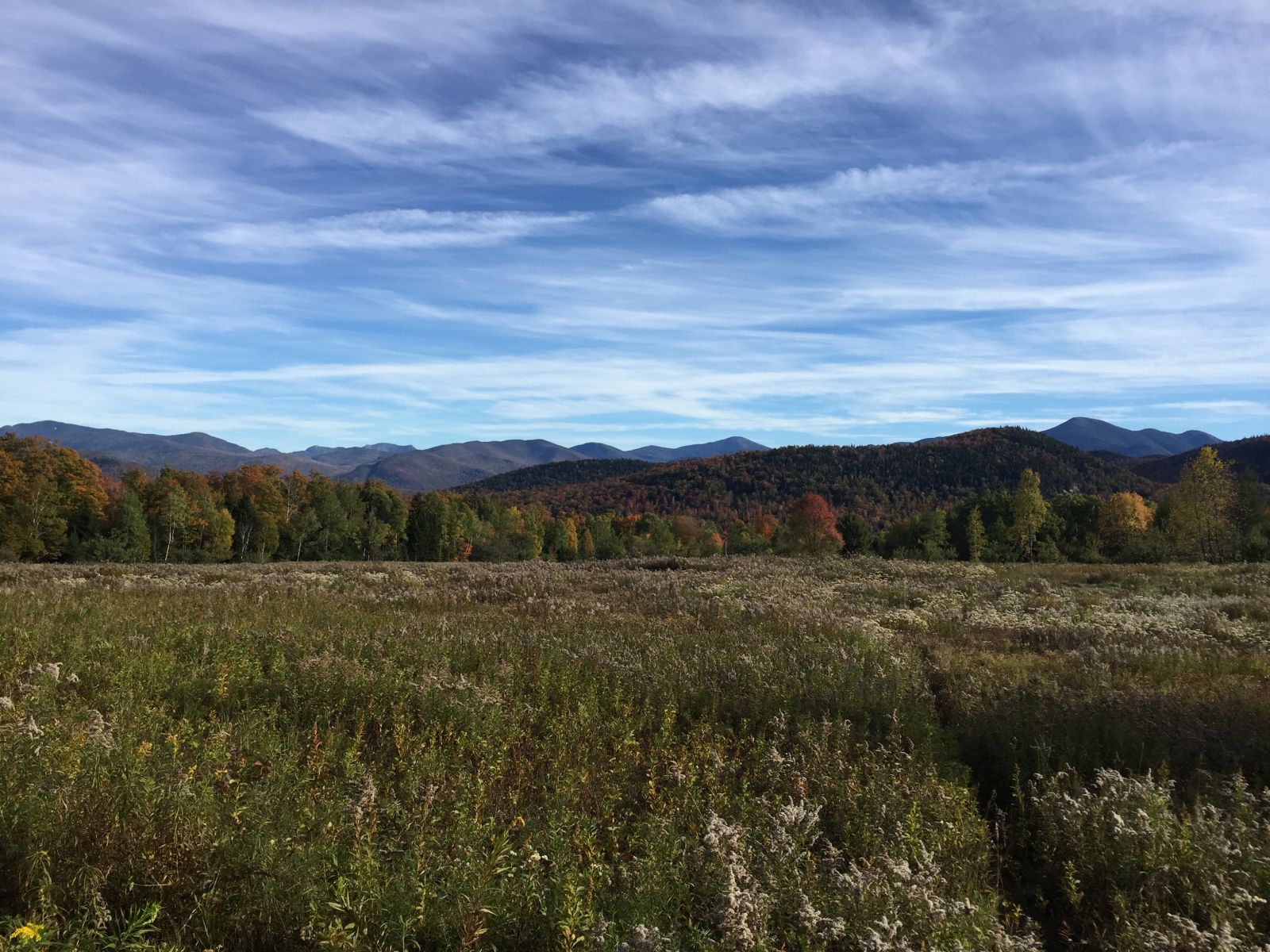 Heaven Hill Trail (Photo: LakePlacid.com)
Lake Placid Area
Heaven Hill Trails - (1.5 mi - 4 mi network of trails) Explore the four-mile trail system on the Heaven Hill property owned by the Uihlein Foundation. Situated just out of the bustling streets of Lake Placid, pick a loop for a one-mile adventure or take all of the trails for a longer stay. Enjoy the rolling landscape of former farmland and views of the High Peaks in the distance.
John Brown Farm - ( 0.3-4 mi network of trails) Visit the home and gravesite of the famous abolitionist John Brown at the John Brown Farm. This historic site features a network of nature trails around the property. They are mostly flat, with a very gentle grade, and lead you through a quiet forest.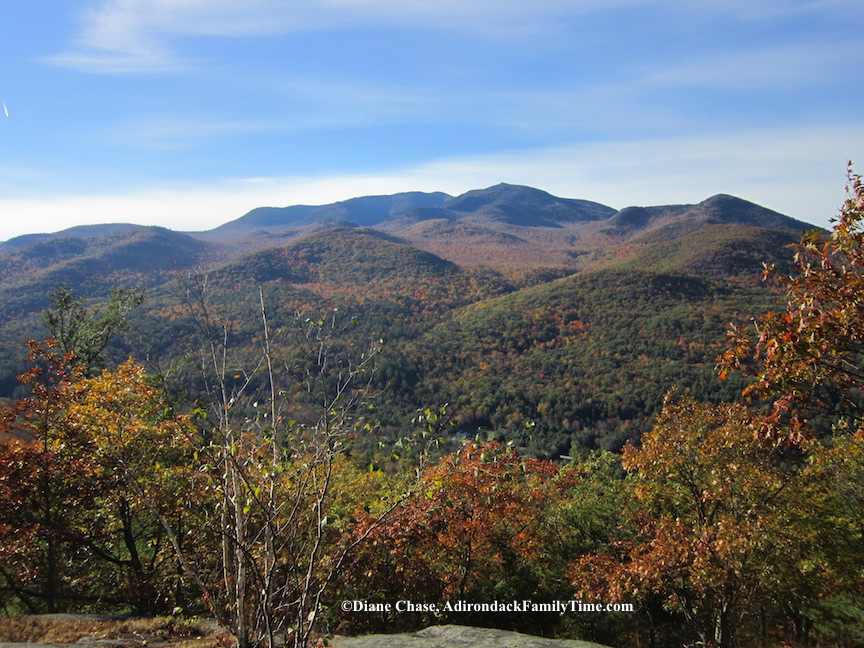 Mt. Gilligan (Photo: Diane Chase)
Keene/ Keene Valley Area
Big Crow - (1.4 mi round trip) This short, steep hike provides rewarding views without the high peak hassle. The view from the summit showcases the Ausable River and 28 of the major High Peaks (4,000 ft.) If you have the time, go on to tackle Little Crow too.
Mount Gilligan - (2.2 mi round trip) Just outside Keene Valley and Elizabethtown in New Russia lies this best-kept secret. The trail starts a moderate climb through a dense evergreen forest. A few small steep sections to look out for, but a view worth the effort. Awesome views of Giant Mountain Wilderness.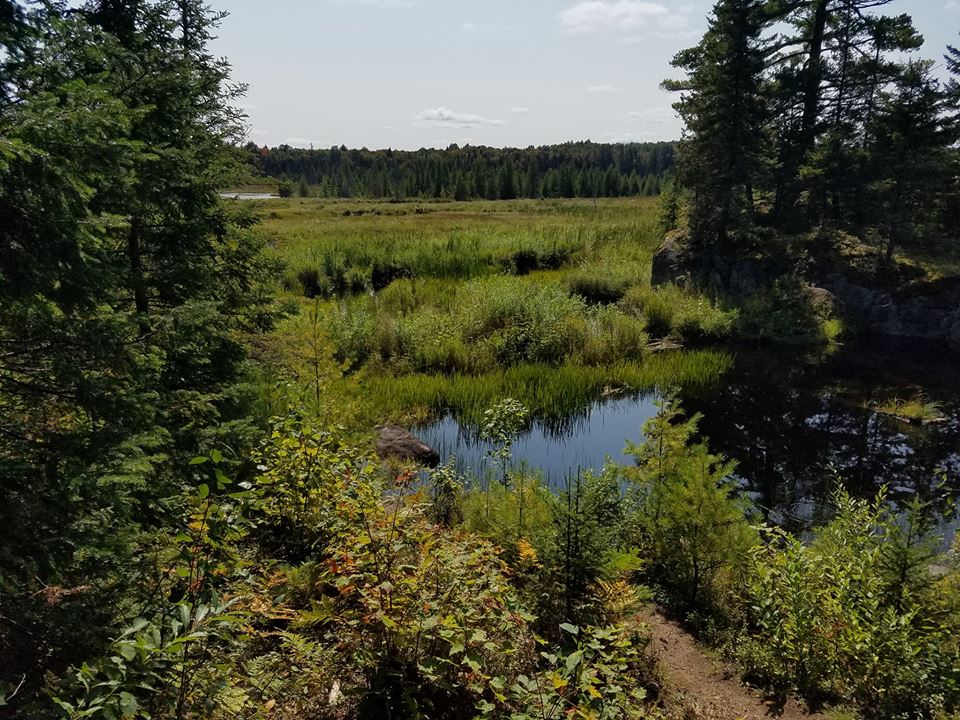 Paul Smith's VIC
Saranac Lake/ Tupper Lake
Paul Smith's VIC trails - (1-9 mi network trails) Pick your own adventure and get a taste for Adirondack marshes, forests, and streams just north of Saranac Lake. Open year-round, these flat, well-maintained trails are a great spot to snowshoe or cross-country ski.
Panther Mountain - (1.2 mi round trip) This beautiful hike located between Saranac Lake and Tupper Lake immediately immerses you in the forest among tall pines. The trail is in good condition, and the views are beautiful. This short, steep climb quickly brings you to sweeping views of the Seward Range and Panther Pond.
Goodman Mountain - (3.4 mi round trip) A good hike for all skill levels. Goodman Mountain, formerly known as Litchfield Hill, is located behind what the locals know as Lumberjack Spring off Route 30 between Long Lake and Tupper Lake. The newly established trail (2014) honors the memory of civil rights activist Andrew Goodman. Great views of Coney, Tupper Lake, and the Horseshoe Lake Wild Forest can be seen on the summit.
Old Forge Area
Bub and Sis Lakes - (1.8 mi round trip) This mostly flat trail takes you along a stream to two beautiful mountain lakes. Great hike for all ages. You will first see Bubb Lake and then Sis Lake. Take a nice break at Sis Lake and enjoy the view!
Moss Lake Loop - (2.5 mi loop) Take this mostly flat trail along gently rolling hills for an easy scenic experience in the Fulton Lakes Wild Forest. Easy walking on a wide trail. A portion of the trail is accessible for persons with disabilities.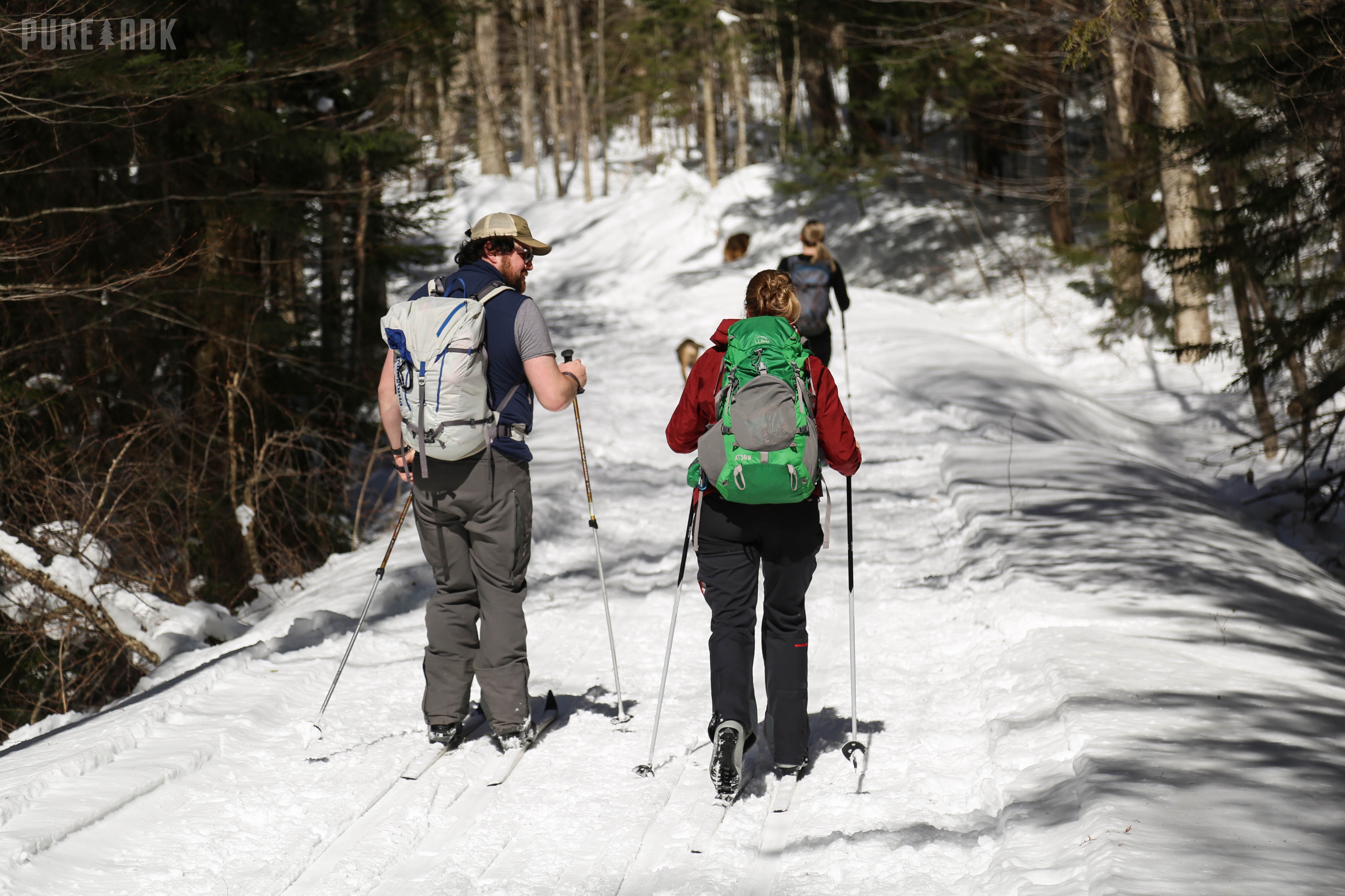 Camp Santanoni(Photo: Evan Williams, Pure Adirondacks)
Newcomb
Camp Santanoni Historic Area - (0.7 mi - 10 mi network of trails) This historical great camp was built in the late 19th Century by Robert C. and Anna Pruyn to entertain guests. Today, you can visit the historical site year-round. This is a popular cross-country skiing destination in the winter. You can see the old farm ruins just under a mile from the trailhead or make it a day trip and tackle the five-mile trail all the way into the camp. Please read about our friends at Pure Adirondacks cross-country ski trip to Camp Santanoni here. Through a contract with the Department of Environmental Conservation, Newcomb Farms (518-480-1743) offers free horse and accessible wagon rides for qualified persons with disabilities down to the main lodge area. Others can ride for a fee.
Goodnow Mountain - (3.8 mi round trip) In under two miles of generally easy trail, Goodnow takes you to the summit where there is a fire tower. Wear good shoes as the trail can be muddy. Views of most of the High Peaks from the fire tower, not to be missed if you're in the Newcomb area!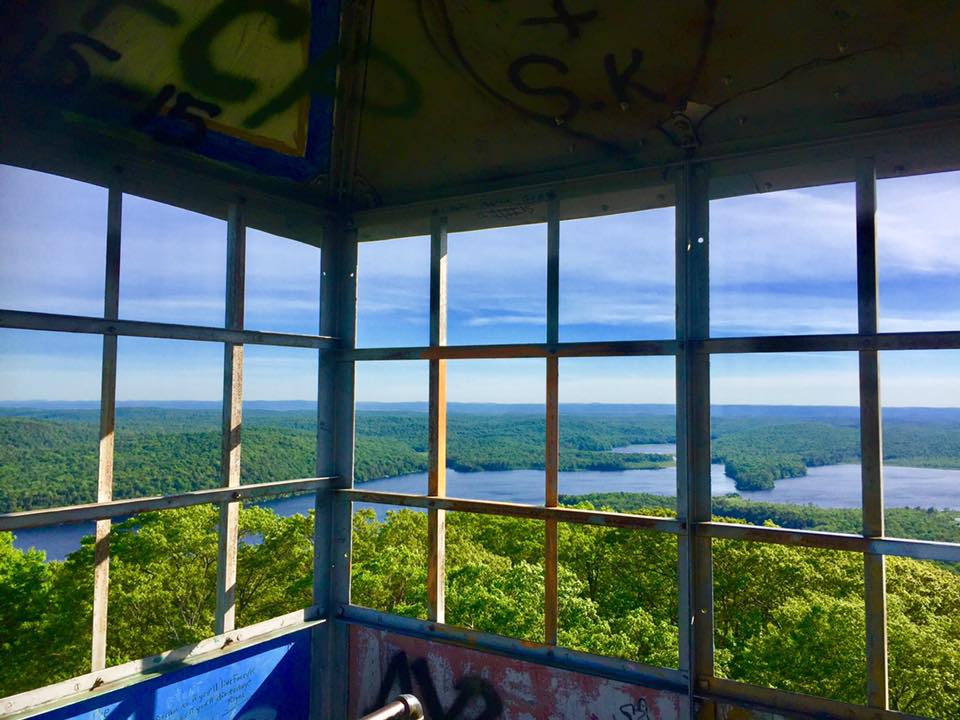 Kane Mountain (Photo: Danielle Record)
Southern Adirondacks
Kane Mountain - (2.3 mi loop) This trail has two approaches and is a continuously steady but never steep grade that takes you to a summit covered in a hardwood forest. To get the view, climb the fire tower for a 360-degree panorama of the Southern Adirondacks.
Nine Corner Lake - (2 mi round trip) This nice walking trail to Nine Corner Lake in Caroga, NY, provides a leisurely stroll in the woods for most ages and abilities. You will see a stream with a series of small waterfalls and keep your eyes peeled for wildlife! You may spot a beaver hut along the way.
---
Mary Godnick is the former Adirondack Council Marketing and Fund Development Assistant. Mary now works as the Digital Editor at Cornell Cooperative Extension.