The Adirondack Council and the State Legislature
By: Julia Champagne - Adirondack Council Clarence Petty Intern
Tuesday, February 5, 2019
With a new legislative session underway in Albany, the Adirondack Council's Government Relations team is already very busy. While the bulk of the Council's staff works in the Adirondacks at our main office in Elizabethtown, the Albany team works to ensure that Adirondack issues are on legislators' radar at the New York State Capitol. With a full-time presence at the Capitol, the Council communicates with members of the legislature about the issues its members care about, and works with a variety of partners to achieve results that benefit the clean water, air, wildlife, and communities in the Adirondack Park. Before we get into that, though, let's talk about the basics.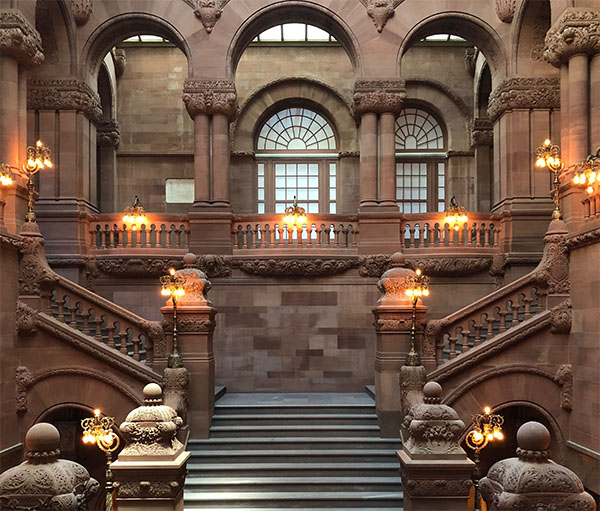 "Million Dollar" Staircase - NYS Capitol
What is the New York State Legislative Session?
The New York State Legislature consists of a Senate and an Assembly. There are 63 Senators and 150 Assembly members from across the state. New York is divided into Assembly districts and Senate districts. Each Senator and Assemblymember is elected to represent the interests of their district, including communities, businesses and environment.
Every year, legislators (Senators and Assemblymembers) meet in Albany for the legislative session, which started January 9, and typically continues through June. The goal of the legislative session is to create new laws and/or amend and repeal existing laws in ways that will improve our society and government. They also work with the Governor to approve an annual state budget, which constitutes the second largest budget in the United States.
How We Work for the Adirondacks
For the Adirondack Council, that means during legislative session, it is keeping an eye out for legislation that impacts the Adirondacks. The Council also works to get legislators to pay attention to and act on Adirondack and other environmental issues. The Council collaborates with legislators and other advocacy groups and stakeholders to communicate its support for legislation that helps preserve the Adirondacks, or to disapproval of legislation that hurts this cause.
Right now, since session is just beginning, the Council has a set of priority issues that it will bring to the attention of the legislators. Some of these issues include: state land stewardship, Forest Ranger staffing, boat washing and other invasive species prevention, All Terrain Vehicle use, and Adirondack Park Agency reform. Find out more about these issues here.
As the Council works to accomplish its goals, the Government Relations team tries to find where the legislators' priorities may connect or overlap with Adirondack Council goals. The Council makes sure that legislators know its staff wants to work with them to solve the problems that affect their constituents. At the end of the day, it is always the goal of a legislator to serve their constituents as best they can. Since the Adirondack Park belongs to everyone in New York, the work the Council does is relevant to all members of the legislature.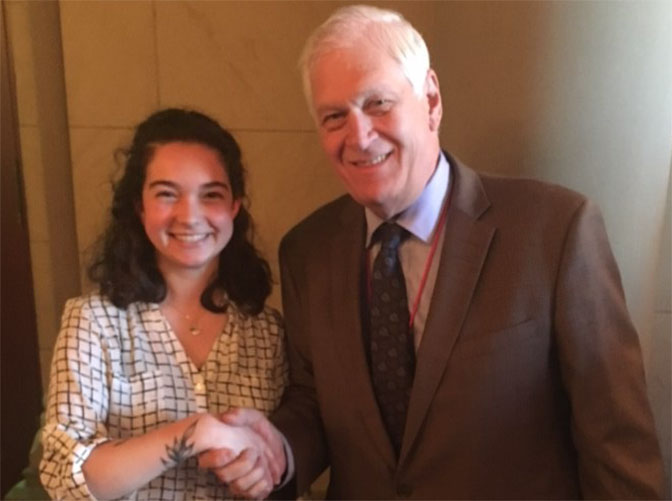 Adirondack Council Clarence Petty Intern Julia Champagne with
Chairman of the Assembly Environmental Conservation Committee Steve Englebright

Communicating With Legislators
One of the most important things the Council does to make its opinions heard by the legislature is to issue legislative bill memos. That is a key part of my job. When supporting or opposing a particular bill, the Council writes a bill memo describing its stance and delivers it to legislators' offices.
On the very first day of session, the Council distributed memos highlighting its most important goals for 2019. As session progresses, its memos will be more specific, usually encouraging legislators to vote for or against specific bills, or advocate for or against particular budget items.
In addition to writing memos, staff of the Albany office meet with legislators and their staff in person to discuss issues on which we can work together. The Adirondack Council also teams up with other advocacy groups and local Adirondack interests to make our collective voices louder. Just as the Council has its own goals, so does each legislator and group. When interests align, the Council and others collaborate and help each other to find solutions that appeal to a variety of stakeholders.
The Council can't introduce or vote on any bills, but it can do its best to represent its members and inform legislators so that they will enact laws that benefit the Adirondack Park and all who live in, visit and enjoy it.
How You Can Help!
The Adirondack Council's active presence in Albany has been the key to influencing the state government on Adirondack Park issues.
However, anyone living anywhere in New York or even out of state can help advocate for the Adirondacks!
A legislator's job is to represent their constituents, so you are encouraged to contact your representatives and urge them to work to preserve the Adirondacks in this session.
Bills need to be approved by both the Senate and the Assembly before they go to the Governor to be signed into law or vetoed. So you should contact both.
Call, write, or email your state Senator and Assembly member and tell them what you think! You can find your representatives in the Senate here and Assembly here.
Not sure what to say? Check out some of our recent outreach campaigns for some inspiration.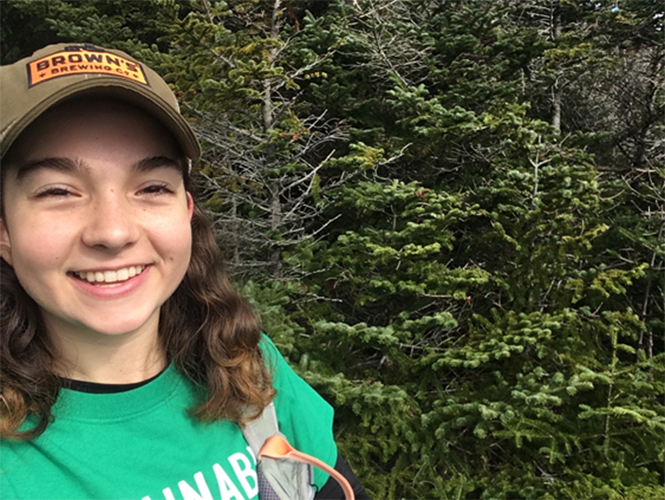 Julia Champagne is the Adirondack Council's Clarence Petty Intern in our Albany office for this legislative session. She grew up in Glenmont, New York, enjoying trips to the Adirondacks to hike, camp and kayak. Julia graduated from Cornell University in 2018 with a Bachelor of Science in Environmental and Sustainability Sciences. During her internship, Julia will be tracking news media and legislation, and assisting the other government relations staff advance Adirondack issues in the state legislature.