Sustainable Farming in the Champlain Valley: Catching up with Two Micro-Grant Awardees
By Andrea Shipton, Climate and Conservation Intern
Friday, Nov. 4, 2022
Amidst our current climate crisis, investments in sustainable farming reduce carbon emissions while also promoting food security within the Adirondacks. Agriculture can act as a major emitter of greenhouse gases when farmers fail to recognize how conventional tillage and clearing forests to convert them to cropland increases carbon dioxide concentrations in the atmosphere. Despite the potential for negative impacts, small-scale agriculture can also provide major benefits to communities, including food access, carbon sequestration, and the jobs and industry that agricultural communities require.
While the rugged terrain of the Adirondacks complicates farming in many parts of the park, certain crops grow extremely well along the eastern edge of the Adirondack Park. Grazing at elevation also has a long history in the region. Crops, pasture and hay are the most common agricultural use within the nutrient-rich soils of the Champlain Valley. Sustainable agriculture in this region can help feed the more than 100,000 year-round residents of the Adirondacks, diminishing the need for carbon-fueled transportation that brings mass-produced food into the park from elsewhere.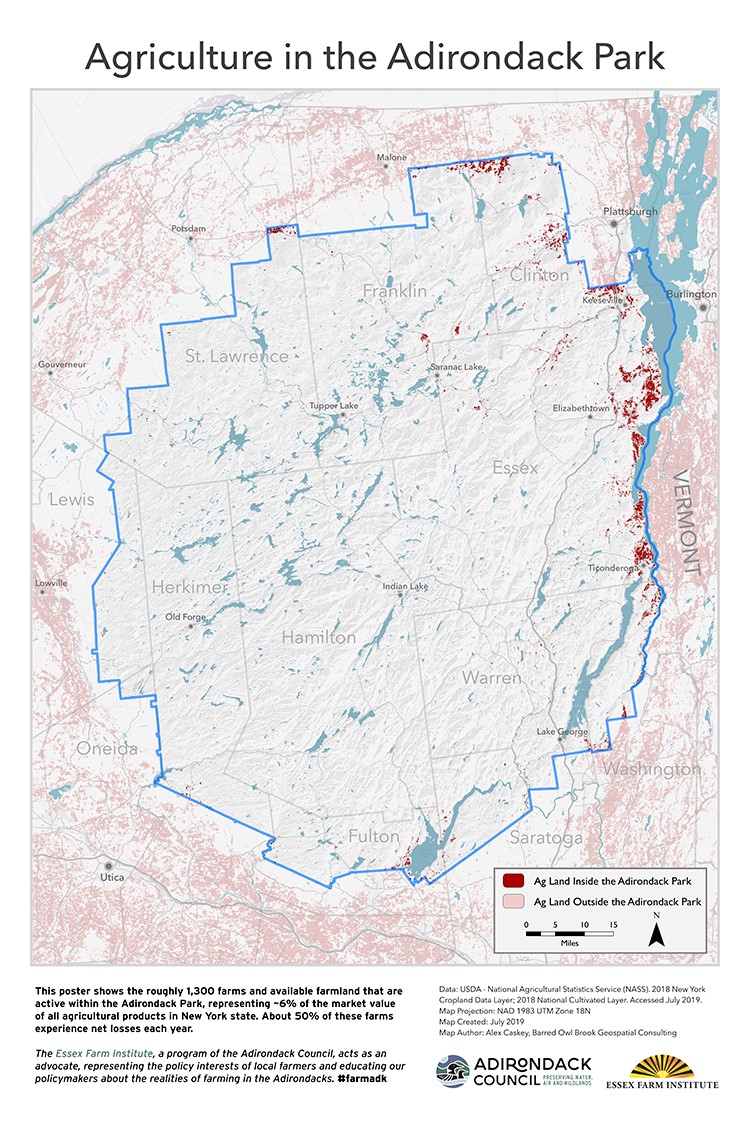 The Essex Farm Institute (EFI), a program of the Adirondack Council, advocates for climate-friendly and ecologically resilient agriculture that fosters vibrant communities and promotes access to fresh foods across the Park. Earlier this year, EFI awarded $32,000 in micro-grants to fund climate-conscious projects in sustainable food production, thanks to the generous support of the Klipper Family Fund and other donors. Adirondack Council Farm Advocate Dillon Klepetar and I caught up with micro-grant awardees Juniper Hill Farm and Essex Farm in late August to observe how they are utilizing their funds to sequester carbon.
Juniper Hill Farm
EFI awarded $3,000 to Juniper Hill Farm to support the purchase of tree-planting implements to establish a riparian barrier along the Boquet River. Livestock historically grazed here and would descend the banks for water. Riparian barriers, or vegetation planted along a river or stream to shield it from the effects of local land use, help protect the ecological integrity of waterway habitats in several ways. The shade from trees cools the waterway, keeping aquatic habitats at a survivable temperature for fish and other creatures. Through the establishment of extensive root systems in the soil, the vegetative barrier limits erosion and sediment loading into the waterway which can reduce the spawning potential of native trout. Tree planting also allows landscapes to increase their carbon sequestration potential, adding an important climate benefit to riparian barriers.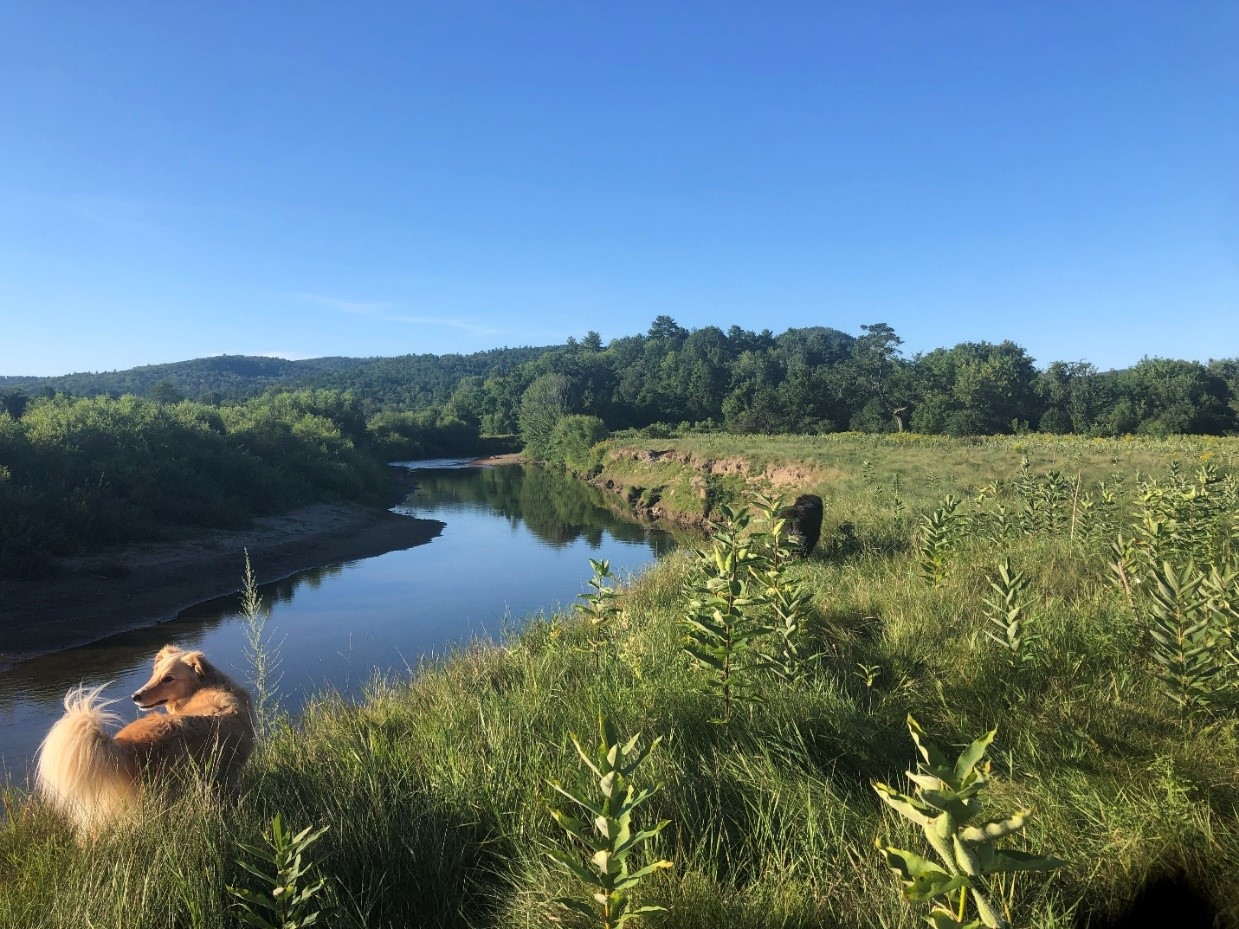 Upon arriving at Juniper Hill, Carly Summers greeted us and led us on a walking tour of the project site. She directed us to a field upland of the river, where we gazed upon several rows of sapling-filled white tubes, each around four or five feet in height. The tubes protect the young trees from predators and the outside elements as they grow. Already, Juniper Hill has planted dozens and dozens of young trees on this field, with a diversity of species including red oak, white oak, shagbark hickory, elderberry, silky dogwood, and sycamore. Transplanted pines will soon be planted between these rows of young trees and the riverbank, with future plans also including the removal of honeysuckle and buckthorn from the buffer area.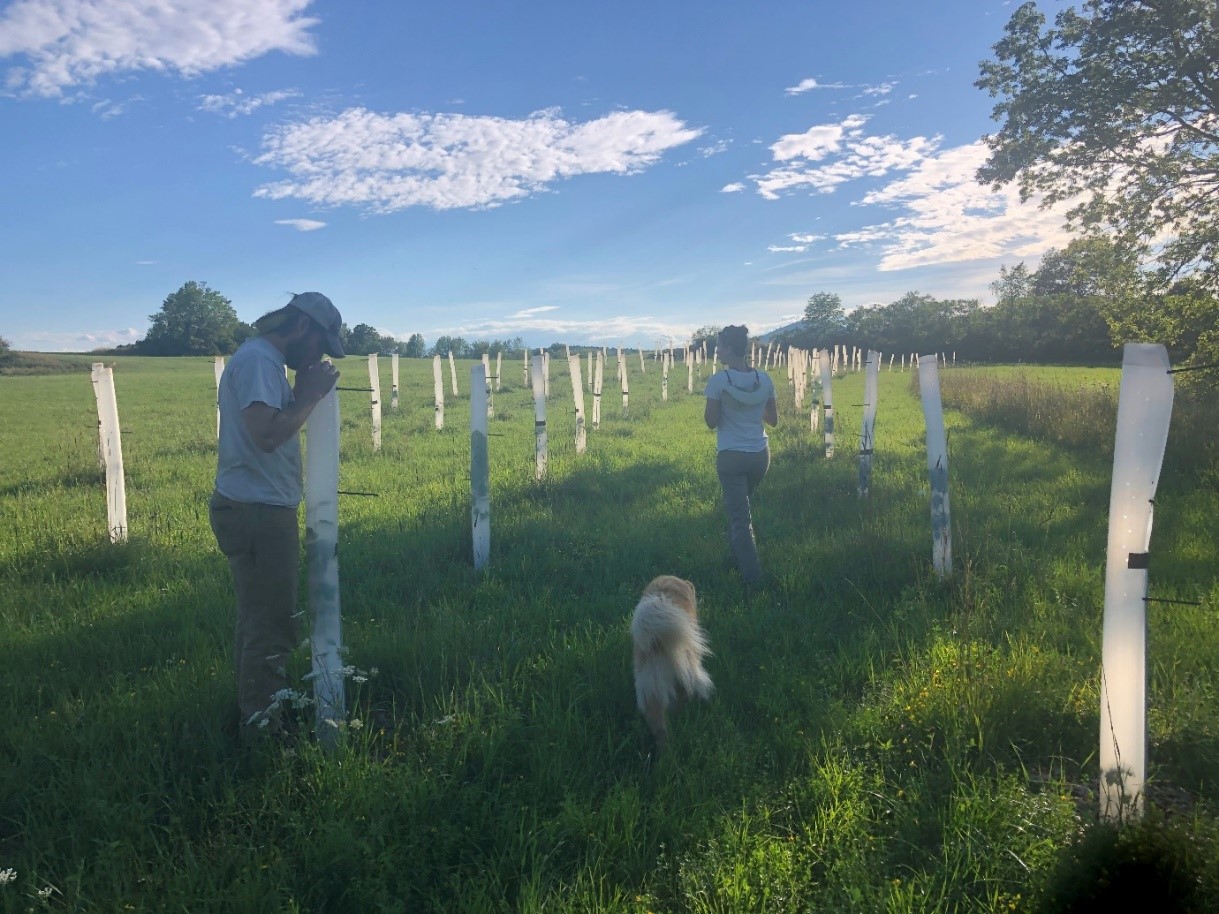 As we stepped through knee-high grass on our way down to the riverbank, we learned that for many years, cattle grazed on this part of the riparian zone. Cattle erode riverbanks when they trample over roots and steep, sandy embankments. This has allowed sediment to seep into the river and build up over time, killing aquatic animals, plants, and habitat. To restore the ecological integrity and soil stability of the riparian zone, stakeholders needed to find species that are both resilient to seasonal flooding and capable of growing extensive root systems. Willow trees excel in both of these areas. In coordination with Juniper Hill, the Boquet River Association planted many willow trees along both sides of the riverbank. While the trees haven't grown as well as anticipated, Juniper Hill is planning another round of planting using willow stakes in the fall.
While the river has shown signs of improvement in recent years, there is still a long way to go. Vegetation is starting to take hold along certain sections of the riverbank, and the sandy riverbed appears to be becoming less sandy as time goes on. However, there is plenty of room for growth (literally!) since much of the riparian zone still lacks trees. Revegetating the riparian barrier will require several decades of active management, but the climatologically- and ecologically-friendly decisions made now will certainly pay off years down the road.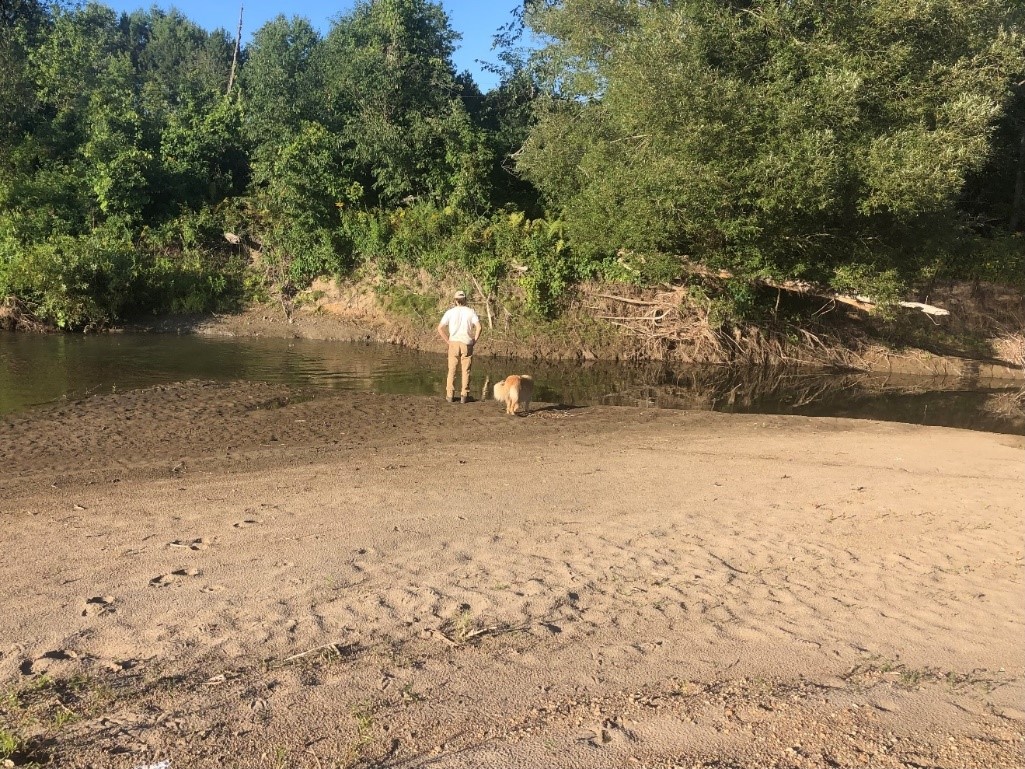 Essex Farm
EFI, which got its start at Essex Farm, awarded Essex Farm, Wrisley Family Farm, Adirondack Hay and Grains, and Fledging Crow Vegetables a joint grant of $8,000 towards the purchase of a roller crimper. The roller crimper is a farming implement that will be shared among these farms to terminate cover crops under minimal tillage. Conventional farming techniques involving heavy tillage allow large quantities of carbon to escape the soil and enter the atmosphere, so this roller crimper will allow these farms to reduce the overall carbon footprint of their farming activities while promoting positive soil health.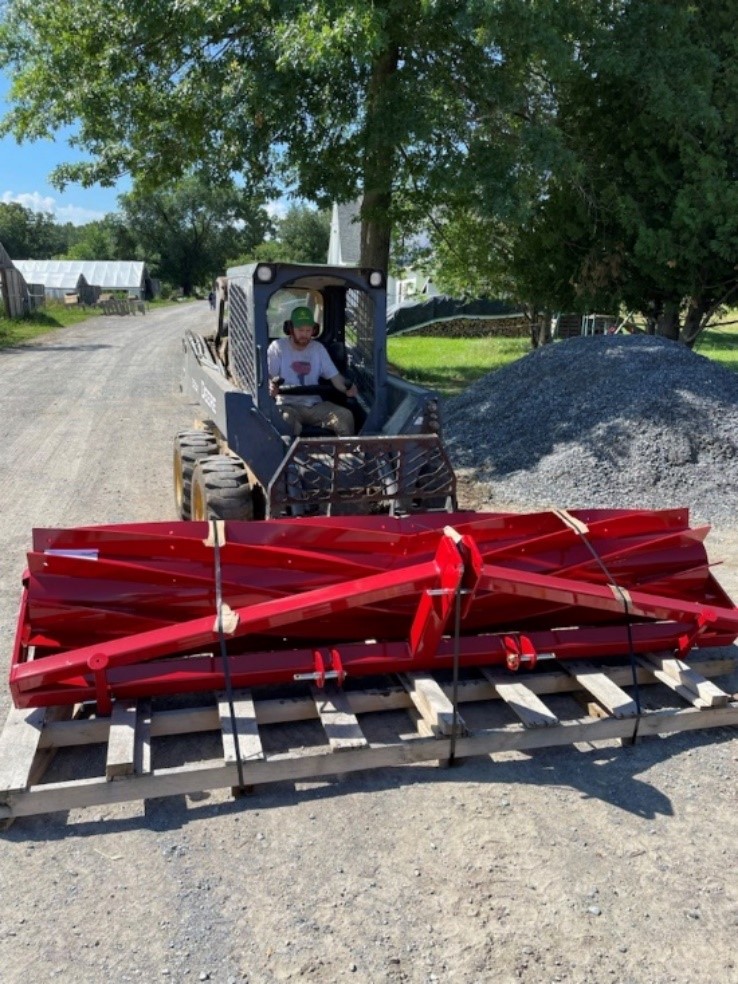 Upon arriving at the farm early in the morning, Dillon introduced me to Mark Kimball, owner of Essex Farm, before leading us over to a field to watch the roller crimper in action. While this field had been covered with sorghum-sudangrass, the time had come to terminate this cover crop and plant something new. This is a common and highly beneficial practice at Essex Farm, which cultivates a diverse variety of crops rather than utilizing conventional monocropping methods. While monocropping tends to strip the soil of nutrients, crop rotation, especially when paired with minimal tillage, allows for greater soil fertility and more effective sequestration of carbon.
Dillon and I watched as the roller crimper weaved around the field, similar to the pattern Zambonis make when resurfacing an ice rink. As it passed over the many rows of sorghum, it lightly churned the top layer of soil, leaving a sandy loam behind in its tracks. Farmers in the Champlain Valley love this type of sandy loam— a mix between heavy clay and light sand, which allows oxygen and moisture to easily penetrate to the roots of the plant. Teeming with microbes, sandy loam also captures carbon extremely well, since these microbes break down and store carbon from organic matter. The debris from the removed cover crops also acts as compost, providing additional organic matter and nutrients to the soil. As we stepped over the soil, Dillon also pointed out some animal manure, which provides even more fertilization to the soil.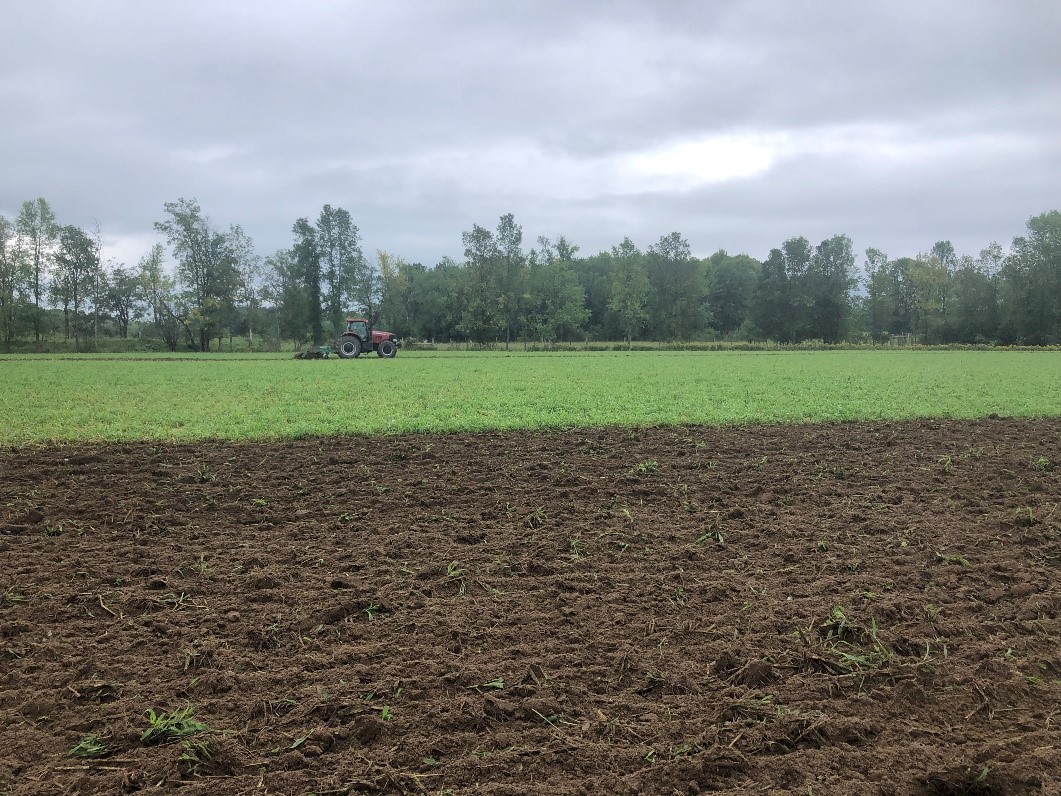 That afternoon, Essex Farm planned to plant a new crop on the bare soil. Because exposed soil leaks carbon, Essex Farm knew they would have to work quickly to re-cover the soil and therefore store as much carbon as possible. The roller crimper certainly helps hasten this process and allows other local farms to do the same. The sharing of this roller crimper between farms saves money while acting as an additional strategy to reduce global carbon emissions. The construction of the roller crimper itself releases carbon, so rather than each farm purchasing their own implement, they collectively limit their carbon footprints by sharing it. These types of partnerships among local organizations are very necessary, allowing for a more coordinated and effective fight against climate change.