Stopping the Spread of Aquatic Invasive Species: Mandatory Boat Washing in the Adirondacks
By: Julia Champagne - Adirondack Council Clarence Petty Intern
Thursday, May 9, 2019
Have you ever noticed waters overgrown with weeds, fisheries that are no longer as vigorous as they used to be, or rocks and structures covered with mussels? If so, you might have been looking at an aquatic invasive species (AIS) infestation, and you have probably experienced the harmful effects these infestations have on our Adirondack waters. As good stewards of the environment, we can prevent the spread of AIS with boat washing. Right now, boat washing is only voluntary in New York, and the law that supports our boat washing program will expire on June 1. As New York State considers reauthorizing this legislation, we should take this opportunity to make boat washing mandatory, so pristine Adirondack waters will be protected for generations to come.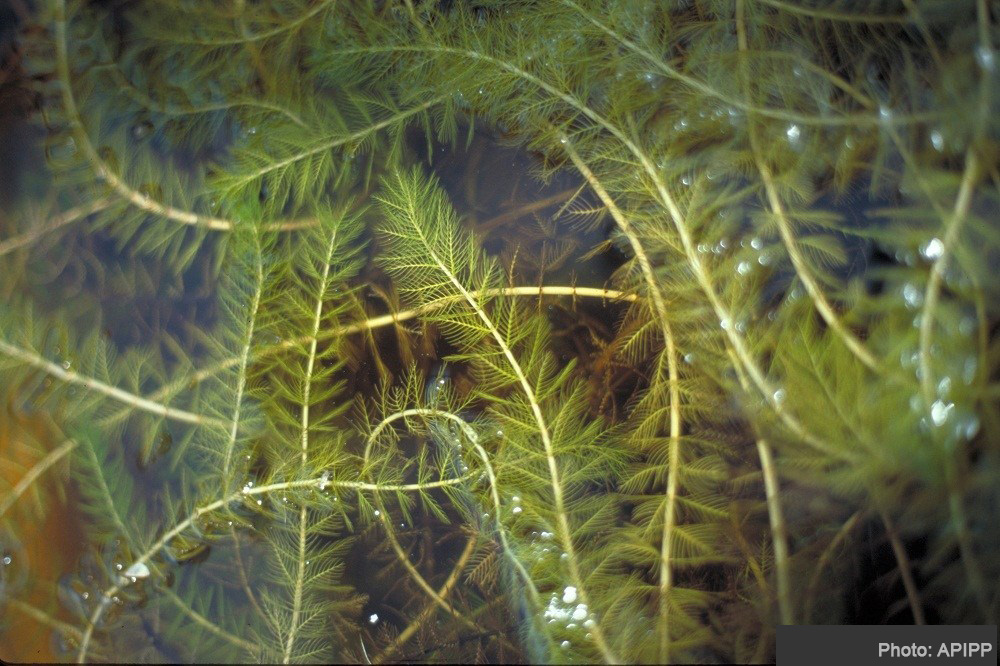 Eurasian watermilfoil
What Are Aquatic Invasive Species?
IS are plants and animals that are not native to an ecosystem, and they have disruptive effects on the natural ecology. This can reduce biodiversity and dissolved oxygen, and heighten levels of toxins in the water and throughout the food chain. Common indicators of AIS include weak fisheries, poor water quality or overgrowth of invasive plants. AIS infestations often occur each year because cleanups can not entirely remove AIS after a waterbody is contaminated.
Invasive species are not only a significant problem for the Adirondack ecology, but for its economy as well. Park communities rely on tourism and outdoor recreation, and invasives can prevent visitors from enjoying the Adirondacks' waters. They can even cause property values to drop.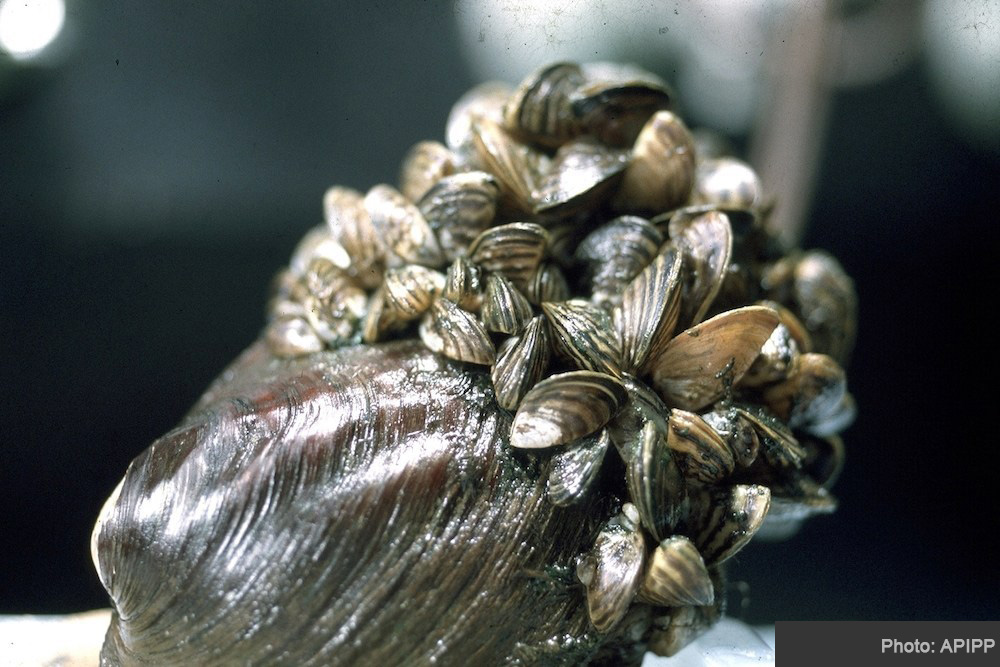 Zebra Mussels
Some of the most problematic species in the Adirondack Park include Eurasian watermilfoil, water chestnut, spiny waterflea, Asian clams, and zebra mussels. These AIS typically do not have any natural predators, so they can be difficult to get rid of once they have infested a water body. They are serious threats because they take root in new environments very quickly and easily. AIS can spread through connected waterways, and they can be transported between waterbodies if they attach to a boat or other vessel.
Some AIS like the spiny waterflea are difficult to spot with a visible eye, so just removing easy-to-see plants from a boat by hand may not be enough to stop the spread of AIS. The most effective way to stop the spread is by always cleaning, draining and drying boats that are going into or out of a body of water.
Protect Adirondack Water Resources
The Adirondack Park is home to over 30,000 miles of waterways. They are essential for healthy ecosystems, beautiful views and exciting recreational opportunities. Fortunately, about three-quarters of the 400 Adirondack waterbodies that have been surveyed are still free of invasive species. However, this means we need strong laws and stewardship to protect AIS-free waters.With the expiration of the current invasive species law, we have a great opportunity for the legislature to develop a better law that more effectively controls the invasive species problem. We owe it to ourselves to be good stewards of this incredible resource.
The Solution: Mandatory Boat Washing
The best way to control the spread of invasive species is to make boat washing mandatory. Some states and the Lake George area of the Adirondacks already have mandatory boat washing programs that effectively combat aquatic invasive species. However, in most states, including the rest of New York, boat washing is voluntary. Many boat owners do not wash their boats, and washing station attendants lack the authority to ensure that a boat gets washed. The map below shows the status of AIS legislation across the country. In all of the states with model programs, mandatory boat washing plays a key role in the management of AIS.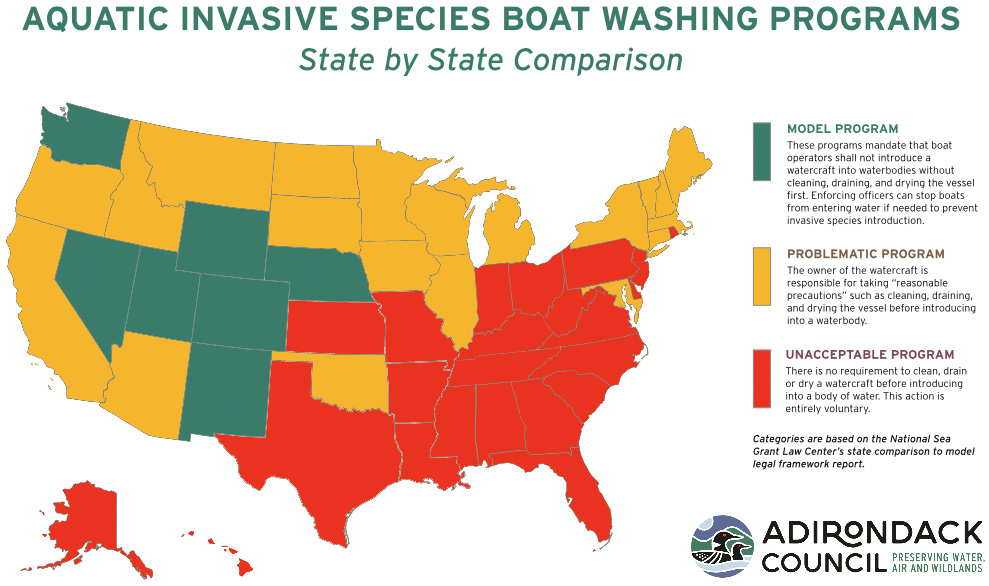 Click on map to enlarge
To establish our own program in New York, we can look to western states such as Colorado and Wyoming as examples. These states' programs have shown that boat washing is an effective strategy for combating invasive species when properly enforced. We can also look even closer to home: the Lake George Park Commission has been operating a robust boat washing program for the past five years. During this time, no new invasive species have been found in Lake George. That's a great start, but one lake is not enough. The spread of invasive species in the Adirondacks can only be stopped with a Park-wide approach.
Plenty of boat washing stations already exist in New York, so little new infrastructure would be needed to make mandatory boat washing a reality. We just need to ensure that people are actually using the boat washing stations we already have.
Boat washing is a good strategy for managing a wide variety of invasive species generally, without needing to focus in on each individual species. Most importantly, boat washing is critical for stopping invasive species in their tracks. It is far easier and less expensive to prevent these species from spreading than to go back and clean up waters that have already been infested. We have many healthy bodies of water in the Adirondack Park, and we want to keep them that way.
How You Can Help
Send an email to the New York State Senate and Assembly Environmental Conservation Chairs (Senator Todd Kaminsky & Assemblyman Steve Englebright) and ask them to make boat washing mandatory in the Adirondack Park.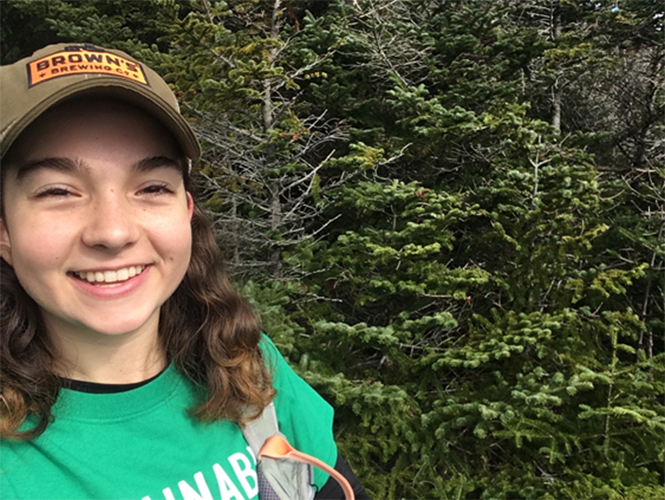 Julia Champagne is the Adirondack Council's Clarence Petty Intern in our Albany office for this legislative session. She grew up in Glenmont, New York, enjoying trips to the Adirondacks to hike, camp and kayak. Julia graduated from Cornell University in 2018 with a Bachelor of Science in Environmental and Sustainability Sciences. During her internship, Julia will be tracking news media and legislation, and assisting the other government relations staff advance Adirondack issues in the state legislature.