Looking Beyond the Adirondacks | Lessons of Overuse from Across the Northeast
By: Jackie Bowen - Adirondack Council Conservation Fellow
Tuesday, May 15, 2018
With the arrival of the long anticipated warm weather, many hikers are beginning to venture out into the woods. Social media, successful state marketing campaigns, and renewed ideals of physical, mental and spiritual health have motivated hikers to experience trails in the Adirondacks.
Unfortunately, the influx of hikers on the Adirondacks' most popular trails is harming the health of the landscape. Essentially, the trails are being "loved to death." This phrase is one that has been adopted to convey the degree of overuse being seen across the nation (loving Franconia Ridge to death, loving the Adirondacks to death). It was also a phrase frequently used at the Northeast Alpine Summit Gathering (NEASG) in late April.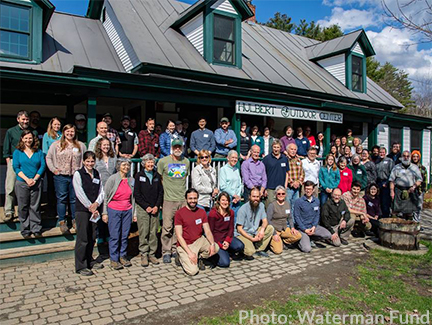 The 10th biennial Northeast Alpine Stewardship Gathering was held Fairlee, VT.
Gathering of the Minds
The NEASG, sponsored by the Waterman Fund, is a biennial event that draws land managers, researchers and stewards "to share information, expand their training, and improve the understanding and stewardship of the alpine areas of Northeastern North America."
I attended the event to become better informed and a better advocate on overuse management to help preserve our Adirondack Park for everyone. The Adirondack Council was one of only two Adirondack organizations at the Gathering, along with the Adirondack Mountain Club, but was the only policy focused organization present.
While there, it became clear that a collaborative, multi-faceted effort is needed to address and ultimately solve the problem of overuse. Four major takeaways from the NEASG and the individuals doing important scientific research:
The increased visitor levels are not confined to the Adirondacks – it is happening across the northeast and in many national parks.
Appropriate management decisions need to be based in and informed by science.
Sustainable, long-term solutions must be rooted in creativity and inter-agency and partner collaboration.
Ecological integrity and health must be prioritized over recreation.
Not just a 'Dacks issue
People flocking to trails across the northeast pose significant ecological, resource management and transportation challenges. For example, Franconia Ridge is a popular hiking destination within the White Mountains of New Hampshire, and is located within a few hours' drive to several metropolitan areas. During peak seasons, daily use often reaches 2,000 hikers. Clearly overuse is not just an Adirondack issue.
We need the science
If there was one major theme to this conference, it was science. It underscored how important data gathering and analysis is to developing appropriate management decisions.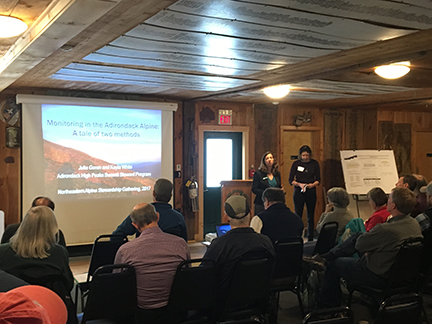 Adirondack Mountain Club's Julia Goren and Kayla White
presentation on monitoring plant populations in the Adirondack Alpine.
Researchers presented both hard and social science studies that evaluated the degree and impact of hiker overuse. For example, photo assessments and vegetation sampling conducted from 1975 to 2017 on the Franconia Ridge allowed researchers to evaluate the impacts of hikers on trails and the efficacy of human and trail management. Other hard science studies included gathering data on alpine snowbank communities, such as alpine snowbed and rill communities, and tree seedling recruitment, growth and survival above treeline.
Social studies were conducted as well. For example, a staff ecologist from the Appalachian Mountain Club recorded hiker observations on the Franconia Ridge to assess use patterns and hikers' relationship to trail infrastructure. This data will be used to inform how people interact with, use or avoid trail infrastructure, such as a scree wall. This site-specific data will allow land managers to better gauge trail design to meet both ecological and human needs.
Creativity & Collaboration
The need to develop creative ideas and collaborate with other stakeholders was best demonstrated by a presentation by the New England Regional Director for the Appalachian Trail Conservancy. In 2016, six organizations formed a working group to address severe overuse issues along Franconia Ridge. The group adopted a federal land management framework called the Visitor Use Management Framework (VUMF). The VUMF builds a strong foundation of management purpose, direction, identification of strategies, and implementation, monitoring, evaluating and adjusting.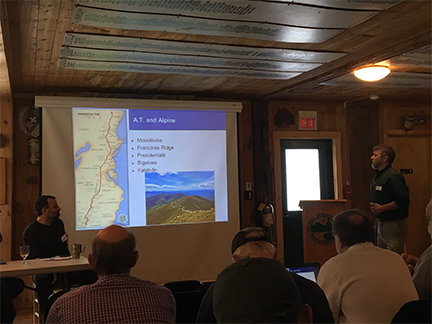 Hawk Metheny of the Appalachian Trail Conservancy spoke to
the six-organization working group's successful use of the Visitor Use Management
Framework to address severe overuse issues along the Franconia Ridge.
There are many parallels between Franconia Ridge and the Adirondacks, including external promotion drawing in visitors, parking issues at access points and degraded trails. I could easily see several tenets of the VUMF being used in the Adirondacks to address overuse here. With this framework, every decision is informed and defensible, and is monitored after it's implemented,
Preservation of ecological health
The VUMF working group's purpose statement included a core principle: preservation of ecological integrity with appropriate recreational use. This prioritization of ecological integrity over recreation is very similar to the Adirondack Park State Land Master Plan, which states:
"If there is a unifying theme to the master plan, it is that the protection and preservation of the natural resources of the state lands within the Park must be paramount. Human use and enjoyment of those lands should be permitted and encouraged, so long as the resources in their physical and biological context as well as their social or psychological aspects are not degraded." (p.1)
Connecting it back
Much of what was presented and discussed at the conference echoed many of the best management practices the Council has been sharing with state and local governments and others, including:
Planning and coordination for Forest Preserve protections with all agencies and jurisdictions.
Education and outreach for visitors and residents, including backcountry safety and accident prevention.
Front-country infrastructure including roadside safety, restrooms, parking lots, and lodging (on private land).
Back-country infrastructure including trails, lean-tos and campsites that do not adversely affect the natural resources and wild character.
Limits on use including permits, fees and limits when education, outreach and infrastructure fail to address excessive number of users.
Funding for personnel and enforcement.
Recently, the Council, in collaboration with local governments and other environmental advocates, released the results of a survey conducted at trailhead parking lots along the most popular hiking destinations of the High Peaks Wilderness Area. The data displayed on two maps demonstrate that these parking lots are 200 percent beyond their designed capacity. These levels of use not only pose significant resource and management issues, but also safety concerns for hikers and motorists along key routes of the Adirondacks (Route 73 or 9N).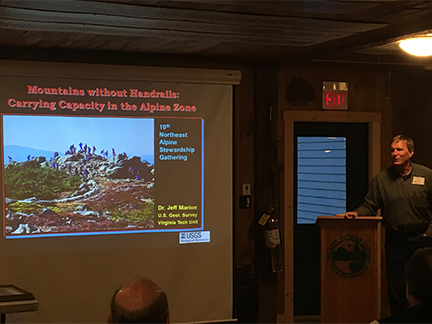 Dr. Jeff Marion a recreational ecologist provided an illuminating talk
on carrying capacity, trail assessments and trail design.
The data, captured between Labor Day and Columbus Day, merely scratches the surface in terms of what information needs to be collected in the High Peaks region and across the Park. Increased levels of users and overuse are not High Peaks-specific, as there are problems in Lake George, Old Forge and many other locations.
Conclusion
Attending the Gathering created a sense of solidarity. We are not alone in this challenge, and should use this opportunity to develop relationships with our neighbors to the east and across the country. The great work being done by other organizations should serve as a resource for the Adirondacks. We must use science to assess the current status of ecological health in the Park, and best management practices should be developed to preserve the ecological integrity and wild character of the Adirondacks while also allowing for appropriate recreational opportunities.
---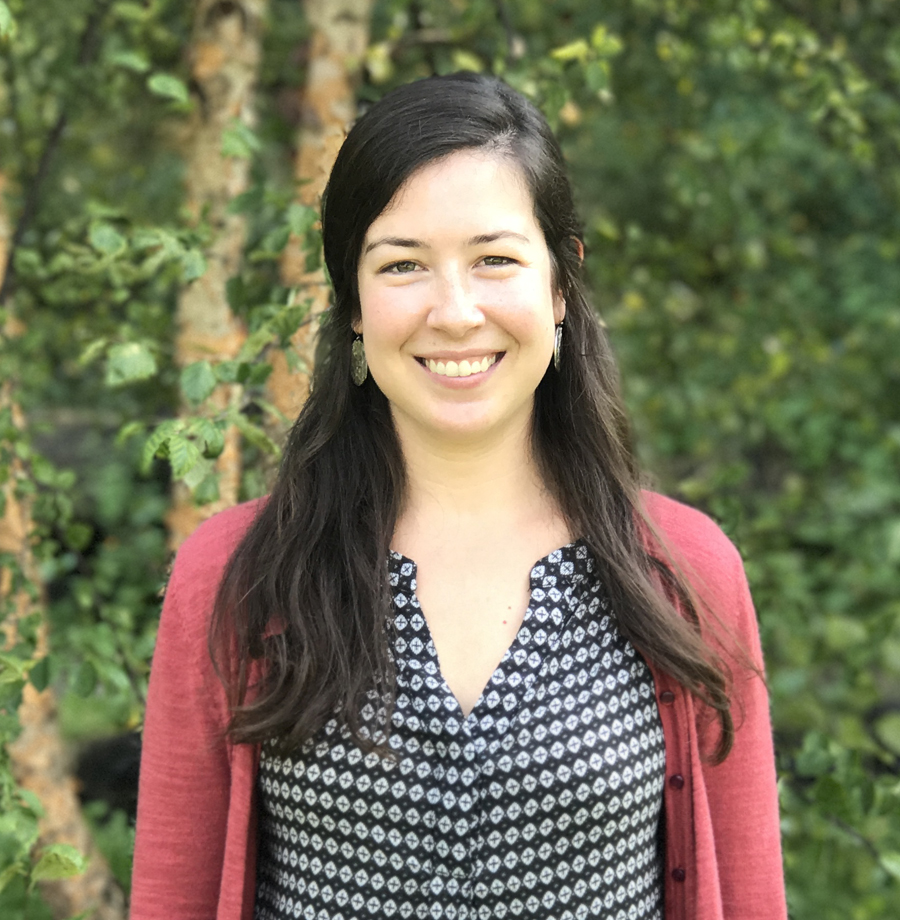 Jackie is the Council's Conservation Fellow. She has a Master's Degree in Environmental Law and Policy, with a certificate in Land Use Law, from Vermont Law School. During this program she interned in Washington, D.C. at American Rivers where she worked with the Government Relations team to track legislation, identify federal funding sources and research tribal water rights.

As a native of nearby Plattsburgh, Jackie grew up hiking, swimming, cross-country skiing, and camping in the Adirondacks. To her, the 'Dacks represent restorative and spiritual beauty and the intersectional balance between human and natural life.