Study Reveals Adirondack High Peaks Wilderness Visitors Exceeding Capacity
KEENE VALLEY, N.Y. – Local governments and environmental advocates today released maps of the High Peaks Wilderness area's trailheads, showing the results of a fall 2017 survey of parking lots for the most popular hiking destinations, conducted between Labor Day and Columbus Day.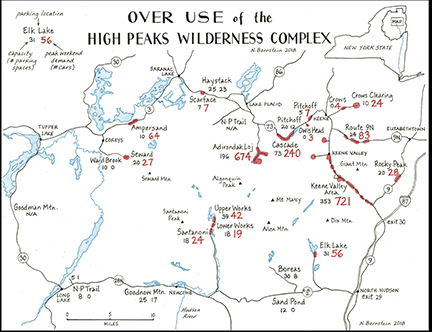 The parking lot survey showed close to 80 percent of all trailheads leading into the High Peaks and surrounding Wilderness areas were routinely above their capacity on fall weekends. Thirty-five parking lots designed to accommodate fewer than 1,000 cars frequently had more than 2,100 cars trying to park at them, the Adirondack Council analysis found. As a result over 1,000 cars were repeatedly parked along roads, on private property, and in other unsafe locations.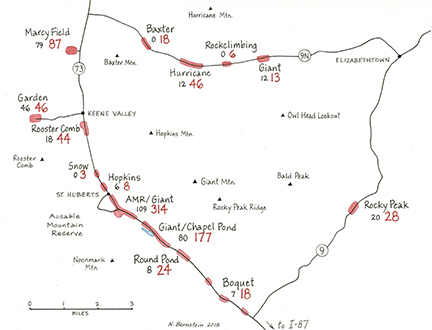 Twice as many cars means twice as many hikers and campers than the wilderness can handle and twice as much damage to plants and wildlife. Overuse of trails, campsites and summits has led to erosion, soil compaction, loss of fragile vegetation and impacts on sensitive wildlife.
"Large crowds are a reflection of the growing interest in hiking and outdoor adventures across all age groups, caused by increased social media, photo-sharing, traditional marketing efforts, and a trend toward relatively inexpensive yet accessible recreation," said Town of Keene Supervisor Joe Pete Wilson. "What we can do is help spread hikers throughout the Adirondacks to mitigate the over-crowding and safety issues. An example of this is the governor's plan to open up once again Frontier Town that will capture some of the hikers that would otherwise be heading to the High Peaks."
"The Adirondacks are a world class outdoor recreation destination," said Adirondack Council Executive Director William C. Janeway. "We are very fortunate to now have the challenge of managing the popularity and success of the High Peaks, to ensure sustainable natural resource protections, happy visitors, and positive economic impacts for the residents of the Park."
"Witnessing the vast expansion of the Adirondacks from the top of one of its 'high peaks' is just one of many wilderness experiences offered here in the Adirondacks," said Town of Newcomb Supervisor Mr. Robin DeLoria. "A parking area full of cars clearly shows the need to expand the opportunities for our visitors, not the parking lots. Providing those choices, is the true challenge."
"Too many randomly and improperly parked cars leads to public safety problems for our local governments and emergency responders," said Bill Farber, Chairman of the Hamilton County Board of Supervisors. "Rural roads get too clogged for traffic and particularly for emergency responders. Plus, parking along state highways puts hikers into the path of motor vehicle traffic which is traveling 60 miles an hour. Avoiding disastrous outcomes requires better planning, better management, and most importantly, action on all our parts."
"I think that we should explore the best management practices now used on federal lands and state lands in other areas, and adapt them for use here," said Fred Monroe, Executive Director of the Adirondack Park Local Government Review Board. "The recently classified MacIntyre and Boreas Ponds Tracts provide an opportunity to spread use by improving access to the southern High Peaks. The Frontier Town Visitor Center could, if properly managed, provide parking and a hub for alternate transportation to trailheads that are experiencing parking problems."
"It has been nearly 20 years since the state last adjusted its management strategy for the High Peaks Wilderness Area," said Town of Horicon Supervisor and Adirondack Association of Towns and Villages Chairman Matt Simpson. "Much has changed. Both the wilderness area and the number of its visitors have increased significantly since then."
The trail to Cascade Mountain has a parking lot capacity of 73 cars. Last fall, that lot had an average of 240 cars parked there, according to the survey, plus:
Keene Valley trailheads contain a total of 353 parking spots, but had 721 cars;
At Adirondak Loj and South Meadows Road, parking for 196 cars, had 674 cars;
Baxter Mountain, no parking lot, 18 cars;
Hurricane Mountain, parking for 12 cars, had 46 cars;
Ampersand Mountain, parking for 10 cars, had 64
Route 9N, Elizabethtown/Keene, parking for 24 cars, had 83 cars; and,
Elk Lake, parking for 31 cars, had 56 cars.
When it created the current management plan for the High Peaks Wilderness in 1999, the NYS Dept. of Environmental Conservation (DEC) and environmental organizations had documented that frequent big crowds had caused eroded trails, packed campsites, crowded mountain peaks and an accumulation of human waste.
The DEC said it would use the parking lots for each trailhead as the means of limiting public access to the carrying capacity of that landscape. In Lake Placid in April 2018, the DEC presented to local gov't leaders and others concerns the state has with overuse, and other information regarding goals and objectives of state management. Last fall the state experimented with a temporary relocation of the popular Cascade Mountain trailhead.
"I think it is clear that we need to do more than just keep parking lots small," said Neil Woodworth, Executive Director of the Adirondack Mountain Club. "We need to explore and employ all of the best management practices that are suited to the park. We have examples from within the Adirondacks and around the country that demonstrate the efficacy of education in combination with management practices. ADK's programs and membership strongly promote education as an indispensable technique in stewarding the Adirondack Park. We should explore the best of what is being used on federal and state lands across the country and decide what will be most appropriate here."
The DEC has held four public discussions about state land stewardship and relief of over-used areas in the High Peaks Wilderness. The 275,000-acre Wilderness area is the largest motor-free forest in the Northeast. It is also the most accessible and popular, with Interstate 87 at its eastern edge.
The broad range of ideas and suggestions provided by the stakeholders at these four meetings and at other gatherings underscored the broad support for collaborative, user-friendly and effective management to protect people, natural resources, and the quality of the wilderness experience, while boosting the economy of Adirondack towns. The state is expected to announce proposed actions to manage the success of the popular High Peaks soon.
For more information:
Matt Simpson, Adirondack Association of Towns and Villages, 518-361-1075
Fred Monroe, Local Government Review Board, 518-796-2415
Neil Woodworth, Adirondack Mountain Club, 518-449-3870
John Sheehan, Adirondack Council, 518-441-1340
FOR IMMEDIATE RELEASE: Monday, May 7, 2018