Foliage Report | Fall Foliage in the Adirondacks
Friday, September 15, 2017
By: Mary Godnick- Adirondack Council Marketing and Development Assistant

Today we are kicking off our weekly Foliage Friday series, celebrating Autumn in the Adirondacks. Each week we are featuring some of the amazing photos shared with us on Instagram showcasing fall colors in Adirondack communities, wilderness and water. Tag us in your Adirondack foliage photos on Instagram at @AdirondackCouncil to be featured next week!
Adirondack Foliage Update
The Autumnal Equinox isn't until September 22, but fall has begun in the Adirondacks. Foliage is "just changing" according to the I Love NY foliage meter, and our friends at the Adirondack Mountain Club report about a 40-50% change in color at the Heart Lake Loj.
Along with the fall foliage starting to show, fresh apples are available at local orchards. Adirondack farms are celebrating harvest season with squash, pumpkins and other fall treats. The Canada Geese are extra vocal this week, and the mosquitoes are finally starting to retreat. It's no wonder why this time of year is very popular for visiting the Adirondacks!
Foliage Fact:
Leaves change color in the fall because of changes in daylight and temperature. This causes the trees to stop the photosynthesis process. The leaves eventually lose their green color, and the vibrant red, orange and yellow hues appear. We wrote about this process a while back, but the amazing palette of colors amaze us each year.
Check out the great shots of this week's color display below!
Would you like to comment on what you've read or viewed? We'd love to hear from you. Please click to send us a message.
---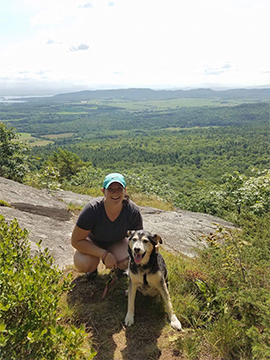 Mary joined the Council in August 2016. As the Marketing and Fund Development Assistant, Mary works with the team to coordinate marketing and fundraising efforts. She develops, manages and implements strategic social media and marketing campaigns to grow the visibility of the Council's efforts. She also works with the Fund Development team in production of materials, mailings and reports to help expand our support to preserve the Park for future generations.
Mary grew up in Harford, NY and is a graduate of SUNY Oswego and earned a Bachelor's of Arts degree in Public Relations in May of 2014. Previously, she has worked in digital marketing, search engine optimization (SEO) and social media management. Outside of work, she enjoys cooking, blogging, yoga, and enjoying all that the Adirondack Park has to offer.