5 Lessons from the Northeastern Alpine Stewardship Gathering
Thursday, November 14, 2019
By: Julia Goren - Adirondack Council Director of the Vision Project
At the end of October, New York State was privileged to host the Northeastern Alpine Stewardship Gathering, the premier conference for alpine stewards, land managers, trail workers, researchers, and volunteers. It is a biennial event co-hosted by the Waterman Fund and one regional partner, which was the Adirondack High Peaks Summit Stewardship Program this year. The goal is to bring together experts from across the Northeast for two and a half days of presentations, discussion and field trips to foster conversation around management challenges in threatened alpine habitats in the Northeast.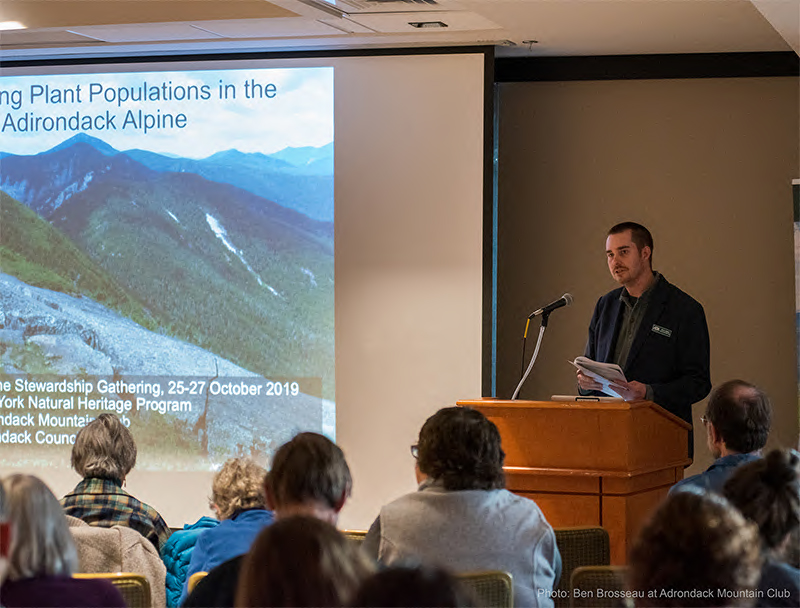 The Adirondack Park is unique, but our challenges are not. Sharing with and learning from others can only benefit all of us. From the presentations, panel discussions and poster sessions, several items emerged as points of consensus from across these diverse geographic locations and across fields.
Data & Long Term Monitoring Critical For Success
First, long-term monitoring is critically important for understanding our alpine systems. Population monitoring of alpine plants in the Adirondacks suggests some positive trends in rare species, separate from photographic monitoring conducted by Summit Stewards. Monitoring over a 200-year period on New Hampshire's Monroe Flats suggests that in spite of geologic processes, relocation of trails, and increasing numbers of hikers, the basic structure and plant composition of the Flats has remained stable. Both findings from the Adirondacks and New Hampshire speak to a stability of our mountain systems, which could seem counterintuitive without the supporting data.
In looking at recreational use, monitoring is equally important. While celebrating the steps taken by the Franconia Ridge Working Group, Nat Scrimshaw Chair of the World Trails Network pointed out that it remains impossible to answer the question of whether the Franconia Ridge alpine zone has reached its carrying capacity without monitoring protocols. These protocols have been developed by the Interagency Visitor Use Council, but will need to be applied before a definitive answer (and additional management actions, as needed) can be taken on the Ridge. Franconia Ridge sees visitation in the thousands per day. Stakeholders have been carefully working through a robust process over several years to define the problem and implement solutions. In New York, monitoring protocols are currently being developed by a working group of Department of Environmental Conservation and Adirondack Park Agency personnel.
Examples of Significant Sustainable Trail Work in New Hampshire
Second, amazing trail work can be accomplished with the resources to support it! A visually stunning presentation from Matt Coughlan of the White Mountain Trail Collective showed what two years of work with a substantial financial investment 315,000, in the Crawford Path looked like. Approximately 4.5 miles of trail were improved over that two year period, accomplished in over 15,000+ hours of work by a variety of different crews, both paid and volunteers.
Working Toward Solutions Together
Third, there is tremendous value in bringing professionals together to talk about common challenges and solutions across these areas. Several presentations grew directly from conversations at prior Alpine Gatherings, including one by Kevin Berend, Kristen Haynes, and Caitlin McDonough-MacKenzie. Their work has implications for research across the Northeastern alpine, but also demonstrates the role that conferences play in bringing people together.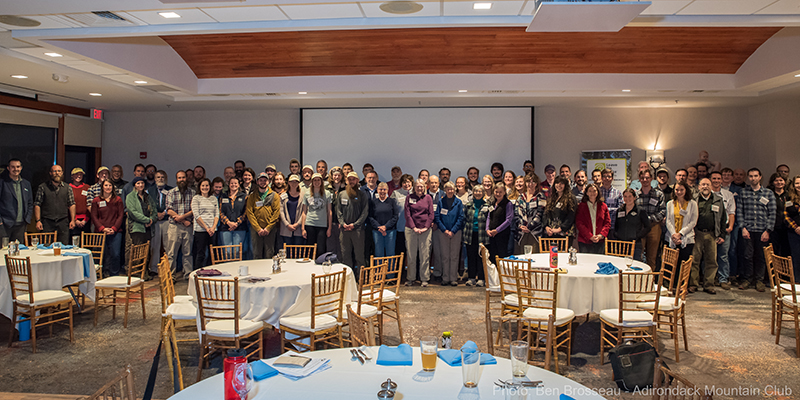 Similarly, one of the mainstays of the Northeastern Alpine Stewardship Gatherings is providing stewardship groups from across the region the opportunity to share trends, ideas and solutions with others working in the same field. Dr. Jill Weiss conducted a comparison of groups and found that specifically tailored, but regionally consistent educational messaging across alpine areas supports each area individually and also alpine areas as a whole.
Education Works & is Needed
Fourth, the value of education in protecting our public lands is paramount. The keynote presentation by Ben Lawhon of the Leave No Trace Center for Outdoor Ethics highlighted successes from across the country in reducing visitor impacts on public lands through Leave No Trace education. The Adirondack High Peaks Summit Steward Program has demonstrated some of this efficacy on alpine summits, but there are positive impacts of education for the entire Adirondack Park still to be realized.

A Shared Love for Our Wild Mountains
Finally, the Gathering reminded participants why we work to protect these charismatic landscapes. The spirit of wildness has different meanings to different people, but we can agree that we are inspired by, and called to steward, our shared mountain environments.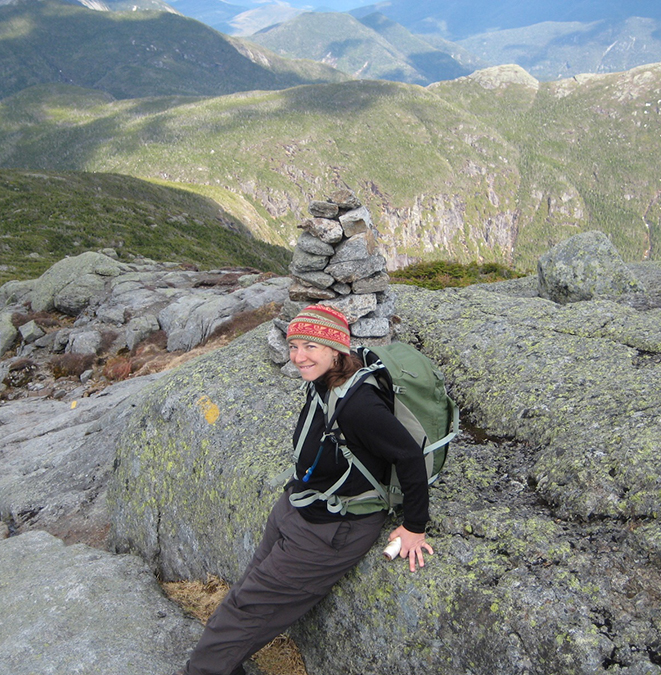 Julia joined the Adirondack Council staff in 2018 as the Director of the Adirondack Vision Project, a thirty-year strategic vision for the future. Julia holds an MS in Environmental Studies from Antioch University New England. Her previous work includes fourteen years with the Adirondack Mountain Club overseeing the Education Department and High Peaks Summit Stewardship Program, as an educator with the Catskill Center for Conservation and Development, and as an interpreter and trail crew member. Julia loves hiking, skiing, paddling, working on the perfect backcountry cup of coffee, and meandering through the woods with her family.