Life in the Alpine Zone | Long-Term Monitoring in the Adirondack Park
Wednesday, July 10, 2019
By: Julia Goren - Adirondack Council Director of the Vision Project
On a rare sunny Friday, a few Adirondack Council staff and I spent a day out of the office, looking at tiny alpine plants atop Wright Peak in order to help determine the populations of these rare, threatened and endangered species that have existed for the past 10,000 years. The long-term monitoring of these plants has been a joint project of the Adirondack Mountain Club and the New York Natural Heritage Program that aims to track changes in the populations of these species.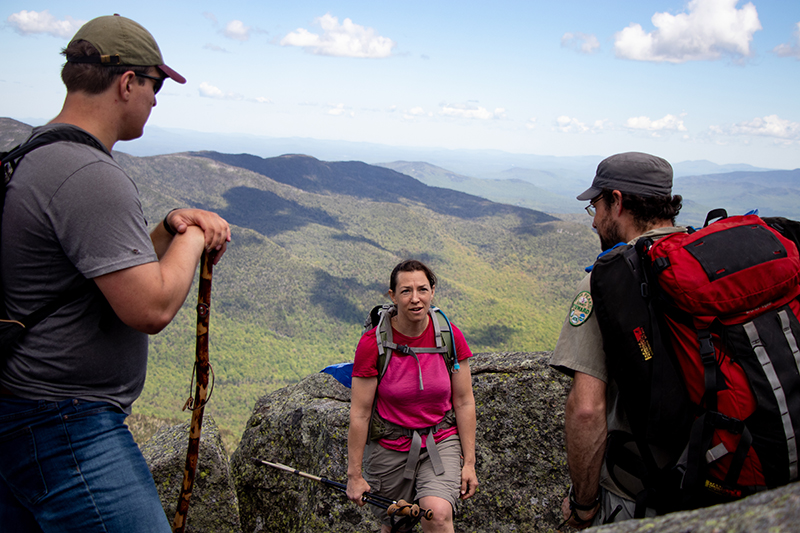 Council VISION Director Julia Goren, Clarance Petty Intern Will Lutkewitte and ADK Botany Steward Ryan Nerp stand atop Wright Peak
Long-Term Monitoring

Long-term monitoring is one of the most critical components of accurately assessing the health of an ecosystem. In human terms, it is the medical records of an organism, population, species, or whole system. Imagine walking into a doctor's office and having the doctor try to figure out if your blood pressure is where it should be, without ever having looked at your blood pressure before. Without a series of measurements, how would s/he know that you're 20 points higher than normal for you?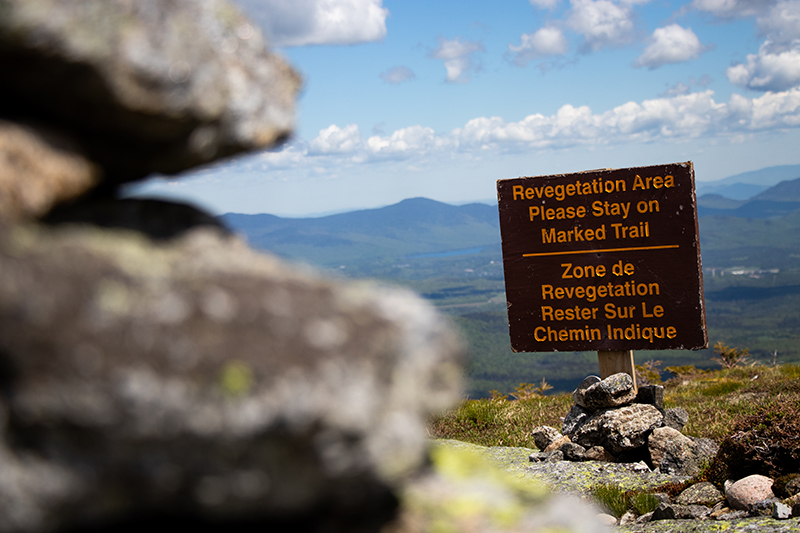 Sign asks hikers to stay on hardened trail surface to protect rare alpine vegetation
Learning from looking at the same plot, year after year
The long-term monitoring of alpine plants on the summit of Wright Peak is necessary to examine changes in the populations of the 27 rare, threatened, or endangered alpine plant species. Summit Stewards count individual plants in small plots randomly assigned across all alpine summits. By the end of this summer, approximately 300 plots will have been surveyed, allowing an analysis of how the populations of these species have changed since 2006.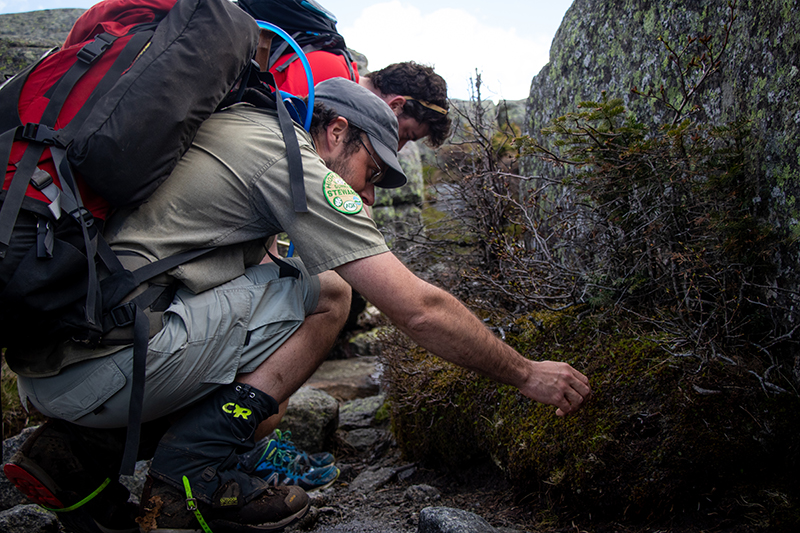 Ryan Nerp counting Boot's Rattlesnakeroot (a globally rare species, one of only a few locations in the world) with Patrick Murphy, Executive Director of the Saranac Lake Chamber of Commerce
Looking at the plots over time allows stewards to see how the populations of these rare, threatened and endangered species are changing over the alpine zone as a whole. We expect these species to be sensitive to climate change, and potentially to other atmospheric pollutants, so as we see changes in these very specific plant populations, it gives us evidence of these larger ecosystem-wide impacts.
It also tells us more about these specific plants. They are very long-lived, and it's hard for any single researcher to be able to watch and see how things are changing. Without long-term monitoring, conducted over a span of many years, it would be impossible to track any changes. For example, as areas that are damaged by hikers revegetate, there is a succession in how vegetation regrows. The Summit Steward Photo Monitoring Project shows how first, moss grew into the areas. Over time, eventually the moss was replaced by other species, such as sedges, and after even longer, heaths. That was only discovered because of long-term monitoring since the 1950s. It's only after more than three decades that we start to see successional change. This pattern would be undetectable if monitoring wasn't occurring.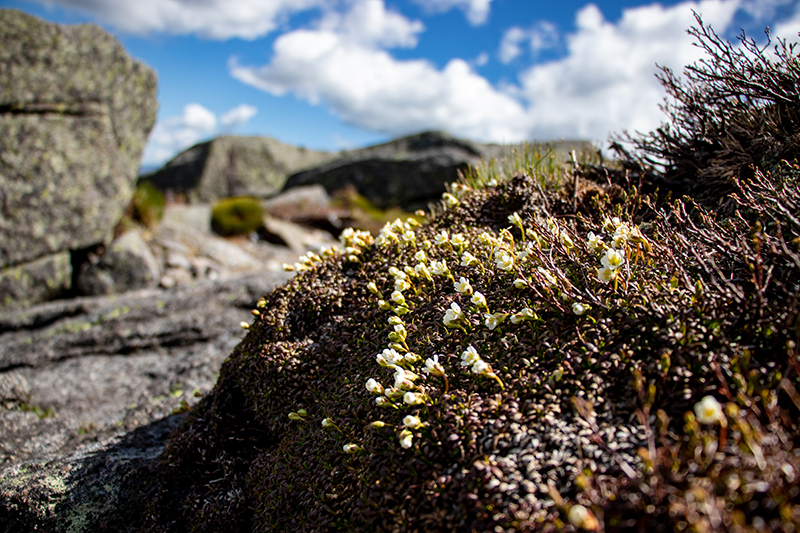 Diapensia in bloom atop Wright, which only blooms for about one week per year
Life in the Adirondack Alpine Zone
It was a glorious day to be out on a summit, looking at beautiful, tiny, and incredibly hardy plants. These species have survived on the summits for approximately 10,000 years, since the last glaciers retreated off the summits. They have a host of adaptations that make them able to withstand the strong winds, freezing temperatures, poor soils, and other challenging summit conditions that keep other plants from growing up high. Their continued existence on our summits is threatened by climate change and trampling from hikers. Thanks to the efforts of the Adirondack High Peaks Summit Steward Program, we know both about the fluctuations in the populations of these species and how to help protect them.
The alpine zone is one small, but important ecosystem comprising approximately 100 acres in the six-million-acre Adirondack Park. This project is an example of the kind of long-term monitoring which is essential for tracking the health of the natural systems of the Park. Only with the kind of knowledge gained through this routine monitoring can we know when our systems are facing threats, declines, or, are seeing improvements.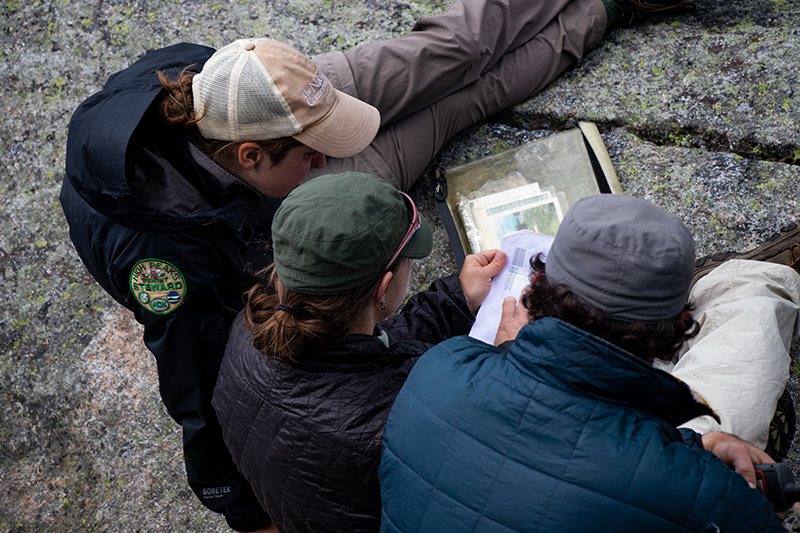 ADK Summit Steward Kayla White, Julia Goren and Ryan Nerp examining a species list to determine which target species are likely to be found on Wright Peak
Examples of similar projects exist across the Park, from the Boreal bird surveys conducted by Dr. Michale Glennon of the Adirondack Watershed Institute, to the cloud composition studies on top of Whiteface Mountain done by SUNY Albany's Atmospheric Science Research Station, to the water quality monitoring by the Ausable River Association and Adirondack Lakes Survey Corps.
Each of these projects is excellent and contributes to the understanding of the health of the Adirondack Park.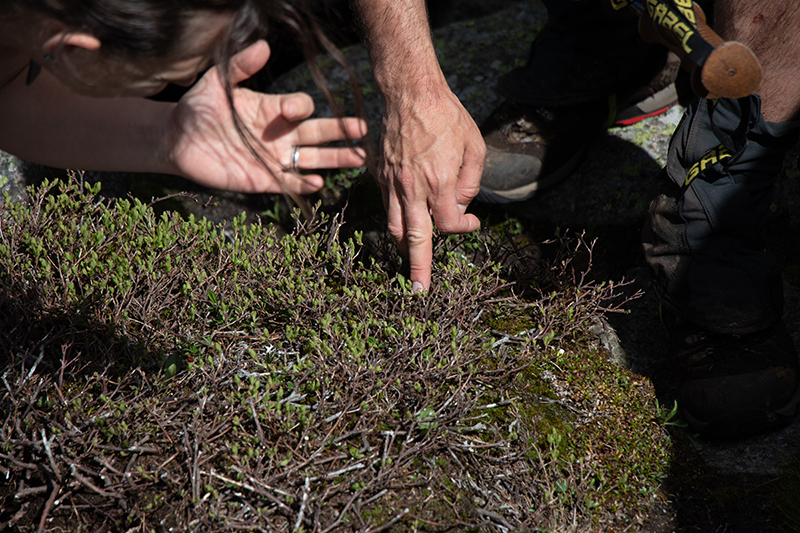 Julia and Ryan looking for Boot's Rattlesnakeroot among a patch of Billberry
Long-Term Monitoring is Critical for Decision Making
While this work is critically important in understanding the health of the ecosystems of the Adirondack Park, there is often a lack of funding available. When funds are available, a strong bias exists towards research on novel topics, rather than long-term monitoring. Yet, without being able to see trends and patterns, which only become apparent through regular and routine monitoring, we miss the ability to detect important changes over time. Like a subtle, but clear rise in blood pressure, these can alert researchers to threats to the health of our natural systems, allowing land managers like the New York State Department of Environmental Conservation to take action.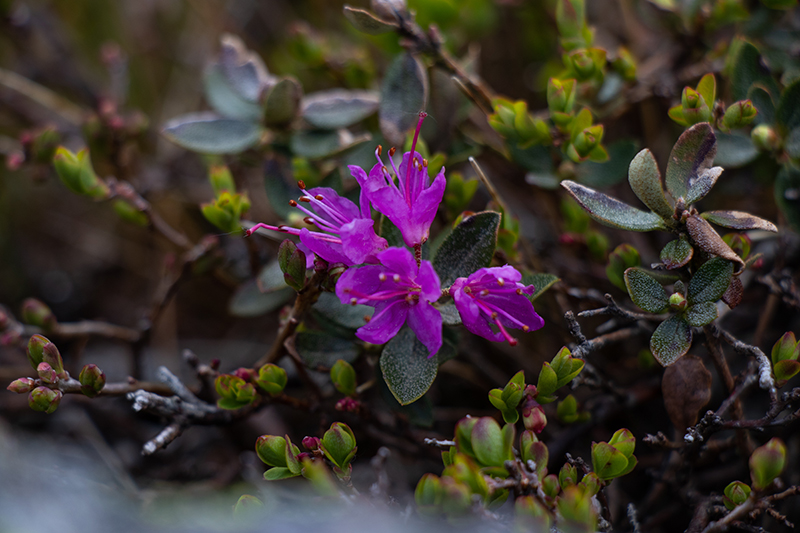 Lapland Rosebay (alpine rhododendron) in bloom. It only grows 0.04 mm per year. One the thickness of your thumb may be over 400 years old!
On our alpine summits, long-term monitoring done by the Summit Steward program has shown the efficacy of education in promoting recovery of fragile plants. The project being undertaken this summer will help to show how all of those species, near the trail or not, are faring, in light of climate change and other threats.
Long-term monitoring is beneficial for decision making and planning because it provides the data necessary to make good decisions. Looking at long-term trends can help with management decisions: for example, if one were looking at trailhead data for 2017 as compared to the summer before in the High Peaks region, we'd see a decline in numbers, which might lead a land manager to assume that increased action to prevent overuse is unnecessary. Looking at the long-term trend, however, we can see a steady and significant increase over time, which helps us to understand that visitor use will continue to rise, whether we see a slight decrease in one year over another.
Finally, simply having people on the summits monitoring these plots of vegetation makes it more likely we will find rare plants in new locations and offer opportunities for education of visitors.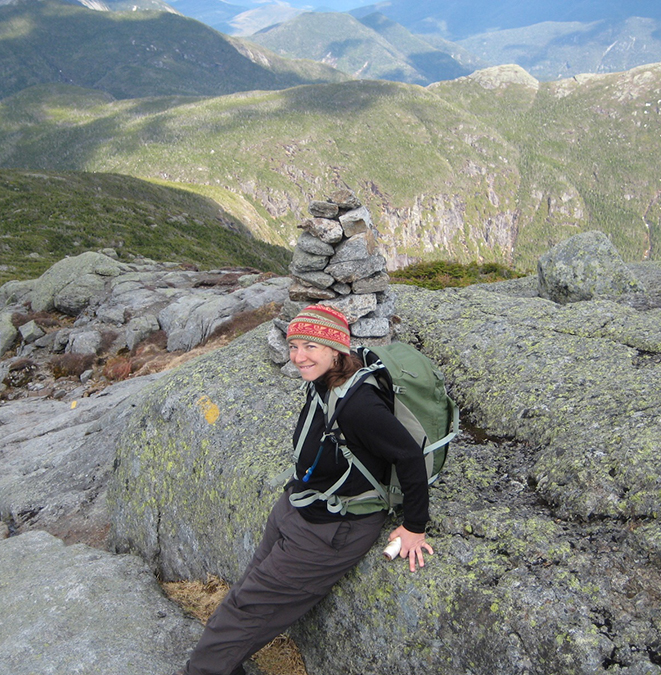 Julia joined the Adirondack Council staff in 2018 as the Director of the Adirondack Vision Project, a thirty-year strategic vision for the future. Julia holds an MS in Environmental Studies from Antioch University New England. Her previous work includes fourteen years with the Adirondack Mountain Club overseeing the Education Department and High Peaks Summit Stewardship Program, as an educator with the Catskill Center for Conservation and Development, and as an interpreter and trail crew member. Julia loves hiking, skiing, paddling, working on the perfect backcountry cup of coffee, and meandering through the woods with her family.