Traversing "the Bob" - Observations, Problems and Opportunities
By Adirondack Council Executive Director William C. (Willie) Janeway
June 16, 2014
Recently, I took a four-day, 60+ mile traverse from Old Forge to Wanakena in the western section of our six-million acre Adirondack Park. I forded rivers and found huge trees, bears, loons, and the season's first black flies.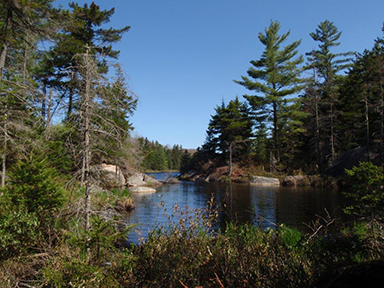 On full display, as detailed below, were the benefits, challenges and opportunities associated with protecting large areas of the Adirondack Park as Forever Wild Forest Preserve.
The area of the Adirondacks I traversed has multiple private ownerships and 16 separately managed adjacent state land units. The Adirondack Council proposes state recognition, management and promotion of this area as the Bob Marshall Wild Lands Complex, or "the Bob." The complex would include ongoing private ownership, public Wilderness (where motors are prohibited), and public Wild Forest (where motorized recreation such as snowmobiles can be allowed). Click HERE if you want more infomation on the Bob.
The public areas in the Bob include over 400,000 acres of Forest Preserve land, 441 lakes and ponds, 71 miles of wild rivers, snowmobile trails, state access roads, and more than 400 miles of hiking trails. And it's all open for people to enjoy….like I did!
Eight miles after leaving Old Forge, I reached Middle Settlement Lake in the HA-­DE-­RON-­DAH Wilderness, where I saw the first loon of the trip. And there were many more that I saw along the way. In the 1970s and 1980s, it was rare to see a loon because of acid rain. Now loons are recovering thanks to a 30-plus year campaign by the Adirondack Council and its partners. Progress has been made.
Elsewhere on my solo hike, a healthy black bear ran across the trail and seemed surprised to see me. I saw a family of black cherry trees as big as any I have seen. Three identical sister trees together in a row, each more than eight inches in circumference at breast height, with three others standing like sentinels nearby.
Further north, the old growth pines in the western Five Ponds Wilderness, especially along the eskers besides the trail between Sand Lake and Big Shallow, presented themselves like old friends. Little had changed. Again…progress has been made.
Other parts of my trip revealed problems and opportunities. I saw areas where the wild character of the Adirondacks and the future viability of communities are threatened.
After entering the Independence River Wild Forest, I encountered signs that all-terrain vehicles (ATVs) were riding on trails. I found a new snowmobile trail…a trail of fresh stumps, cut through a forest of beech.
I saw bridges, trails and roads…for foot travel, snowmobiles and motorized use. Some of this infrastructure was well designed, marked and maintained, but other bridges were washed out and some trails were closed or not maintained. Signs were missing, and gates were open or ignored. Some boundaries were not marked, public information was scarce and there was evidence of motorized access into and impacting remote areas shown on maps as state Wilderness.
Public lands stewardship is lacking to such a degree in some places that the natural resource is not being properly protected. In addition, the opportunity for increased low impact public use and enjoyment, and associated economic activities and benefits, is compromised.
Nature doesn't know that it is designated Wilderness or Wild Forest, or if it's publicly or privately-owned.
On this trip, I was reminded that to better protect the Park, we need to invest in the environment and communities. For example, it can be a challenge to find accurate information on public lands in this area of the Adirondacks. Keeping an area secret doesn't protect it. However, if we better promote and manage the public lands in the Bob Marshall Wild Lands Complex, we will have a recipe for the long"�term conservation of the natural resource and the economic vibrancy of its surrounding communities. This will better protect endangered species and endangered communities.
The Adirondack Park needs a reinvigorated public-private partnership to address four things:
The scarcity and inconsistency of investment in conservation stewardship;
The degraded nature of infrastructure;
The economic challenges facing small Adirondack communities; and
The protection of clean water, clean air, wildlife, and our way of life from threats including invasive species, climate change and politics as usual.
In the Adirondacks, long time opponents - environmentalists and local government offi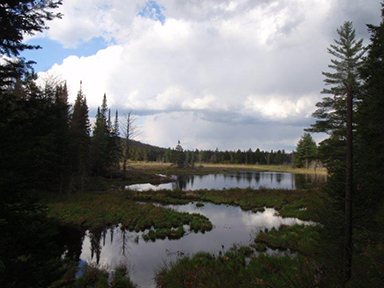 cials and advocates for Wilderness and proponents of economic growth - are working together with elected leaders on other issues of common concern. That same approach can work here.
We need a new investment in the state's largest park and its communities. We need to keep invasive species out, combat climate change, discourage inappropriate development, and invest wisely in infrastructure, recreation, jobs, and hamlets. This will protect clean water, generate local employment and secure the future, forever. Let's do it!
Would you like to comment on what you've read or viewed? We'd love to hear from you. Please click HERE to send us a message.
---
William C. (Willie) Janeway returned to the Adirondacks to become the Executive Director and leader of the Adirondack Council in May 2013 after close to six years as the Regional Director for the State Department of Environmental Conservation Hudson Valley/Catskill Region. He brings to the Adirondack Council team a life-long passion and interest in the Adirondacks and nearly 30 years of experience as a professional conservationist, fundraiser, administrator, coalition builder and advocate for the environment.
After graduating from St. Lawrence University where he majored in economics and environmental studies, Willie lived in the Adirondacks for nine years while working for the Adirondack Mountain Club as the first Trails Coordinator, and North Country Director. Willie also served as the first Executive Director of the Albany Pine Bush Preserve Commission, Executive Director of the Hudson Valley Greenway, and State Director of Government Relations for the Nature Conservancy.
When not working Willie can be found outdoors. He is an Adirondack 46er, a year-round hiker and skier, a runner and a fisherman. He and his family share a camp in the Park. Willie and his wife Mary live in Keene Valley.