With Hope, Looking Forward to a Bright Future for the Adirondack Park
Monday, December 14, 2015
By: Kevin Chlad - Adirondack Council Director of Government Relations


I spent a few Saturdays ago hiking in the McKenzie Mountain Wilderness with a dear friend. The day started with a false promise of fair weather, but the wind was a clear signal that it would not remain.

As we sped off into the forest, the ground was hard and the wind remained crisp and constant. We began to catch up on life, sharing a moment in sweet solitude. My friend asked me how things were with the Adirondack Council, and with that, the conversation quickly turned to one topic: the 2016 legislative session that's about to begin.
Yes, the return of the legislature is always exciting and a bit unnerving, with so much at stake every year. As the Adirondack Council's State of the Park Report 2015 stated so eloquently, the Adirondack Park is poised for change. On one hand, the Park is challenged by the threats of climate change, invasive species, poorly-planned development, and inappropriate all-terrain vehicle use. On the other hand, it is fortunate to be on the cusp of so many historic opportunities. The choices that are made by policymakers in the next few years hold the potential to change the face of the Adirondack Park as we know it. I told my friend,

"We have a lot on our platter, but I'm particularly excited this year about the opportunities we have."

As we scrambled up the icy trail, I shared with him all that we hope the Governor and legislature will achieve this year:

Protect and expand Adirondack Wilderness, creating a new 280,000 acre motor-free area in the heart of the Park.
The addition of 35,000 acres to the High Peaks Wilderness will protect the Boreas Ponds, the headwaters of the Hudson River and critical wildlife habitat. New Wilderness will provide recreational opportunities and be an economic stimulus to gateway communities for generations to come.

Close the gap in clean water funding by increasing NYS Wastewater Infrastructure Investment Act appropriations for grants to $800 million.
As the Governor and legislature continue to grow the NYS economy and fight the impacts of climate change, water infrastructure will be a necessary component of community revitalization and climate resiliency projects. Adirondack communities have small populations but host very large numbers of visitors. Grants for clean water infrastructure will close the gap between the project costs and the amount a community can actually afford.
Enhance incentives for private forest land conservation and protect local tax bases through reform of the Real Property Tax Law (RPTL) §480/480(a).
Private forest land is a large and important factor in Adirondack Park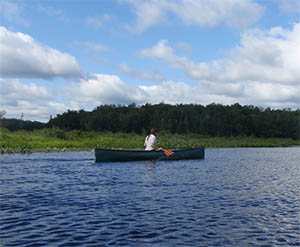 conservation. Securing a stable future for private forest owners will prove integral to preventing large scale habitat fragmentation. Currently, incentives come in the form of property tax reductions, making it necessary to offset impacts to local tax bases. Reforms to RPTL §480/480(a) should benefit both conservation and communities.

Grow the Environmental Protection Fund to $300 million, including $60 million for open space protection, $10 million to combat invasive species and at least $25 million for state land stewardship.
The Environmental Protection Fund (EPF) is the state's signature source of funding for a wide-variety of capital projects designed to enhance New York's natural resources and improve the economy and quality of living for communities. In the Adirondack Park, the EPF plays a defining role in protecting core wilderness while making communities more vibrant.

Protect the Adirondack Forest Preserve from inappropriate all-terrain vehicle (ATV) use while supporting opportunities for responsible and sustainable riding on less sensitive lands.
All-terrain vehicles are unique machines. The Adirondack Park is a unique and sensitive area. The management of this activity should be unique as well. ATVs should be generally banned from operation on the Forest Preserve, with limited exceptions, while riding should take place on private lands and non-state lands. More funding is needed for enforcement, rider education and trail maintenance and construction that follow best management practices.

As we pulled up onto the summit of McKenzie Mountain, we threw on our jackets and fired up a stove to make coffee. The clouds and cold were rolling in fast, but we sat in quiet comfort, knowing that the future of the Park should be bright.

Please send a letter to Governor Cuomo


Would you like to comment on what you've read or viewed? We'd love to hear from you. Please click to send us a message.
---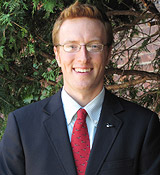 Kevin joined the Adirondack Council staff in 2011.

Kevin leads the Council's Albany-based Government Relations team, building coalitions and lobbying government officials to improve protection and grow funding for the Adirondack Park.

Kevin Chlad graduated in 2008 with a degree in Environmental Studies of the Adirondacks from SUNY Potsdam. Besides his previous time spent at the Adirondack Council as a Clarence Petty Intern in 2009, Kevin has held numerous other Adirondack occupations, including Ausable River Steward, canoe guide, and fire tower summit steward. When not advocating for the Park, Kevin can be found on the golf course, deep in the wilderness, or clinging to the occasional rock face or hanging from an icicle drip. He lives in Delmar, NY with his best friend and wife Michelle.