Welcome Kate Brooker - The Council's Newest Clarence Petty Intern
Thursday, June 29, 2017
By: Adirondack Council staff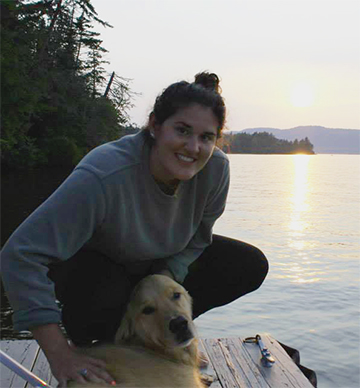 The Adirondack Council welcomes Kate Brooker as our newest Clarence Petty Intern in our Elizabethtown office. She will be working closely with our Conservation Director, Rocci Aguirre.
Kate graduated this past spring from St. Lawrence University with a degree in Chemistry and Geology. At St. Lawrence, she spent a semester abroad in Copenhagen, Denmark, where she studied climate change issues in Iceland. Kate also served as an Admissions Ambassador and the Concert Chair for the campus entertainment committee. Previously, she was a legislative intern in Washington, D.C. for Congresswoman Louise Slaughter. There, Kate had the opportunity to see how the federal government deals with conservation issues and work with legislative fellows on topics such as dredging in the Great Lakes and the Zika Virus crisis.
Kate's interest in science and policy comes from her strong connection to the Adirondack Park. Her father is a longtime resident of Old Forge, NY, her mother and her mother's family have camps along the Fulton Chain, and family reunions are often in Inlet, NY. Growing up visiting the Adirondacks has fostered Kate's love of the outdoors and her interest in conservation. This summer, while working at the Council, she hopes to expand her understanding of conservation legislation as it applies to the Park. When Kate is not working, you can find her skiing, hiking, and trying to improve her fly fishing skills.
About the Clarence Petty Intern Program
The Adirondack Council's Clarence Petty Intern Program hires emerging environmental leaders in college or graduate school to learn about and help with the Council's work to ensure the ecological integrity and wild character of the Adirondack Park. By working with our staff and partners, Clarence Petty interns gain experience in conservation, government relations, education, and outreach. The Program prepares interns for careers here and around the world, and helps train and develop the next generation of conservation leaders.
A native of the Adirondacks, Clarence Petty spent his lifetime working to ensure good stewardship of the state's public lands and sound decision-making about private land use in the Adirondack Park. He served on the Adirondack Council's board of directors and was also on the advisory board. The program is named in his honor.