Welcome Dana Mancini as the Council's Newest Clarence Petty Intern
Tuesday, February 9, 2016
By: Lisa M. Genier - Adirondack Council Program Analyst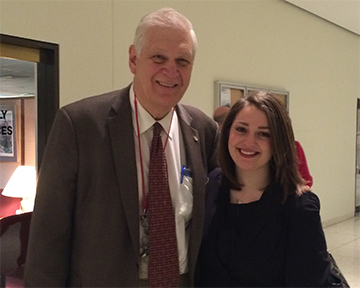 Clarence Petty Intern Dana Mancini and Chairman of
the NYS Assembly Environmental Conservation
Committee Steve Englebright
The Adirondack Council is happy to welcome a new addition to our hard working and dedicated staff team. Dana Mancini began work in early December as one of the Adirondack Council's Clarence Petty Interns. She joins Director of Government Relations Kevin Chlad, Director of Communications John Sheehan and Advocacy and Outreach Assistant Greg Redling, in our Albany Office. She will be working closely with all three during the upcoming legislative session.
Dana will assist Kevin with monitoring legislation and proposed regulatory changes as well as lobbying local and state policymakers. She will also help Council staff with our work to support the expansion of the Adirondack Park's popular High Peaks Wilderness Area.
Dana is a 2015 graduate of SUNY College of Environmental Science and Forestry and holds a bachelor's degree in Environmental Studies with a concentration in Policy, Planning and Law. She is currently a graduate student at the Rockefeller College of Public Affairs and Policy in the Master of Public Administration program. Previously, Dana has interned at the Radix Center as well as at Regeneron Pharmaceuticals, where she was the Inspection Management intern.
Dana is an enthusiastic and outgoing individual who brings a broad base of environmental experience to the Council's Albany team. We expect her personality to compliment the social nature of lobbying and look forward to her becoming a key player in helping us pursue our mission of preserving the ecological integrity and wild character of the Adirondack Park.
When she's not working, you likely find Dana enjoying one of her many hobbies such as baking, dance and spending time with her family. Please help us in welcoming Dana to the Council.
About the Clarence Petty Intern Program
The Adirondack Council's Clarence Petty Intern Program hires emerging environmental leaders in college or graduate school to learn about and help with the Council's work to ensure the ecological integrity and wild character of the Adirondack Park. By working with our staff and partners, Clarence Petty interns gain experience in conservation, government relations, education, and outreach. The Program prepares interns for careers here and around the world, and helps train and develop the next generation of conservation leaders.
A native of the Adirondacks, Clarence Petty spent his lifetime working to ensure good stewardship of the state's public lands and sound decision-making about private land use in the Adirondack Park. He served on the Adirondack Council's board of directors and was also on the advisory board. The program is named in his honor.
etire 3 tons of carbon dioxide from the Regional Greenhouse Gas Initiative (RGGI) program. - See more at: http://www.adirondackcouncil.org/page/climate-change-88.html#sthash.hh05FSTF.dpuf
Would you like to comment on what you've read or viewed? We'd love to hear from you. Please click to send us a message.
---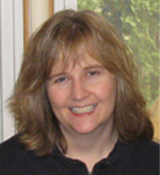 Lisa M. Genier joined the Council in 1992 working as its Legislative Associate in the Albany office. During her tenure, she played a role in the creation of the Environmental Protection Fund, which has been used to fund land purchases and environmental programs in the Adirondack Park and around the state. She was also a member of the negotiating teams that worked on re-licensing agreements for several hydroelectric facilities in the Park, which preserved thousands of acres of land, expanded recreational opportunities, and protected other natural resources. Lisa now works part-time as Program Analyst writing action alerts, interacting with members, managing the Council's website, and serving in a consultative role on legislative and other issues.

Lisa is a member of the Department of Environmental Conservation's Accessibility Advisory Committee that works to make the Forest Preserve and other DEC facilities around the state more accessible for people with disabilities while protecting the natural resources.

Lisa grew up in Mineville (Town of Moriah) in the Adirondacks. She attended the State University of New York at Oneonta and graduated in 1989 summa cum laude with degrees in Political Science and Business Economics. Lisa currently lives in Schenectady with her partner, Val and their three cats and dog.