Ways to Support the Adirondack Council
By Nicholle Gotham - Adirondack Council Assistant Director of Development
Monday, Nov. 21, 2022
My favorite time of year is easily the holiday season. For me, it's always meant coming together with loved ones to celebrate another year (and of course, to celebrate the start of the Adirondack winters!). It's also meant taking a look at how I can give back to the causes that mean the most to me.
By giving to the Adirondack Council, you are shaping tomorrow's Adirondack Park through your dedication to the clean water that flows through our rivers and streams, the clean air we breathe, the wild spaces that surround us, and our communities. Every dollar and every donor makes a difference in our work here at the Adirondack Council in preserving the Adirondacks for future generations.
There are so many ways to give back to the Adirondack Council this holiday season, so please join me in supporting our work as we head into the New Year. Here are a few ways you can make a meaningful gift:
Amplify your impact through the Tad and Nancy Jeffrey Year-End Challenge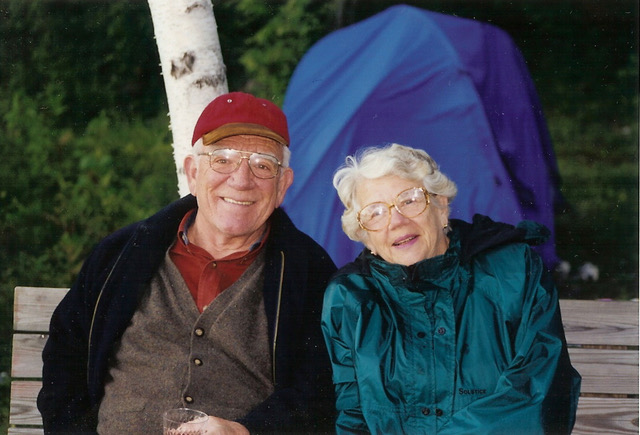 The late Tad and Nancy Jeffrey had long ties to the Adirondacks and through their dedication to the region, they instilled a love of the Park in the next generation of their family. Tad and Nancy were steadfast supporters of the Adirondack Council for over 30 years. Through their legacy of giving back, they passed these lessons onto their children and grandchildren and hoped to inspire others to join them in supporting the important work of the Adirondack Council.
In honor of their parents and their love for the Adirondacks, the Jeffrey family invites you to join the generations of their family in giving back to the Adirondack Council to protect the Park for generations to come. They have generously committed to a 1:1 match for every gift received by December 31st, and a 2:1 match for any increased or new member gift up to $500,000. Tell your family and friends!
Give the Gift of Membership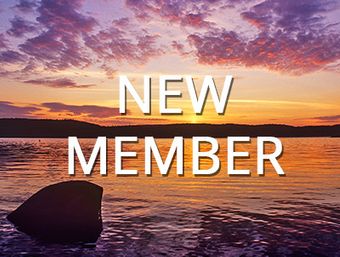 Wondering what to get that special someone or the family member who has everything this holiday season? Make a gift in their honor or gift them a membership to the Adirondack Council.
By gifting someone a membership, they'll receive:
The State of the Park report: the latest information on what elected officials are doing for the Park
Call of the Loon newsletter: the issues, people and trends in the six-million-acre Adirondack Park
emails including our In and About the Park Blog, Action Alerts and updates on Park-related issues
an invitation to our Annual Forever Wild Day and Membership Meeting, which gives them the opportunity to meet other people who share concern and appreciation for the Park
special activist alerts and opportunities to take action
satisfaction in doing your part to make the Adirondacks and the Earth a better place!
Holiday shopping? Give back to the Council at the same time!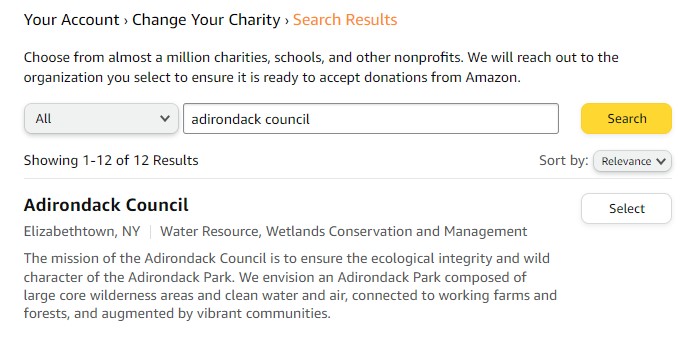 If you find yourself searching online for gifts this year, by using AmazonSmile, 0.5% of the price of eligible purchases will be donated to the Adirondack Council by Amazon at no additional cost to you! To sign up, click here and follow the prompts to sign in using your existing Amazon account or create a new account.
By selecting the Adirondack Council, it will not cost you anything extra and you can get your holiday shopping done and give back at the same time!
Plan on Forever
All estate gifts to the Adirondack Council continue to grow as part of the Forever Wild Fund creating a lasting legacy and voice for Adirondack Park Protection. This quasi-endowment fund was established to provide a Board-approved annual income transfer of up to 5% supporting the Council's annual budget to meet current demands, and allowing flexibility, when necessary, for resources to address constitutional and unforeseen threats.
Join our Legacy Society – If you name the Adirondack Council as a beneficiary in your will or life insurance policy, please be sure to let us know so we can list you as a member of the Legacy Society. You will also be inspiring others to do the same.
Roll over money in your IRA to the Council. If you are age 70½ or older and have an Individual Retirement Account, you may be able to make a qualified charitable distribution (QCD) directly to the Adirondack Council tax-free.
These are just some of the ways you can give back this holiday season. If you're interested in learning more, click here. If you're still looking for a great gift and want to support us, we have some great gift options in our online store (my favorites include our cozy neck gaiters for winter hikes or adopting one of my favorite Adirondack creatures, the loon!).
Your support helps preserve the ecological integrity and wild character of the Adirondacks for current and future generations. Join us today as we work to provide a better future for the Adirondack Park.
Best wishes for a wonderful holiday season from all of us here at the Adirondack Council and thank you for your continued support.