Verplanck Colvin - Barons to Boreas
By: Bill Killon - Guest author
January 23, 2017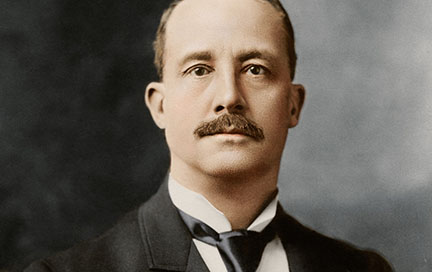 Verplanck Colvin
As a kid growing up in the center of the Adirondack Park, my parents would take my brother and me hiking, and it was understood that we hadn't reached the top of the mountain unless we stepped on the brass surveying plug embedded on the summit. It wasn't until after reading Dr. Philip G. Terrie's book, Contested Terrain, that I understood the importance of these bits of arbitrary metal. Over 100 years ago, surveyor and explorer Verplanck Colvin strategically distributed these bolts, hooks and eyelets across the Adirondack landscape. In a time of rampant exploitation of natural resources by lumber barons, Colvin used these points to precisely locate state land that would lay the groundwork for a revolutionary form of conservation and preservation. Although many of the shiny legible surveyor's bolts that we tagged as kids are replacements for Colvin's original points, the weathered eyelets that secured giant wooden surveyor's towers can usually be found nearby. If you're lucky and you know where to look, you can still find some of Colvin's original markers stamped with the identifying "Adirondack Land Survey."
Dr. Terrie's book led me to Paul Schaefer's, Adirondack Explorations and Nina H. Webb's, Footsteps Through the Adirondacks. Like Schaefer and Webb before me, I became fascinated with Colvin's work. The reports that he penned between 1872 and 1900 describing his explorations in the Adirondacks read like adventure novels. The descriptive, sometimes flowery prose is hard to put down. The pages are filled with exciting treks through unknown lands with trusty guides all the while battling unforgiving weather, wild animals and of course… surveying too. I was hooked. I had been working in the world of commercial and editorial video and photography since graduating college and was looking for a subject for a personal project. Around the same time, digital still cameras started allowing for the recording of quality HD video and with that the cost barrier to producing such a film disappeared. I contacted my friend and writer Tom Henry, with whom I had collaborated with on a number of projects for Adirondack Life Magazine, and soon we found ourselves hot on the trail of Verplanck Colvin, the father of the Adirondack Park.
As with any new project, the question is, will anyone care? A membership of 140 of some of the nicest and most interesting people that you'll ever meet who celebrate Verplanck's accomplishments soon came to my attention. The Colvin Crew's superintendent Jim Vianna welcomed me to one of their functions and was kind enough to share his wealth of knowledge for the film's first interview. From there, pieces fell into place. Dr. Philip G. Terrie hosted Tom and me for an incredible interview about all things Adirondack. I met guidebook writer Tony Goodwin on the Giant Mountain trail and a couple of months later, on a cold and rainy September day, he graciously met us in a lean-to at Adirondack Loj for an interview. The story led to Tim Maguire of the Marsh-Billings-Rockefeller National Park. Emmy Award winning, Willem Lange, recorded the intro to the film as the voice of Colvin. The legendary Dan Berggren expertly performed the narration. For the soundtrack, musicians Chris Gribnau and Lisa Henry adapted and recorded "The Ballad of Blue Mountain Lake" on banjo, piano and even flugelhorn. The Adirondack and the Chapman museums worked with me to pull to together related photographs.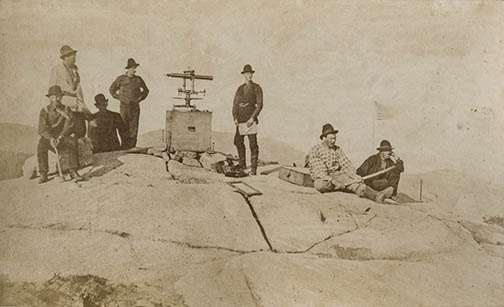 Colvin and his crew
Photo courtesy of the Adirondack MuseumThe graver reader might ask, why rehash this twice-told tale? The Boreas is one example. The fact that we can still add such a supreme landscape to our Adirondack Park based on a 145 year old vision that is in some ways more relevant today than ever, is simply amazing. The story needs to be rehashed from time to time, and I hope by keeping it alive it will inspire emerging champions and leaders of the Adirondacks who will build upon Colvin's legacy. I hope you will recognize it as more than historical anecdotes to be mired down by the immovable weight of reminiscence and nostalgia. As Mr. Vianna likes to say, "Colvin was the right man at the right time for the creation of the Adirondack Park." I look forward to meeting the right individuals for our time. Individuals who, like Colvin, recognize the importance of the resource and embrace new models rooted in heritage that will strengthen our local and extended Adirondack community.
The film is not to be the definitive work on Colvin but rather a piece of the story and I hope you'll pick up the books mentioned above to learn more about him. Most of his reports have been digitized and can be found with a quick Google search. Please visit www.verplanckcolvin.com to rent or purchase a digital copy of the film and take advantage of the promo code ADKCOUNCIL to take 25 percent off of your order. DVDs are distributed through North Country Books and can currently be purchased from the Mountaineer in Keene Valley. If you have any questions or would like to get in touch please email me at bill@billjkillon.com.
Would you like to comment on what you've read or viewed? We'd love to hear from you. Please click to send us a message.
---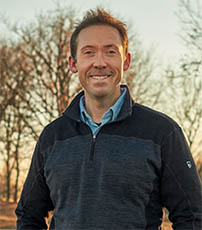 Bill Killon
©2017 Bill KillonBill Killon is a photographer and filmmaker for commercial, editorial, and cultural organizations including Adirondack Life Magazine, The Norman Rockwell Museum, and the Museum of the City of New York. As a 6th generation Adirondack native, Bill has a passion for the history and the folklore of the Adirondacks and upstate New York.