Two State Legislative Priorities for the Adirondacks | APA and ATV Reform
Wednesday, May 2, 2018
By: Kevin Chlad - Adirondack Council Director of Government Relations
Spring is here, and many are pulling their hiking gear out of their closets and putting their winter coats away. Some may even be prepping their boat for an early season paddle. Bear, deer and other mammals are out fattening up after a tough winter, and migratory birds are returning from a long, warm holiday. Trees are budding in the valley as the snow melts away up high. Spring is a time of hope and opportunity. The Adirondacks offer this blessing every year … a reminder of the potential in a six-million acre park.
There is great potential in the Adirondacks again this spring, as the Legislature resumes its session after completing the budget process near winter's end, and taking a brief hiatus before the final push through late June. The Adirondack Council is hopeful that, in the remainder of this session, our government representatives will use this opportunity to pass legislative reforms to address threats to the Park's ecological integrity and wild character.
There are two areas in great need of legislative reform: Adirondack Park Agency review of large-scale subdivisions, and ongoing inappropriate all-terrain vehicle use. In these two initiatives lie this year's hope for promising reforms for the public and private lands of our Adirondack Park.
Adirondack Park Agency Conservation Development
In recognition of scientific advances highlighting the importance of preserving intact forests to protect wildlife, and in reaction to controversial subdivision permit approvals by the Adirondack Park Agency (APA), legislation was introduced by Assembly Environmental Conservation Committee Chair Steve Englebright (A.5451) that is intended to help the APA shape new development in a manner that does the least ecological harm.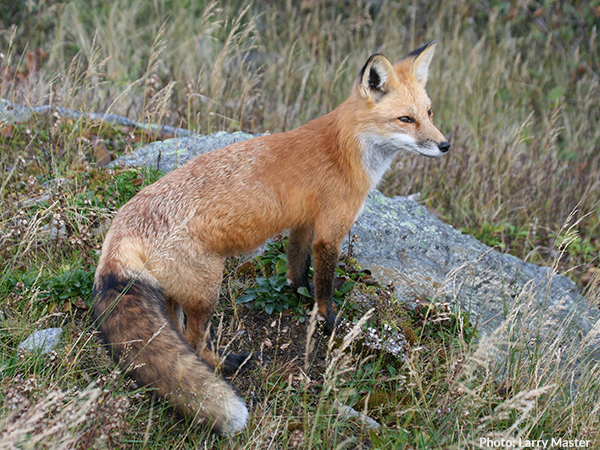 Red Fox
(Vulpes vulpes)

In addition, conservationists have been meeting with local officials, landowners, individuals involved with the Adirondack Common Ground Alliance, and the APA with the goal of developing a bill that can better protect wildlife and water quality, both of which are essential to the Park's future. It would also make development more sustainable and less expensive for both landowners and the local taxpayers who will provide police and fire protection, highway maintenance, courts, and schools. Call it Conservation Development. It is designed to group new buildings into a more compact area, while still providing privacy and open space to homeowners. New road networks would be much shorter, easier to maintain and need less road salt. Roads would also cross fewer streams, thereby requiring less bridges and culverts. All of these changes would lessen the impact on wildlife and other natural resources.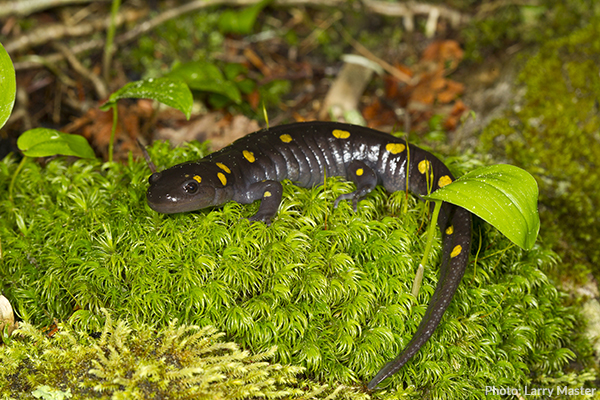 Spotted Salamander
(Ambystoma maculatum)

Protecting Adirondack wildlife should be a goal for all New Yorkers. If we can't protect rare and sensitive plants and animals in the Park, what chance do we have anywhere else? The Adirondacks are the place that has the potential to show the whole world what is possible, with the right kind of care and forethought.
All-Terrain Vehicles
Earlier this year, the Adirondack Council worked with partners to defeat an industry-backed proposal in the Senate one-house budget that would have expanded ATV use without enacting other badly needed reforms to ATV riding. It is concerning that these short-sighted amendments to New York State law continue to find their way into budget proposals and bills, when our state Forest Rangers and land managers cite deep concern over continued impacts of ATVs to the Park's waters, wildlife and landowners.
Forest Rangers protect more than five-million acres of state lands, over 900,000 acres of conservation easement lands and the people who use these lands on a regular basis. They have a 365 day-a-year, 24 hour responsibility, interacting with the public who use our state resources, and keeping us safe through enforcement, and when necessary, by rescue. Out of all of the Ranger's responsibilities and experiences, the 2016 Ranger Report begins by stating, "Continuing a trend of the last two decades, the most problematic activity encountered by Rangers was the illegal use of all-terrain vehicles…."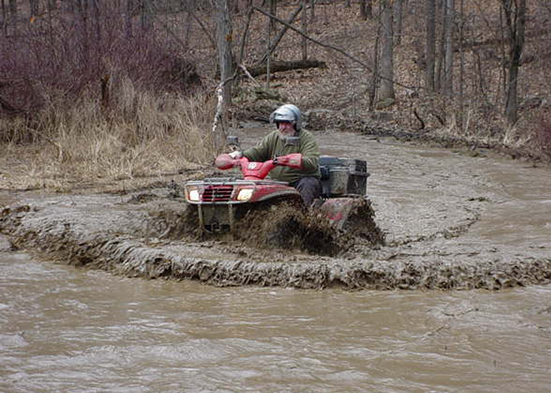 The Forest Rangers are only one part of the team of state professionals responsible for the preservation of the Adirondacks who are challenged by the expanded use of ATVs. The 2011 NYSDEC Strategic Plan for State Forest Management, published by Governor Cuomo's administration, details the inappropriate nature of recreational ATV riding on our state-owned lands:
Environmental impacts from ATV and off-highway vehicle (OHV) use include soil erosion, displacement and compaction, direct impacts to streams and wetlands from ATV crossings, including increased siltation and turbidity, noise, disturbance to wildlife and their habitats, damage to vegetation, and air pollution. ATV use impacts neighboring landowners and conflicts with other recreational pursuits.
Illegal use of ATVS and OHVs on State Forest roads and trails officially closed to ATV and OHV use is frequent, difficult to prevent, and presents significant enforcement issues. Despite a variety of signs, gates, boulders, and other barriers designed to notify ATV and OHV users that particular roads and trails are closed to their use, a large amount of illegal riding continues to occur on these prohibited areas…
The environmental impacts (including noise), intensity, and nature of both legal and illegal ATV use has been shown to cause other recreational uses to decline and in some cases completely cease, once an area is opened for ATV use.
Over the years, attempts have been made to accommodate off-highway and all-terrain vehicle use on several State Forests but in each case, the use was not sustainable. Serious issues with soil erosion, illegal off-trail use and rutting developed. In all cases DEC was not able to find acceptable ways to mitigate the impacts, even when organized user groups were included in the process. In the end, each of the former off-road vehicle trail systems was closed.
(NYSDEC Strategic Plan for State Forest Management, Page 213)
ATVs are unique machines, in that they can go virtually anywhere, and that means that they require unique management. Our public land managers are already spread thinly across the Adirondacks, doing incredible work to protect our natural public resources. They deserve support in Albany, with a codified General Ban on ATV use for the Forest Preserve and other state lands. Strengthened protections against ATV use would enshrine a state policy held by previous administrations and provide a meaningful disincentive to bad actors who continue to trespass.
Spring is in the air, and the Adirondacks offer hope for promising reforms for both public and private lands this year, should our legislators choose to act. Stay tuned for future calls to action by the Adirondack Council, and be ready to tell to your representative that you hope they will pass these ATV reforms this year!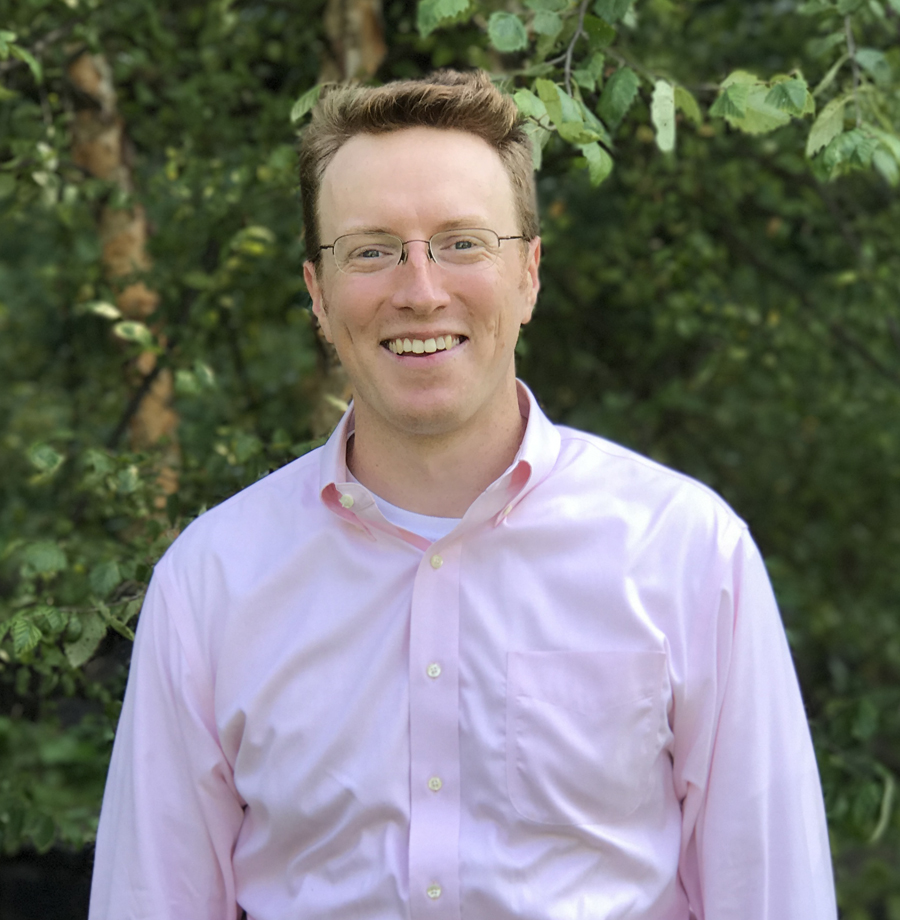 Kevin Chlad joined the Adirondack Council staff in 2011. He leads the Council's Albany-based Government Relations team, building coalitions and lobbying government officials to improve protection and grow funding for the Adirondack Park.

Kevin graduated in 2008 with a degree in Environmental Studies of the Adirondacks from SUNY Potsdam. Kevin was a Council Clarence Petty Intern in 2009, and has held numerous other Adirondack occupations, including Ausable River Steward, canoe guide, and fire tower summit steward. When not advocating for the Park, Kevin can be found on the golf course, deep in the wilderness, or clinging to the occasional rock face or hanging from an icicle drip.