Tips for Hiking During Mud Season in the Adirondacks
Thursday, April 4, 2019
By: Julia Goren - Adirondack Council Director of Vision Project
"Mud, mud, I love mud. I'm absolutely, positively, wild about mud.
Can't go around it, gotta go through it.
Beautiful, fabulous, super-duper MUD!
— Rick Charette, songwriter
As the days lengthen and the quality of the light changes, I know that spring is just around the corner. Soon enough, I'll be hitting the trail to hike, look for wildflowers, listen for returning birds, and enjoy the view from my favorite summits.
But First, There's Mud Season
In the Adirondacks, mud season occurs between the beginning of April and the beginning of June. (Exact dates vary depending on aspect, elevation, and the weather.) Sunshine thaws the surface, but it takes time for the frozen ground below to soften. Snowmelt and rainwater can't seep into the frozen ground, so the surface essentially turns to a muddy soup.
Cobble Lookout Trail in May, Photo from Mary Godnick

Why Trails Are at Risk
For trails and hikers both, this is a problem. Trails are tremendously fragile at this time; walking on these muddy surfaces accelerates soil erosion, quickly turning a trail into an eroded gully. Hikers often seek to skirt the muddy spots by walking around the edge.
Doing so causes the mud pit to grow wider and wider, injuring the plants growing along the edge of the trail and causing irreparable damage to the trail itself. The harm done to trails at this time is so significant that many areas are subject to trail closures, both mandatory and voluntary. For example, the New York State Department of Environmental Conservation (DEC) issues a trail closure and requests that hikers stay below 2,500 feet elevation. It is very important hikers respect this advisory, even if they think conditions are "fine," as conditions may change drastically from the trailhead.
Muddy boots and paws, Photo from Mary Godnick

What You Can Do
As hikers, there's a lot we can do to protect the trails at this time of year by following the Leave No Trace principle: Travel and Camp on Durable Surfaces. We can stay on the durable, or erosion-resistant surfaces, by sticking to drier trails. The DEC has a list of alternative hikes recommended during mud season hikes that are equally as beautiful that will keep your feet a little drier and our trails in better condition.
Tips for Hiking During Mud Season
When we encounter mud, we can make sure to walk directly through the center of the trail, wearing waterproof boots and gaiters to keep our feet dry. If there are stepping stones or bog bridges available, use them.
Remember that mud-soaked boots are slippery, so expect to hike a little slower when it's muddy. You might find trekking poles especially helpful when it's muddy. I always throw a spare pair of socks in my backpack, so that even if my feet do get wet, I can have dry feet.
...Or, Not Hiking During Mud Season!
Personally, I think mud season is a fine time to ride my road bike, visit local sugar shacks to smell the maple sap boiling, clean my yard and start prepping my garden. It's a great time to start planning ahead and preparing for my summer adventures, with maps and guidebooks spread across my dining room. If I go hiking, I'll visit areas where I know the trails are drier and less fragile. Or, I'll put on my rain boots, and, with my five-year-old son, go stomping in the puddles in our back yard. I know the summits will be waiting for me, and in a few weeks, when the trails are dry, I'll look forward to exploring them.
If we can all do our part to help protect our trails at this time of year, by staying away from muddy trails, wearing the proper footwear, choosing other activities, and making good choices, we'll all enjoy better trails the rest of the year.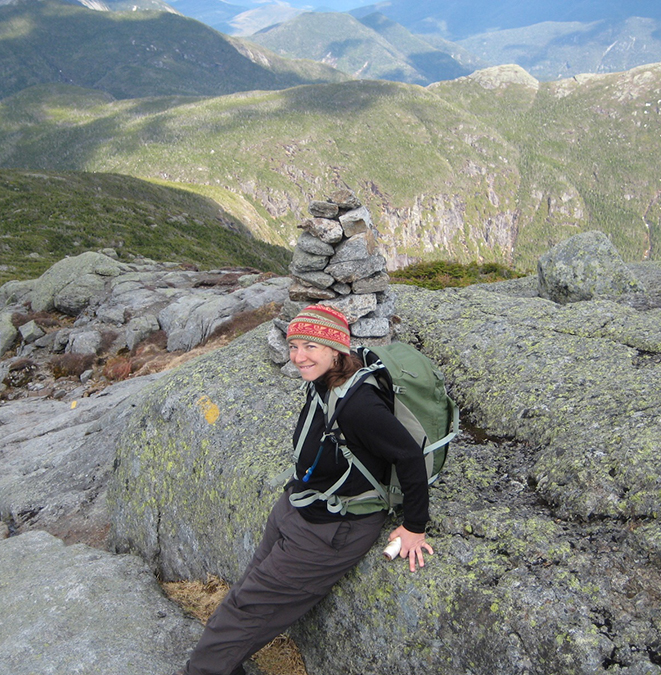 Julia joined the Adirondack Council staff in 2018 as the Director of the Adirondack Vision Project, a thirty-year strategic vision for the future. Julia holds an MS in Environmental Studies from Antioch University New England. Her previous work includes fourteen years with the Adirondack Mountain Club overseeing the Education Department and High Peaks Summit Stewardship Program, as an educator with the Catskill Center for Conservation and Development, and as an interpreter and trail crew member. Julia loves hiking, skiing, paddling, working on the perfect backcountry cup of coffee, and meandering through the woods with her family.