The Value of Clean Water
Wednessday, October 1, 2014
By: John Sheehan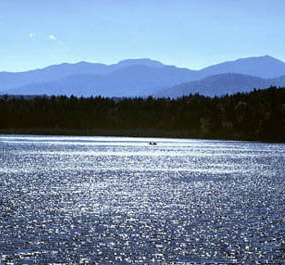 The Adirondack Park has and protects an abundant supply of pure water. In fact, watershed protection is the main reason the Adirondack Forest Preserve and Adirondack Park were created way back in 1885 and 1892, respectively.
However, we need to continue to protect our clean water and to do this, we need to update the infrastructure that maintains wastewater and drinking water systems. The Environmental Protection Agency estimates that America's needs for drinking water infrastructure alone exceed $400 billion. In September, NYS Comptroller, Tom DiNapoli, released a report detailing that New York State underspends by roughly 80 percent annually on clean water programs. New sewers and waste water treatment plants are essential to healthy communities.
In the Adirondack Park, dozens of hamlets and villages are in need of both drinking water upgrades and new wastewater collection and treatment systems. In fact, these facilities are harder to finance inside the Park, due to the small populations of Adirondack towns. The Adirondack Park hosts 10-million annual visitors and seasonal residents, all of whom expect and need clean water. New water and sewage facilities are sorely needed.
Last week, I was asked to speak at Mid-Atlantic Regional Water Conference at the National Conservation Training Center in West Virginia. My presentation came in the middle of the second day, so I was able to listen to other speakers and take some notes on their talks about the value of clean water.
Gerald Kauffman, a professor at the University of Delaware, is the Director of the University's Water Resources Agency and holds faculty appointments in the departments of civil and environmental engineering and public policy:
Dr. Kauffman said his main goal was to get us all thinking about one question: What is the value of living in a place that has clean water?
He told the crowd to remember the "Rule of 93-7-1." This rules states, 93 percent of all the world's water is salt water and useless to us for drinking. Of the remaining seven percent, all but one percent is locked up in polar ice. Professor Kauffman said we should be careful with that one percent.
Dr. Kauffman also made the point that unlike fossil fuels, water is a commodity for which there is no substitute.
Next up was Earl Greene, Acting Chief of External Research, US Geological Survey:
Mr. Greene began his talk by explaining that the US Geological Survey (USGS) works in conjunction with the State Water Resources Research Institute (WRRI). The WRRI is composed of a federal grant program and research faculty from the major land-grant colleges in each state. The Institute was created in 1964 and helps attract and match non-federal funds to USGS grant-sponsored research. This helps increase the federal investment in local water projects. The program provides about $6.5 million in grants annually.
According to Mr. Green, two of the biggest challenges facing drinking water supplies in the Northeast these days are prescription drugs and personal care products (including plastic "micro-beads").
Next was Elizabeth Boyer, Director of the Pennsylvania Water Resources Research Center at Penn State:
Ms. Boyer said that the Center recently tested some 6,000 private drinking-water wells in Pennsylvania, and much to their surprise, 50 percent of them didn't meet federal drinking water standards for contaminants. Some of them appear to have been contaminated for a long time.
Brian Rahm, Research Associate with the NYS Water Resources Institute at Cornell University:
Mr. Rahm discussed the report by NYS Comptroller Thomas DiNapoli called Growing Cracks in the Foundation: Local Governments are Losing Ground on Addressing Vital Infrastructure Needs. As previously mentioned, this report shows that New York is in dire need of new investments in clean water in communities across the state. Click HERE to read the report.
Protection of clean water in the Adirondacks is a priority for the Adirondack Council. Clean water benefits the wilderness and economic sustainability of the Park's communities. Click HERE to read our water publication, Adirondack Waters - Resource at Risk. Also, click HERE to read a letter we sent to the NYS Legislature on clean water.
Would you like to comment on what you've read or viewed? We'd love to hear from you. Please click to send us a message.
---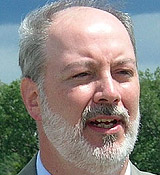 Born and raised in Troy, NY, John Sheehan is a graduate of Catholic Central High School and the State University at Albany (1985; BA). Before joining the Council's staff in 1990, John was the managing editor of the Malone Evening Telegram, just north of the Adirondack Park. Prior to that, he worked as journalist for the Troy Record, (Schenectady) Daily Gazette, Watertown Daily Times and Newsday.

For the past 20 years, John has been the voice of the Adirondack Council on radio and television, and on the pages of local, regional and national media. Sheehan has overseen the production of two films about the Council (The Adirondack Council, 1992; and, ACID RAIN: A Continuing National Tragedy, 1998), appeared in the independent film Inside the Blue Line (1993) and has produced a series of radio and television public service announcements with entertainers Bonnie Raitt (1994), Natalie Merchant (1997) and brothers/band mates Michael and Kevin Bacon (2009-10).
John is a regular guest lecturer at several New York colleges and universities, including Colgate University, Hobart & William Smith College, Hamilton College, Rensselaer Polytechnic Institute, Union College, Siena College, SUNY Albany, SUNY Binghamton, SUNY College of Environmental Science and Forestry (Syracuse), and SUNY Potsdam. He has also addressed dozens of local organizations including local Rotary and Kiwanis clubs and chambers of commerce, scientific societies and community forums.
John and his wife Deborah live in Albany and are seasonal residents of the Adirondack Park. Their daughter Hannah attends Albany public schools.