State of the Park Report!

The Adirondack Council Releases its
Wednesday, September 3, 2014
By: John F. Sheehan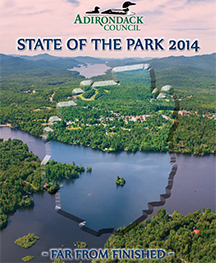 Below is a link to our State of the Park report for 2014. You will find it to be the most comprehensive and informative review of the local, state and federal government actions affecting the largest park in the contiguous United States. You won't find anything like this for other major American parks.
This is an indication that the Adirondack Park is a special place, deserving of special attention.
Click HERE to read the report.
This year, we decided to complete the report a month early to give our New York members the information they need to judge the efforts of any candidates for primary elections, normally held in mid-September. Up for election this year are the entire Legislature, the Governor, Comptroller and Attorney General, as well as candidates for the 21st Congressional District, which covers the entire Adirondack Park.
Don't look for political endorsements. We don't endorse candidates for public office. We also don't accept public money or taxpayer-funded donations of any kind. These two practices allow the Adirondack Council to remain a strong, independent voice for the Adirondack Park. We aren't afraid to tell the truth.
Do look for criticism of actions that harmed the Park, and praise for efforts that helped protect the park's ecological health, improve its wild character and/or enhance the sustainability of local communities.
And don't look for partisan politics. We work with all elected and appointed officials, regardless of party affiliation. We find that love of the Adirondacks can be found among all political persuasions.
Careful readers will note that some issues cross into several areas of the report. This is not mere repetition. It is an indication of how complicated some of the Park's problems and opportunities can be. Lasting solutions can be just as complex.
It also illustrates the importance of coordinating our efforts with others and the momentum we must build in order to accomplish our goals for a better Adirondack Park. Every success in this report is the result of more than one lawmaker or agency acting in the Park's best interests. Every shortcoming is an indication of where we need to redouble our efforts and recruit new allies.
As the principal author of State of the Park for the past 25 years, I have had the privilege to inform our members each fall which issues were resolved in the Park's favor and which will require additional work. The entire staff team works to edit the publication so it is as informative and attractive as possible.
This year, we have updated the design to make the report easier to read and more visually appealing with additional photographs and illustrations. Many thanks are due to staff graphic artist and Membership Director J.A. Tyler Frakes for this new design.
Don't forget to check the centerfold for an update on what officials can do in the year ahead to make the Adirondack Park cleaner, greener, healthier, and more sustainable.
Would you like to comment on what you've read or viewed? We'd love to hear from you. Please click to send us a message.
---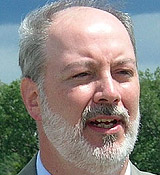 For the past 20 years, John has been the voice of the Adirondack Council on radio and television, and on the pages of local, regional and national media. Sheehan has overseen the production of two films about the Council (The Adirondack Council, 1992; and, ACID RAIN: A Continuing National Tragedy, 1998), appeared in the independent film Inside the Blue Line (1993) and has produced a series of radio and television public service announcements with entertainers Bonnie Raitt (1994), Natalie Merchant (1997) and brothers/band mates Michael and Kevin Bacon (2009-10).
John is a regular guest lecturer at several New York colleges and universities, including Colgate University, Hobart & William Smith College, Hamilton College, Rensselaer Polytechnic Institute, Union College, Siena College, SUNY Albany, SUNY Binghamton, SUNY College of Environmental Science and Forestry (Syracuse), and SUNY Potsdam. He has also addressed dozens of local organizations including local Rotary and Kiwanis clubs and chambers of commerce, scientific societies and community forums.
John and his wife Deborah live in Albany and are seasonal residents of the Adirondack Park. Their daughter Hannah attends Albany public schools