The Adirondack Council Celebrates its 2016 Forever Wild Day!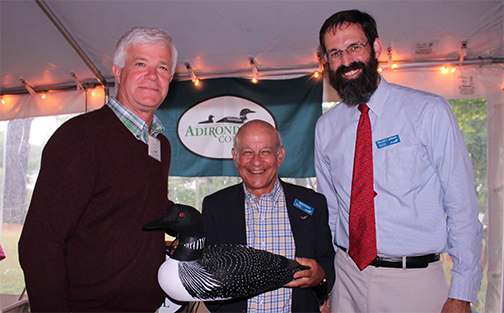 Conservationist of the Year Joe Martens, Chairman of the Board
of the Adirondack Council Bob Kafin and
Adirondack Council Executive Director Wille JanewayThis past Saturday, nearly 200 people gathered at the Inn at the Bridge in Northville for the Adirondack Council's Forever Wild Day celebration. The day featured a celebration of the Council's recent accomplishments, and a luncheon and membership meeting, as well as historic walking tours of the Northville business district and nearby Sacandaga Park.

We also celebrated Conservationist of the Year Joe Martens for all he has done to protect the Adirondack Park, both as a state official and as an advocate for wild lands at the Open Space Institute. Click HERE to read Adirondack Council Board Chair Bob Kafin's remarks about Joe.
Joe worked on Adirondack Park issues most recently when he served as Commissioner of the Department of Environmental Conservation under Andrew Cuomo. He previously served as Assistant Secretary and Deputy Secretary for Energy and the Environment under Gov. Mario Cuomo, and chair of the board of the Olympic Regional Development Authority. Click HERE to read Joe Martens' speech.
Currently, Joe is a Senior Fellow at the Open Space Institute where he is focusing his efforts on national climate change policy and new strategies for promoting smart and effective land conservation to combat climate change.
Below are some pictures from the event. Despite the rainy weather, a good time was had by all!
Click HERE and HERE to read more about the Forever Wild Day.