State Water Infrastructure Grants Needed to Protect Waters in the Adirondacks
Tuesday, March 24, 2015
By: John F. Sheehan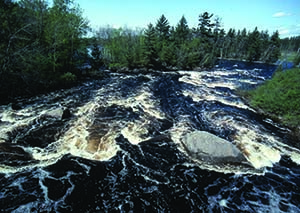 Oswegatchie River
Whether you are a visitor or a resident, I bet one of the things you love about the Adirondack Park is its waters….its lakes, rivers and streams. I know when I go to the Park, I love fishing in my favorite trout stream, canoeing my favorite river and swimming in my favorite pond. But imagine, one day you went to your spot and your lake was polluted? How would you feel? You would probably ask, how did this happen? The Adirondack Council is working to ensure this never occurs.
The Council and a broad coalition of advocates from across the state are asking the Legislature and Gov. Andrew Cuomo to create a new program to help fund clean water infrastructure projects. It would provide grants to communities and augment available loans to prevent failing sewage and water treatment facilities from polluting the Park's waters. The State Environmental Facilities Corporation is well positioned to be able to administer this new program.
Money to provide grants for these types of projects is badly needed across New York. Nearly a decade of reduced funding has halted projects, shelved new plans and allowed the state's aging water and sewer systems to deteriorate further.
However, the small communities in the Adirondack Park communities face even more difficulties. Their small populations are forced to pay for clean water investments, not only for their residents but for the 10-million annual visitors that come to the Park to enjoy its clean water, wilderness and communities. Even the largest Adirondack communities have only a few thousand residents to pay for new water and sewage systems. They need grants – not just long-term loans – to pay for these projects. These communities cannot hope to pay off multi-million-dollar loans, even at zero interest rates.
Many Park communities are also under pressure to create new, drilled-well water systems in response to changes in federal laws that govern filtration and treatment of water from reservoirs. In others, leaky and outdated sewage treatment systems threaten to contaminate lakes and rivers.
In addition, improved clean water and waste water infrastructure is needed in communities to help them attract new economic growth there, not the backcountry or wilderness, and become more economically viable.
A new state grants program need not cost taxpayers a dime. The money could come from a small fraction of the one-time $5.4 billion legal settlement the state received. The Adirondack Council urged lawmakers to support this initiative when staff testified before a joint legislative budget committee on the environmental conservation portions of the budget.
More recently, in testimony before the Legislature's economic development panel, Chretien Voerg of the NY Water Environment Association reminded lawmakers that New York was once a leader in protecting clean water and must lead again. Voerg is a licensed engineer who works for the Town of Colonie in Albany County. He told the panel:
"In 1966 New York State led the nation in its efforts to restore its waterways and protect the public health through investment in wastewater infrastructure. The secondary benefits of this investment were long-lasting, increased economic development and employment opportunities.
"It is once again time for New York State to lead the way in wastewater infrastructure investment by creating a dedicated line item in the infrastructure investment fund for wastewater projects. A new Pure Waters program will create a mechanism to restore New York's wastewater infrastructure to minimal acceptable condition safeguarding those investments for this and future generations while ensuring recreational opportunities, increasing economic development and creating jobs."
In addition to clean water infrastructure funding, the Council is seeking more funding for the Environmental Protection Fund for open space protection, land stewardship, invasive species controls, and smart growth planning. The Council is also calling for additional funding for staffing at the Department of Environmental Conservation, including a new Forest Ranger Academy.
Recently, the Senate and Assembly released their budget proposals, responding to the Governor's proposals. Now leaders need to finalize the budget.
The state budget deadline is April 1. The Council is hopeful that our state policymakers will make the right decision to help Adirondack Park communities protect their waters, and we'll all be able to continue to enjoy our favorite spots on the water.
Would you like to comment on what you've read or viewed? We'd love to hear from you. Please click to send us a message.
---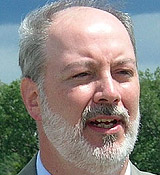 Born and raised in Troy, NY, John Sheehan is a graduate of Catholic Central High School and the State University at Albany (1985; BA). Before joining the Council's staff in 1990, John was the managing editor of the Malone Evening Telegram, just north of the Adirondack Park. Prior to that, he worked as journalist for the Troy Record, (Schenectady) Daily Gazette, Watertown Daily Times and Newsday.

For the past 20 years, John has been the voice of the Adirondack Council on radio and television, and on the pages of local, regional and national media. Sheehan has overseen the production of two films about the Council (The Adirondack Council, 1992; and, ACID RAIN: A Continuing National Tragedy, 1998), appeared in the independent film Inside the Blue Line (1993) and has produced a series of radio and television public service announcements with entertainers Bonnie Raitt (1994), Natalie Merchant (1997) and brothers/band mates Michael and Kevin Bacon (2009-10).
John is a regular guest lecturer at several New York colleges and universities, including Colgate University, Hobart & William Smith College, Hamilton College, Rensselaer Polytechnic Institute, Union College, Siena College, SUNY Albany, SUNY Binghamton, SUNY College of Environmental Science and Forestry (Syracuse), and SUNY Potsdam. He has also addressed dozens of local organizations including local Rotary and Kiwanis clubs and chambers of commerce, scientific societies and community forums.
John and his wife Deborah live in Albany and are seasonal residents of the Adirondack Park. Their daughter Hannah attends Albany public schools.