Snowflakes - How nature makes these pieces of art
By: Kaitlyn Thayer - Adirondack Council's Hamilton Program Intern
December 11, 2017
Snow has returned to the Adirondacks, and I know I am not the only one who has been enjoying the fresh morning snow, the mountaintop views and the snowflakes sparkling on the ground. There are billions of snowflakes in our backyards alone, and each one is different in its shape and design. But how is this possible? The answer is behind each ice crystal's journey from the clouds to our feet.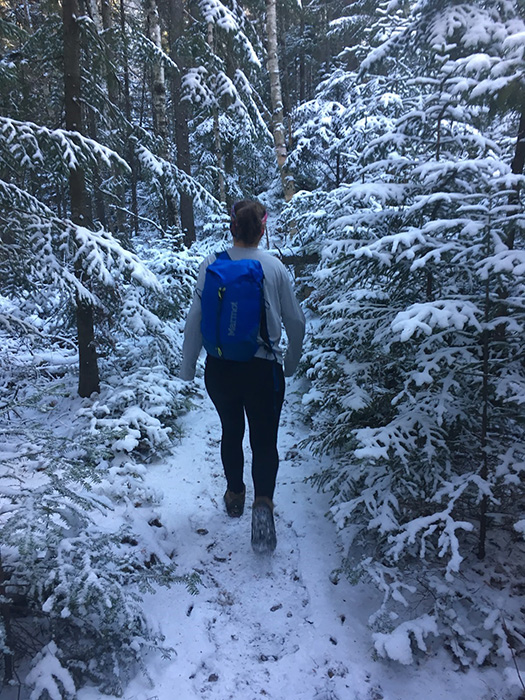 A snowflake is created when a small piece of dust or pollen touches an extremely cold droplet of water and it almost instantaneously forms into an ice crystal. As the crystal falls to the ground, the snowflake's characteristic hexagonal shape forms as water vapor comes in contact with the crystal and freezes.
No two snowflakes look the same. This is because their formation relies directly on the atmospheric conditions they come in contact with. The snowflake's design is ever changing as it continues to drift to the ground due to humidity and temperature changes.
As the National Oceanic and Atmospheric Administration explains, crystals formed at 23˚ F are long and needle-like, while crystals formed at 5˚ F.are flat and more plate-like. When the crystal falls into a different atmospheric zone, the snowflake's arms branch off in different directions depending on the air's humidity and temperature. Since each arm experiences the same atmospheric changes, all six points of the snowflake are identical.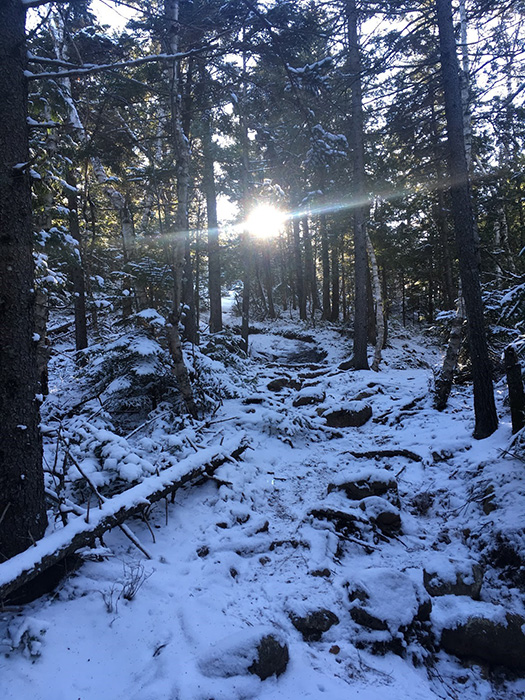 This winter, while enjoying the snowflakes and outdoor recreation in the Adirondacks, make sure you're prepared for the cold and winter conditions. Packing extra layers and wearing wool and synthetic materials to change into if you get wet will help regulate your body temperature and keep you warm. When I'm hiking in the winter, I always like to pack an extra pair of socks and mittens so that my fingers and toes don't freeze after touching snow-covered trees and rocks.
Additionally, make sure you have the proper equipment that suits your needs and skill level. This time of year, ice is building up on the rocks and slopes and the ADK Mountain Club encourages hikers to pack microspikes or crampons. Also, don't forget to pack lots of snacks and water for your outdoor adventures, regardless of their difficulty level. Staying hydrated and keeping energy levels high will help you stay alert while enjoying the Adirondack wilderness and the scenic snowfalls.
---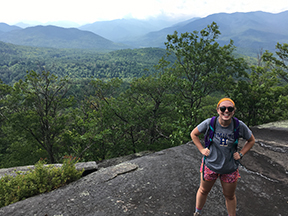 Kaitlyn Thayer is our Hamilton Program Intern at our Elizabethtown office. She is a junior majoring in Environmental Studies at Hamilton College and is participating in Hamilton's Adirondack Semester in Keene this fall. She grew up visiting and hiking in the Adirondacks when she was young, and now hopes to immerse herself in the Adirondack community and learn more about the Park's conservation. When Kaitlyn is not blogging or doing schoolwork, you can find her hiking, painting or mastering her baking and cooking skills.