Republican Congressman's Resolution Urges House to Address Climate Change
Monday, September 28, 2015
By: John F. Sheehan - Adirondack Council Communications Director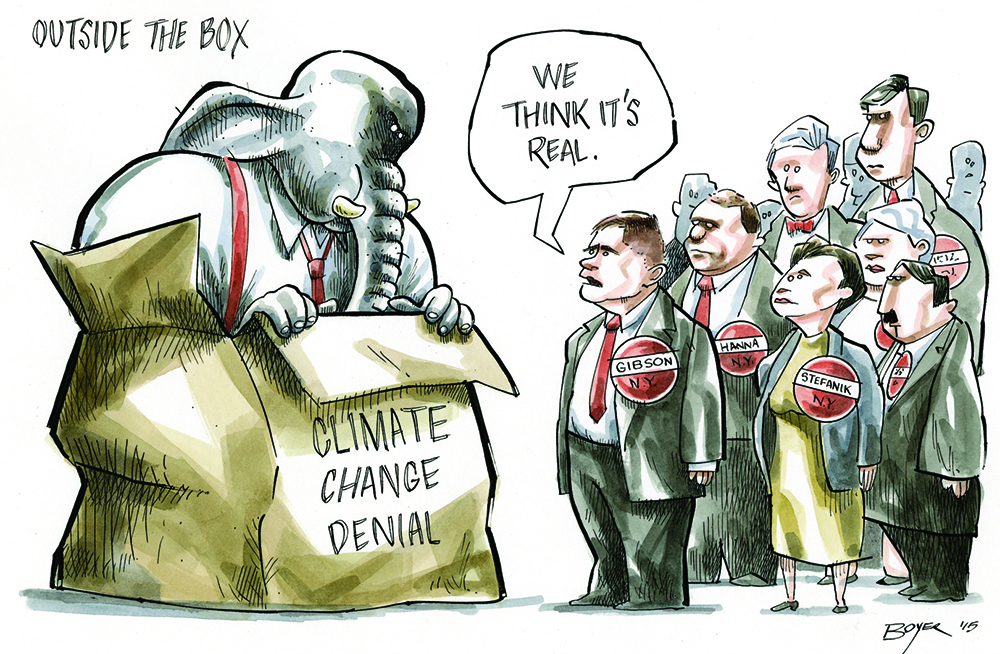 U.S. Rep. Chris Gibson, R-Kinderhook, has proposed a resolution calling on the House of Representatives to address and solve the air pollution issues that cause climate change. It marks a significant reversal of the House majority party platform opposing government action to curb climate change.
This political cartoon first ran in the Times Union newspaper of Albany on Sunday, September 20, 2015. Artist Jeff Boyer's images may be purchased from the American Association of Editorial Cartoonists. AAEC Reference Number: 145017
Would you like to comment on what you've read or viewed? We'd love to hear from you. Please click to send us a message.
---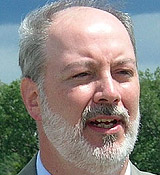 Born and raised in Troy, NY, John Sheehan is a graduate of Catholic Central High School and the State University at Albany (1985; BA). Before joining the Council's staff in 1990, John was the managing editor of the Malone Evening Telegram, just north of the Adirondack Park. Prior to that, he worked as journalist for the Troy Record, (Schenectady) Daily Gazette, Watertown Daily Times and Newsday.

For the past 25 years, John has been the voice of the Adirondack Council on radio and television, and on the pages of local, regional and national media. Sheehan has overseen the production of two films about the Council (The Adirondack Council, 1992; and, ACID RAIN: A Continuing National Tragedy, 1998), appeared in the independent film Inside the Blue Line (1993) and has produced a series of radio and television public service announcements with entertainers Bonnie Raitt (1994), Natalie Merchant (1997) and brothers/band mates Michael and Kevin Bacon (2009-10).
John is a regular guest lecturer at several New York colleges and universities, including Colgate University, Hobart & William Smith College, Hamilton College, Rensselaer Polytechnic Institute, Union College, Siena College, SUNY Albany, SUNY Binghamton, SUNY College of Environmental Science and Forestry (Syracuse), and SUNY Potsdam. He has also addressed dozens of local organizations including local Rotary and Kiwanis clubs and chambers of commerce, scientific societies and community forums.
John and his wife Deborah live in Albany and are seasonal residents of the Adirondack Park. Their daughter Hannah attends Albany public schools.