New York's Climate Law in the Adirondacks | Forests and Agriculture
By: Caroline Dodd - Adirondack Council's Seasonal Research Associate
Wednesday, June 10, 2020
This blog is the second in a series that will examine the potential impacts and changes in the Adirondacks that will result from the implementation of New York's Climate Leadership and Community Protection Act. How will the law impact our farms and forests? Where will new renewable energy projects be sited? How will communities need to adapt? What can you do to help? This blog series will examine these questions and more, with the goal of shedding light on the challenges and opportunities the Adirondack region will face in mitigating and adapting to climate change under New York's revolutionary new climate law. Missed the first blog? Click HERE.
The Climate Leadership and Community Protection Act (CLCPA), passed in 2019, sets out several ambitious targets for New York State's climate future. This is desperately needed right now as the severe impacts of climate change are increasing and hurting our environment, especially in minority and disadvantaged communities across the state.
Within the broad goal of achieving net-zero emissions by 2050, the law leaves 15% of the state's emissions reductions to "greenhouse gas emissions (GHG) offset projects." These projects are to be implemented near facilities that do not produce electricity. GHG offset projects tend to be less costly than direct emissions reduction strategies and are designed to curb, or "offset," emissions in one of three ways: capturing GHGs at their source that would otherwise be emitted, investing in renewable energy projects in remote locations, and sequestering GHGs to prevent their release. The CLCPA lists several types of offset projects that could be implemented to accomplish the emissions goals, one of which is "natural carbon sinks including but not limited to afforestation, reforestation or wetlands restoration," and another of which is "carbon capture and sequestration." The Adirondack Park's mix of private forests and agricultural lands provide an excellent opportunity to bolster New York State's carbon sequestration ability to offset GHGs and help achieve the goals of the CLCPA.
Additionally, the CLCPA requires that the Climate Action Council develop a scoping plan for achieving the law's targets by January 1, 2022, which must include proposals to achieve long-term carbon sequestration and/or promote best management practices in land use, agriculture and forestry. This presents a major opportunity for New York to reshape the roles these land uses play in climate change.
What is Carbon Sequestration?
Carbon dioxide (carbon or CO2) is a greenhouse gas, which means that it contributes to climate change via the greenhouse effect. GHGs in the atmosphere absorb and slowly radiate heat, which raises the temperature of the Earth. This process ordinarily prevents the Earth's temperatures from dropping to uninhabitable lows, but additional GHGs from human activities, including burning fossil fuels and industrial processes, are causing rapid global warming. The current concentration of carbon in the atmosphere is 416.18 parts per million, which scientists believe will continue to cause catastrophic impacts of climate change. The CLCPA is designed to mitigate New York's contributions to these impacts by reducing emissions of GHGs and implementing initiatives that reduce previously emitted GHGs, including carbon sequestration projects.
Carbon sequestration is the process by which atmospheric carbon dioxide is absorbed and stored in a natural medium, and can serve as an important tool in reducing emissions to mitigate the impacts of climate change. Carbon can be sequestered through physical, chemical and biological processes. Physical processes include natural and industrial methods of trapping carbon within a cavity of rock underground, a method called carbon capture and storage. Chemical sequestration occurs when CO2 is dissolved or binds to another substance in the ground. These processes include ocean acidification from dissolved carbon, which is a notable negative impact of increased atmospheric carbon, as well as the trapping of emissions from industrial processes. Biological sequestration occurs when carbon is absorbed by plants during photosynthesis and stored in biomass – trunks, branches, foliage, and roots. Carbon is also captured and stored in wetlands and soils.
Carbon Sequestration in Adirondack Forests
In addition to its 2.6 million acres of state Forest Preserve land, the Adirondack Park is also home to more than a million acres of privately-owned forest. While the "Forever Wild" Forest Preserve will continue to sequester carbon as a forest that will remain in perpetuity, with proper management, the Park's private forest lands can also play an active role in accomplishing the CLCPA's carbon offset goals.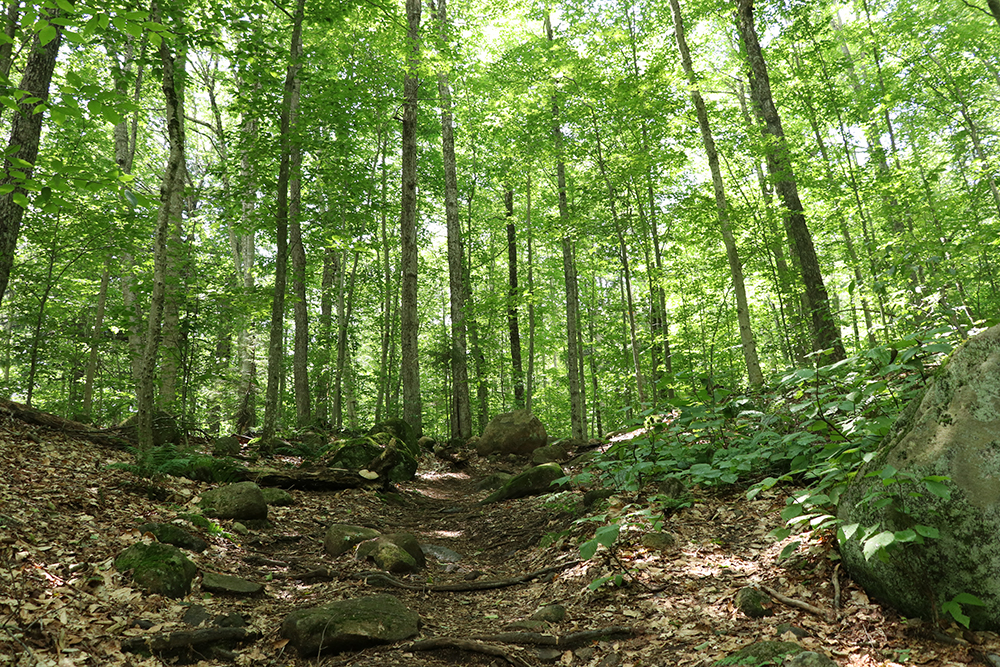 Maintaining healthy forests keeps our region beautiful and fosters biodiversity in plants and animals. Proper forest management practices can increase forests' ability to sequester carbon, while also improving their ability to provide ecosystem services such as healthy soils and clean water. Not all forests are created equal in terms of carbon sequestration ability, and improper management can cause forests to be net emitters of carbon. The goals of management should be to maintain or increase existing forestland, to increase carbon stocks by reclaiming deforested land, and to sustainably harvest wood so long as there is a net-sequestration of carbon. Some examples of practices to accomplish these goals include creating financial incentives to sequester carbon, allowing full forest recovery from disturbances like harvesting and forest fires, and implementing selective harvesting methods that encourage forest regeneration. Additionally, a critical secondary benefit of protecting intact forests and promoting forest health is habitat protection. As the climate changes, our Adirondack forests will serve as important highways and refuges for wildlife, so the protection of these habitats will be increasingly important.
Another consideration in bolstering the carbon sequestration ability of our forests is what Adirondack forests might look like in the future. Regardless of how effectively we are able to mitigate climate change, average temperatures are still predicted to increase between now and the century's end. By 2100, average temperatures in the Adirondacks are projected to rise between 5-11 degrees Fahrenheit. In the best-case emissions scenario, our climate will likely resemble that of Pennsylvania, while in a worst-case scenario our climate may resemble that of Georgia. For the Park's forests, this likely means a change in species composition to include more heat-resilient species.
Public and private forest managers must work in tandem to ensure that our Adirondack forests can sequester carbon emissions to mitigate the impacts of climate change, while also adapting to the predicted inevitable impacts.
Carbon Farming
The Adirondacks are home to a number of local farms that provide invaluable resources to communities in the region. Farmers are especially in tune with the impacts of climate change, from floods to droughts to new pests and pathogens. As our region's climate changes, local Adirondack farmers are already contributing to climate solutions that will mitigate and increase resilience to the impacts of climate change and are eager to contribute more, with support. Farms in the Adirondacks will be key to the implementation and success of the CLCPA, in particular through their ability to contribute to climate change. Other ways will be discussed in future blogs.. The agricultural industry is often considered a land management sector that could transform from a net carbon emitter to a net carbon sequesterer.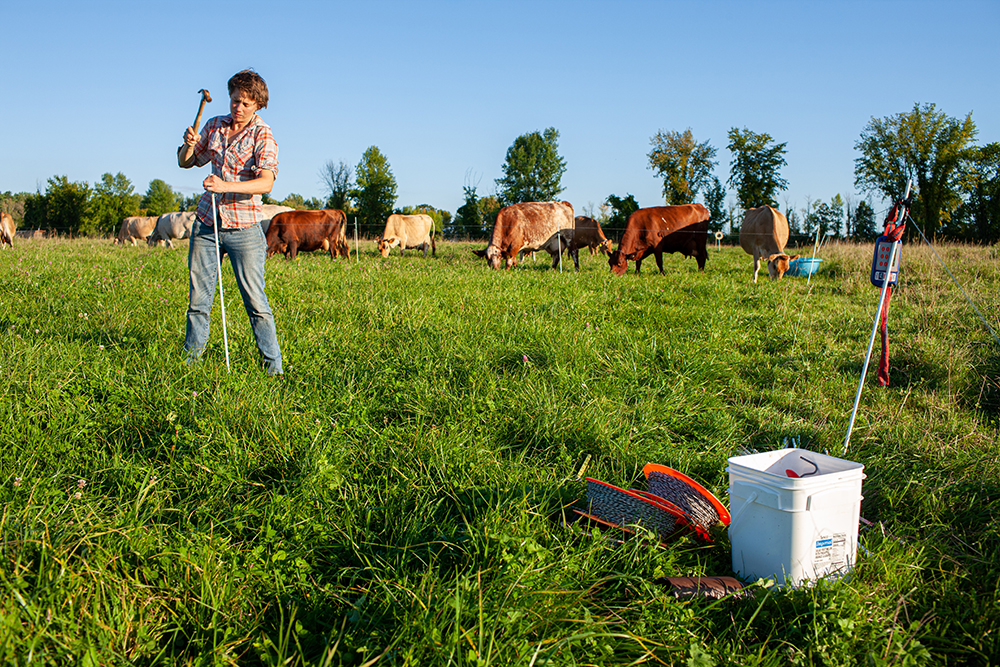 Rotational grazing with solar fence at North Country Creamery Photo by Ben Stechschulte
Carbon farming is a methodology of agricultural practices aimed at sequestering carbon to mitigate climate change. The USDA recommends a variety of agricultural practices for carbon sequestration, many of which are low-cost and are currently implemented on many Adirondack farms. Some of the practices are aimed at reduced soil disturbance, such as organic reduced tillage farming, to encourage carbon retention in soils. Another method is through the integration of water and nutrient management. Other practices that could prove useful in limited circumstances include deploying renewable energy on farms and increasing carbon storage in soil and woody biomass on farms. Soil health and woody biomass practices include intensive rotational grazing, cover-cropping, crop-livestock integration, and planting perennial food-bearing shrubs and trees in existing hedgerows or on marginal lands. These practices are already practiced by many farms in the Adirondacks and should be encouraged. Carbon farming also provides additional benefits including increased nutrient density of food, reduced erosion and improved water quality.
For more information about climate change and agriculture in the Adirondacks, refer to this blog.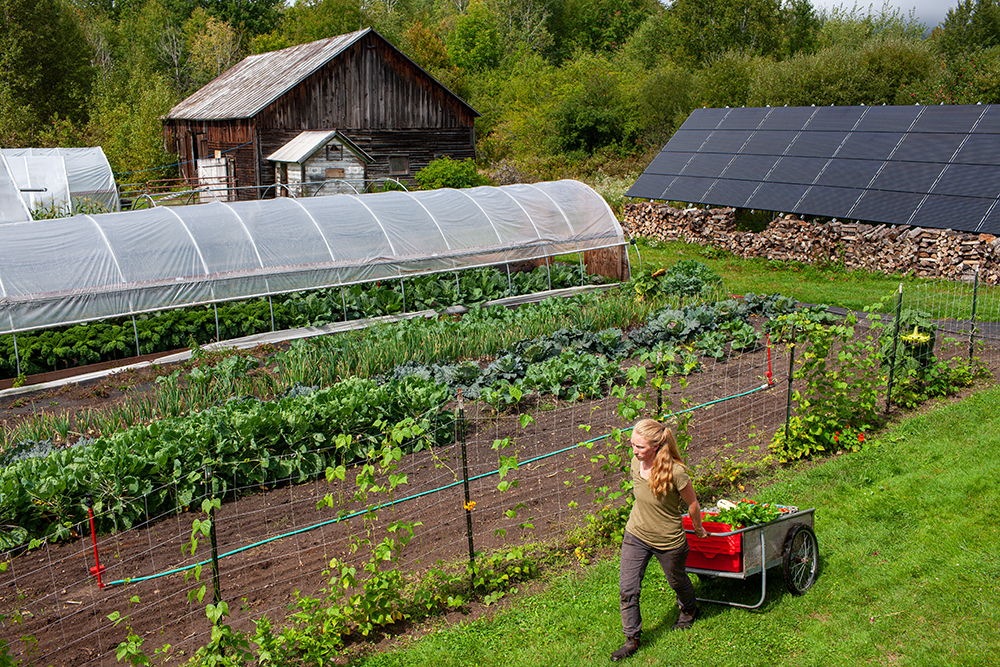 Oregano Flats Farm Photo by Ben Stechschulte

CLCPA in Our Communities
While the changes discussed above will directly impact foresters and farmers, many citizens not active in these sectors are wondering what role they will have in implementing the CLCPA, and how our communities might look different after the Act's implementation. The next blog in this series will explore possible changes in the transportation system in the Adirondacks, as well as the possibilities for community involvement in the implementation of the CLCPA.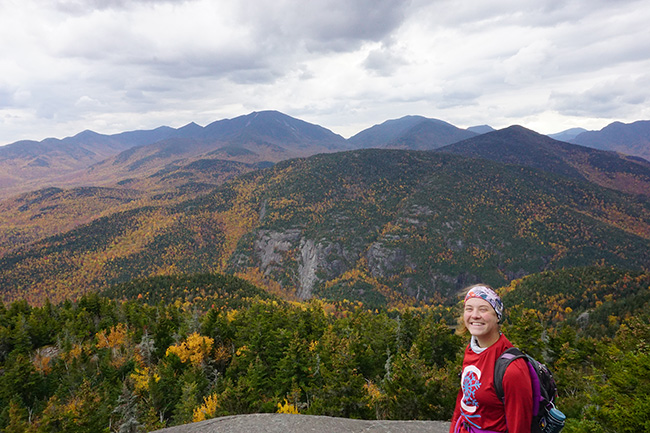 Caroline Dodd, a Saranac Lake native, is the Adirondack Council's Seasonal Research Associate. he graduated from Cornell University, where she studied Environmental and Sustainability Sciences with a concentration in Environmental Policy and Governance and a minor in Music. Caroline has worked with The Wild Center's Youth Climate Program and is also a member of the Lake Placid Climate Smart Communities Task Force, where she is working to conduct an emissions audit to provide recommendations for more sustainable and environmentally sound practices in the Village of Lake Placid.