New Law Helps Preserve View of Nightime Sky
Monday, December 22, 2014
By: John F. Sheehan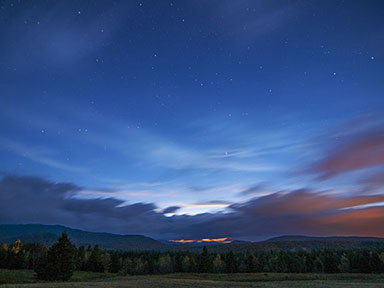 One of the Adirondack Park's greatest assets is its dark night sky. Being able to stare far into our galaxy without the need for a telescope is a pleasure unknown to those who spend their time in cities and suburbs, where ambient lighting conceals the heavens.

There is nothing quite like watching a meteor shower from an Adirondack hillside, as the last glow of descending star dust reflects off a still lake and back into space. It can make you feel connected to the universe in ways we rarely consider as we bustle through our busy lives.

This year, the Adirondack Council and allies applaud the Legislature for passing and Governor Cuomo for signing a bill into law that is designed to curb light pollution from state facilities and preserve dark night skies in the Adirondack Park and beyond.

The state will now be required to use low-profile lighting whenever it installs or replaces light fixtures at its facilities. Because state buildings are among the largest and busiest buildings in the Adirondack Park, their impact on the Park is substantial.

The new law will protect sensitive wildlife that rely on the darkness of night to navigate during migration and breeding activities. Light pollution often obscures their ability to navigate properly, leading to fatigue, disrupted feeding, predation, and reduced populations. Moreover, our Park continues to suffer the effects of acid rain and climate change. The law will lower the demand for energy that contributes to air and water pollution.

In addition, the law will help Adirondack communities and businesses, as the night sky is a premiere tourist attraction in the Adirondack Park. Nordic ski centers offer full-moon parties and special events to attract winter visitors who could easily ski at night closer to home, but come here instead. Countless astronomy students and enthusiasts come to the Park to enjoy outstanding views of the aurora borealis, meteor showers, eclipses, and other celestial phenomena.

Tupper Lake has a new space observatory, the Adirondack Public Observatory, that we hope will continue to grow and bring new visitors.

As Adirondack Council Executive Director Willie Janeway told the press, "There is no better place on Earth to gain perspective on the place of human beings in the cosmos than in the wilds of the Adirondack Park, where the depth and beauty of Milky Way galaxy is visible to the naked eye."

The bill was sponsored by Sen. Carl Marcellino, R-Syosset, and Assemblywoman Linda Rosenthal, D-Manhattan.
Would you like to comment on what you've read or viewed? We'd love to hear from you. Please click to send us a message.
---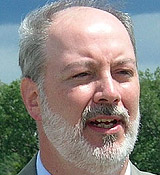 Born and raised in Troy, NY, John Sheehan is a graduate of Catholic Central High School and the State University at Albany (1985; BA). Before joining the Council's staff in 1990, John was the managing editor of the Malone Evening Telegram, just north of the Adirondack Park. Prior to that, he worked as journalist for the Troy Record, (Schenectady) Daily Gazette, Watertown Daily Times and Newsday.

For the past 20 years, John has been the voice of the Adirondack Council on radio and television, and on the pages of local, regional and national media. Sheehan has overseen the production of two films about the Council (The Adirondack Council, 1992; and, ACID RAIN: A Continuing National Tragedy, 1998), appeared in the independent film Inside the Blue Line (1993) and has produced a series of radio and television public service announcements with entertainers Bonnie Raitt (1994), Natalie Merchant (1997) and brothers/band mates Michael and Kevin Bacon (2009-10).
John is a regular guest lecturer at several New York colleges and universities, including Colgate University, Hobart & William Smith College, Hamilton College, Rensselaer Polytechnic Institute, Union College, Siena College, SUNY Albany, SUNY Binghamton, SUNY College of Environmental Science and Forestry (Syracuse), and SUNY Potsdam. He has also addressed dozens of local organizations including local Rotary and Kiwanis clubs and chambers of commerce, scientific societies and community forums.
John and his wife Deborah live in Albany and are seasonal residents of the Adirondack Park. Their daughter Hannah attends Albany public schools.