Mike Carr and His Lasting Conservation Legacy
Thursday, July 6, 2017
By: Guest contributer - Tim Barnett - The Nature Conservancy
The Adirondack Council will present this year's Conservationist of the Year award to Mike Carr of the Adirondack Land Trust. Mike was also Executive Director of the Adirondack Chapter of The Nature Conservancy for 16 years.
The award will be presented at the Council's Forever Wild Day celebration Saturday, July 8 at Overlook Park in Newcomb.
In the essay below, founding director of the Adirondack Chapter of The Nature Conservancy and past winner of the Conservationist of the Year Award Tim Barnett recalls hiring Mike. Tim helped Mike through his formative years, and Mike went on to become a negotiator of world-class conservation projects. In the late 1980s, Tim lured Mike away from the Adirondack Council to become director of the Lake George Land Conservancy, which, at the time, was staffed by The Nature Conservancy.
In 1997, Tim broke his neck when he was thrown from his horse while exploring conservation opportunities in the wilds of the former Soviet Union, and he shifted into a vice president role with The Nature Conservancy. Mike became executive director of the Adirondack Chapter and the Adirondack Land Trust in 2001.
Barnett and Carr each credit the other with playing the more important role. But together, the two of them, the Adirondack Chapter of The Nature Conservancy and the Adirondack Land Trust, in collaboration with countless partners, protected some 585,000 acres of land through conservation easements, private preserves and public Forest Preserve. In the process, they redrew the map of the Adirondack Park.
Carr recently stepped down as executive director of the Adirondack Chapter of The Nature Conservancy; now, instead of splitting his time between two organizations, he leads the Adirondack Land Trust full time.
Barnett recalls hiring Mike in the late 1980s, when New York State had zero dollars budgeted for land protection. A sluggish national economy was yielding to a speculation frenzy in real estate. At the time, a lot of "For Sale" signs were appearing on Adirondack forestland.
- John Sheehan
In the late 1980s, the Adirondack Chapter of The Nature Conservancy and the Adirondack Land Trust were renting space in Elizabethtown.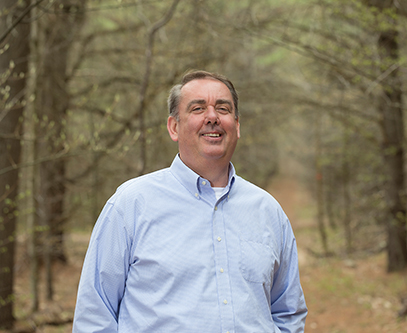 Photo by Lisa Godfrey
In 1989, Mike Carr was working in the same building but for the Adirondack Council. We were looking for someone to focus solely on land protection in the Lake George Basin, and Mike seemed perfect for the job. He grew up in Illinois but had spent time in the Adirondacks. He was a SUNY Plattsburgh grad and studied at the William H. Miner Institute for Agricultural Research in Chazy. His family had Adirondack roots dating back to the 1830s, so he knew the park pretty well already.
I begged Mike to take the job as head of the newly established Lake George Land Conservancy. He said he would think about it. We interviewed other people, but he really was the best candidate, so we were thrilled when he took the job.
Among his first projects was the purchase of several large tracts protecting miles of shoreline on the eastern side of Lake George. They were key to protecting the water quality of the northern basin and would make important additions to the Forest Preserve. The state did not have a funding source at the time, until 1993 when the legislature created the Environmental Protection Fund. The EPF would provide the money to carry out the state's plan for protection of open space.
After several temporary office locations, Mike found a permanent space that Lake George environmentalist and philanthropist David Darrin helped him find in Bolton.
Soon, Mike was talking seriously and passionately with shoreowners about conservation and the need for private funding to help protect key tracts. He got to know Forrest and Deb Mars in Ticonderoga, and Henry Rowan of Inductotherm Industries, among others, who together helped Lake George Land Conservancy protect 2,158 acres and 21,485' of Lake George shoreline in 14 transactions under Mike's leadership. Roger's Rock, Cook Mountain and the Rowan Preserve across from Silver Bay are among those protected acres.
Mike's familiarity with politics would pay off too. His dad worked for Congressman Mike McNulty — the seat now held by Paul Tonko — and Mike's cousin ran a public affairs and lobbying firm in Albany. Throughout his years at both The Nature Conservancy and the Adirondack Land Trust, Mike worked with Governors George Pataki, Eliot Spitzer, David Paterson and Andrew Cuomo, and their staff. All had differing priorities and management styles. Mike adapted to all of them.
In 1998, following my accident, Carol Ash, The Nature Conservancy's then-state director, and I were looking around for someone, ideally with North Country roots, who could work with large landowners to help them protect the conservation value of their property. We needed someone who could manage relationships with individual and corporate landowners.
So Mike went to work for the Adirondacks as a whole, first as deputy director of the Adirondack Chapter and the land trust, and then as director. He worked with major timberland owners such as Whitney Industries, Domtar and International Paper. Beginning in the 1990s, big companies that owned local mills were divesting themselves of their lands in the Northeast.
A lot of what Mike did, in a sense, was to work to keep the departure of industrial timber owners from becoming a tragedy for the Adirondacks. He worked with those landowners and their replacements to keep their forests intact, and he also worked with new investors, community leaders and leaseholders to build agreements that provided benefits to each of them. We would see him leaving for town board meetings three or four nights a week, not getting back until midnight or later, and going out again the next day.
As hundreds of thousands of acres of paper company lands changed hands, Mike was there with capable staff and committed partners to ensure conservation easements helped keep them in forest production while preventing them from becoming fragmented by development.
In 2007, when Finch, Pruyn & Co. decided to sell its 161,000 acres, Mike was on the ground floor of the negotiations that would result in The Nature Conservancy purchasing all of the land. That purchase was followed by scientific assessments, community outreach, and collaboration with DEC to develop an informed conservation plan for the future. Over the course of this effort, Mike interacted with professional foresters, local government leaders, millworkers, hunt club members, scientists, venture capitalists and private philanthropists, stitching together the plan that resulted in 95,000 acres secured as sustainable working forests and 65,000 acres protected as "forever wild" Forest Preserve.
The Finch lands fell into 27 towns and six counties, and Mike looked for ways they could benefit from this historic change in landownership. For some it was gaining public access to a previously off-limits lake or river. For others it was securing snowmobile trails. And some towns, like Newcomb, wanted some of the land for economic development projects. The pieces came together under Mike's leadership—and with the deep commitment of New York State to continue the Adirondack Park's incredible conservation legacy.
On Mike's 16-year watch, the Adirondack Chapter of The Nature Conservancy and the Adirondack Land Trust protected 340,000 acres featuring 730 miles of rivers and streams, and 337 lakes and pond. These include Sable Highlands (Lyon Mountain), International Paper Company Lakes (Round Lake, Bog Lake, Clear Pond), Finch (Boreas Ponds, OK Slip Falls, Essex Chain Lakes), Little Charley Pond, Windfall Pond, McCrorie Lake, and many others.

When Mike stepped down as executive director of the Adirondack Chapter, he left behind an impressive record and a great staff. He will have challenges ahead of him as he leads the Adirondack Land Trust to reach its full potential. He already has a list of major projects he wants to accomplish. I wish him luck. I know he will succeed.
Would you like to comment on what you've read or viewed? We'd love to hear from you. Please click to send us a message.
---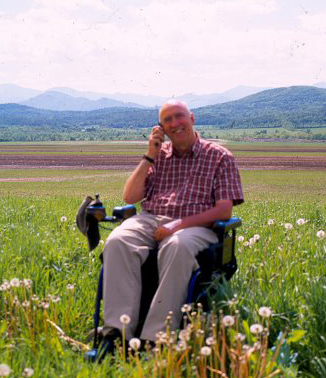 Tim Barnett is the Vice President, special programs of the The Nature Conservancy.