Meet the Adirondack Council's Newest Intern Meg Desmond
Friday, June 8, 2018
By: Adirondack Council staff
The Adirondack Council is pleased to welcome Meg Desmond as our newest Clarence Petty Intern in our Elizabethtown office. She will be working closely with our Conservation Director Rocci Aguirre and our Conservation Fellow Jackie Bowen. Below is a blog that Meg wrote to introduce herself.
Hello! My name is Meg Desmond and I am the newest Clarence Petty Intern for the Adirondack Council.
Background
Though I am originally from Massachusetts, I found my way to the Adirondacks five years ago and fell in love with the Adirondack Park. Throughout my years exploring the area, I had the opportunity to hike, climb, and ski in what quickly became some of my favorite places in the northeast. These experiences engaging with the landscape, and acknowledging my own impacts, sparked my passion for conservation work that led me to the environmental field.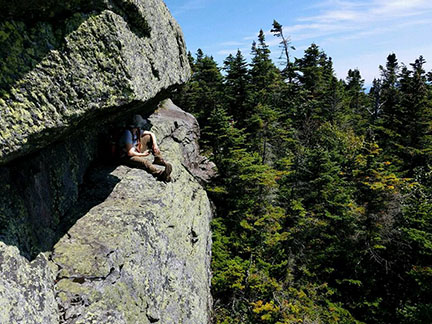 I recently graduated from the University of Vermont where I spent an accelerated three years studying Environmental Studies and Political Science. Weekdays were spent in Burlington, but on weekends I constantly ventured across Lake Champlain and into the beauty of the Adirondack Park.
I have worked in community outreach and environmental advocacy in Vermont through positions with both AARP VT and the Vermont Public Interest Research Group. I am excited to bring these experiences to New York and grow my connections in the Adirondacks.
Moving Forward
It is a pleasure to be working with the Adirondack Council. As the Conservation Intern, I will be involved in stewardship projects throughout the Park. I look forward to experiencing the mountains and trails through a more focused perspective and identifying ways to improve recreation for locals and visitors alike. I hope to see some of you out there. Happy trails!
About the Clarence Petty Intern Program
The Adirondack Council's Clarence Petty Intern Program hires emerging environmental leaders in college or graduate school to learn about and help with the Council's work to ensure the ecological integrity and wild character of the Adirondack Park. By working with our staff and partners, Clarence Petty interns gain experience in conservation, government relations, education, and outreach. The Program prepares interns for careers here and around the world, and helps train and develop the next generation of conservation leaders.
A native of the Adirondacks, Clarence Petty spent his lifetime working to ensure good stewardship of the state's public lands and sound decision-making about private land use in the Adirondack Park. He served on the Adirondack Council's Board of Directors and was also on the advisory board. The program is named in his honor.