Meet our New Conservation Fellow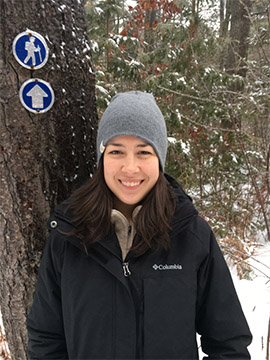 Earlier this January, the Adirondack Council welcomed a new staff member, Jackie Bowen, to the team as the Grant Conservation Fellow. Jackie will be working with our Conservation Director, Rocci Aguirre.
Jackie has just completed her Master's in Environmental Law and Policy, with a certificate in Land Use Law, from Vermont Law School. During her year and a half program she interned in Washington, D.C. at American Rivers where she worked with the Government Relations team to track legislation, identify federal funding sources and research tribal water rights.
In 2013, Jackie graduated from SUNY Geneseo with a degree in Anthropology. Although she enjoyed learning about the cultural nuances that influence the way people act and interact with one another, her love of this mountainous region never ceased, and, ultimately, drove her back to graduate school to learn how to help protect this unique corner of the world.
Jackie is a native of Plattsburgh. She grew up hiking, swimming, cross-country skiing, and camping in the Adirondack Park. The 'Dacks represent home, restorative and spiritual beauty, and the intersectional balance between human and natural life. This much shortened list is just a sliver of what propelled Jackie to become a professional focused on not only land conservation, but on preserving the ecological integrity and wild character of the beautiful Adirondack Park.
Welcome Jackie. We are so happy to have you on the team!
Would you like to comment on what you've read or viewed? We'd love to hear from you. Please click to send us a message.
---