Lessons from the Trail |Part 1
By: Charlotte Staats - Adirondack Council's Clarence Petty Advocacy Intern
Tuesday, February 4, 2020
"Lessons from the Trail" is a blog series that discusses what the author, Charlotte Staats, has learned from living and working in the Adirondack Park. Charlotte Staats lives and recreates in the Adirondacks, and spent 5 seasons working on a backcountry trail crew that specializes in working in wilderness areas. The blog series will discuss her experience on trail crew, what she learned while working in backcountry settings, and the challenges she has seen facing the Adirondacks.
Adirondack Native on the Trail Crew
My love of New York's wildlands started when I was very young. The first house I lived in was at the end of a ten-mile dirt road in Minerva, another was a stone's throw away from the trailhead to Jay Mountain. I grew up in a home nestled in the forest at the foot of Split Rock Mountain, just outside of Westport, NY. I would visit my grandfather in Indian Lake, where my mom was raised. I spent much of my free time playing in and around the woods and waters of the Adirondacks in all seasons and all types of weather. In 2015, I applied to the Adirondack Mountain Club's (ADK) Trails Program. The job description describes trail work as the maintenance and rehabilitation of backcountry trails in the Adirondacks and Catskill parks. The crew would camp near their worksites for a week at a time. Working on trail crew was a natural transition for me, I thought. I loved the idea of having a job in the woods. I had grown up hearing tales about ADK's trail crew. When my mother was in college, she worked as a Volunteer Trail Crew Leader (VCL). My jaw would drop when she told stories of felling trees and turning them into span bridges or moving large rocks all day to create a stone staircase, all with hand tools, some elbow grease and a lot of sweat.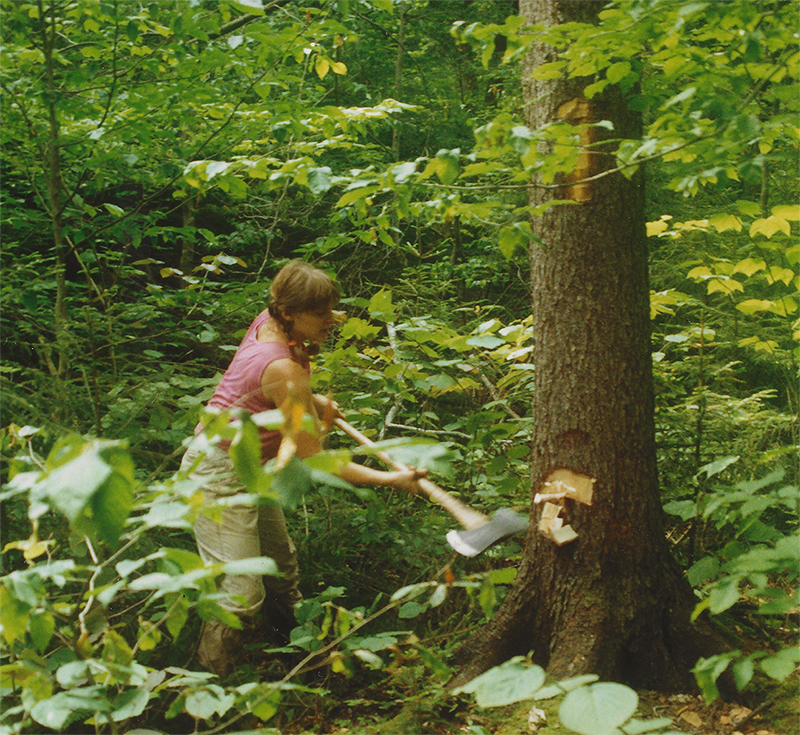 My mom, when she was a Volunteer Trail Crew Leader in the late 1980's, beginning the process of felling a
tree using only hand tools. Photo courtesy of Peg Staats.

When I heard that I had been accepted to trail crew, I was both excited and nervous. How would I be able to move giant rocks, or fell trees in the backcountry? How was I going to teach others how to do these tasks, too? Going into the job, I was relatively clueless about how a trail is built, let alone how to build rock staircases and wooden bridges. All I knew was that I wanted help protect the region that raised me, challenge myself, and live in the woods. Fortunately, the Adirondack Mountain Club's trails program provides training to its new and returning crew members to ensure that when the first week of work comes everyone knows what hand tools are used, and how. Over time, I gained the knowledge and skills necessary to create lasting, high-quality backcountry trail infrastructure.
Working in Wilderness
Just like the Adirondack Park, the trail crews that work inside the Blue Line are unique. For five days at a time, trail crew lives and works in the woods. If you are hiking in the Adirondacks and see a towering pack of tools, crates and other things making its way down a trail, you've just spotted a trail worker packing in, or out, of the woods. "Packing in" or "packing out" refers to how our crews get in and out of the woods. We hike as far as we must. Sometimes our projects are an easy mile into the woods. Other times projects are located a steep nine miles in the backcountry. No matter what the distance, we must carry on our backs all the food, camping gear, and tools required for a week's worth of work. We do this by tying everything we need onto external pack-frames. The tools we use are heavy. We require a lot of food in order to satiate hungry trail appetites. The weight of these packs is not light weight: they often exceed 100 pounds. New crew members will find their knees shaking and their shoulders aching under these extreme weights. Even experienced crew members feel this happen from time to time. Eventually, though, you gain the strength necessary to carry the weight, even for projects nine miles deep in the woods. It is no easy task to hike into or out from a project site. It requires dedication, determination, and a lot of sweat every time.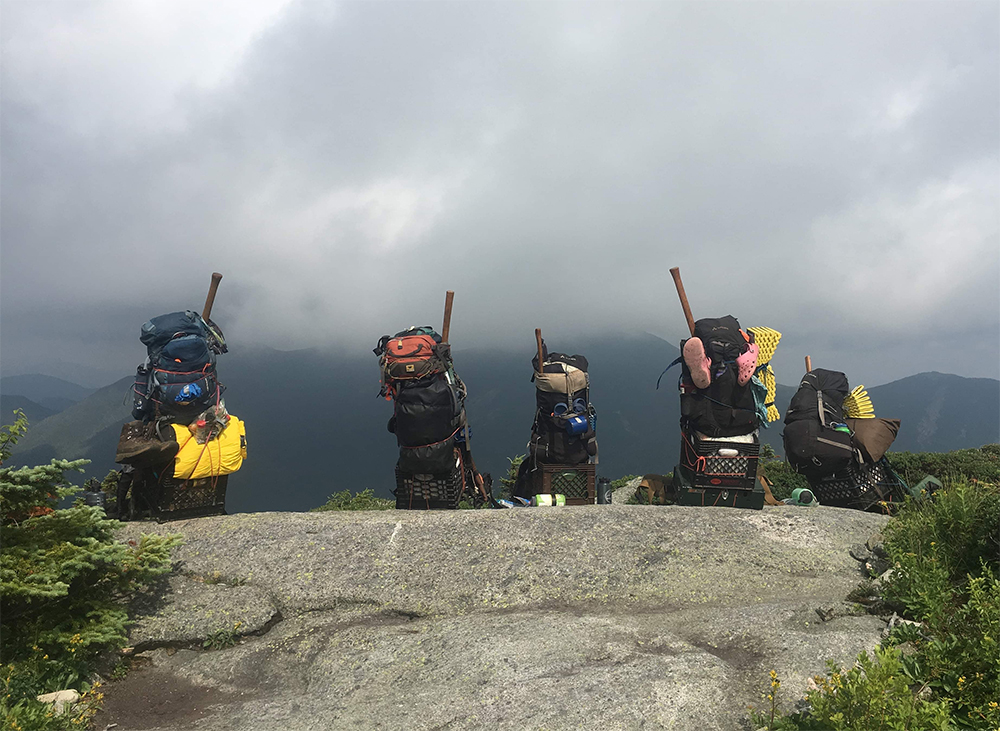 Trail crew pack frames resting while we took a short break during a pack out from a project on Mount Colden.
Photo credit: Charlotte Staats
The work I did in the summer of 2015 spurred a passion for giving back to the region I had spent so much time growing and having fun in. I immersed myself in the world of trail work.
The year 2019 marked my fifth season on trail crew, and the season I was honored with the title of Crew Boss. A Crew Boss is responsible for educating, leading and managing the entirety of the professional trail crew. Not everyone who works on crew becomes Crew Boss. The title is usually awarded to a crew member who has three or more seasons under their belt, has experience leading crews in the backcountry, and can educate the next generation of trail workers. At the end of my time as Boss this summer, I had dedicated a total of about 80 weeks (adds up to be 3,520 hours, at least) working on the Forest Preserve, maintaining hiking, biking, and skiing trails. I was able to immerse myself in many areas within the Adirondacks. I worked in a variety of forest types, forests with different land classifications and on trails that ranged from heavy to very little visitation. I worked in the High Peaks for 42 weeks in total - that's ten weeks shy of an entire year. Not only have I worked in the Adirondacks, but I have lived in them. When a workday was over, my weary body laid in my sleeping bag and I had time to think. I pondered what wilderness is. What it means to different people. How it's defined to different people. What aspects characterize wilderness for me, and my crew.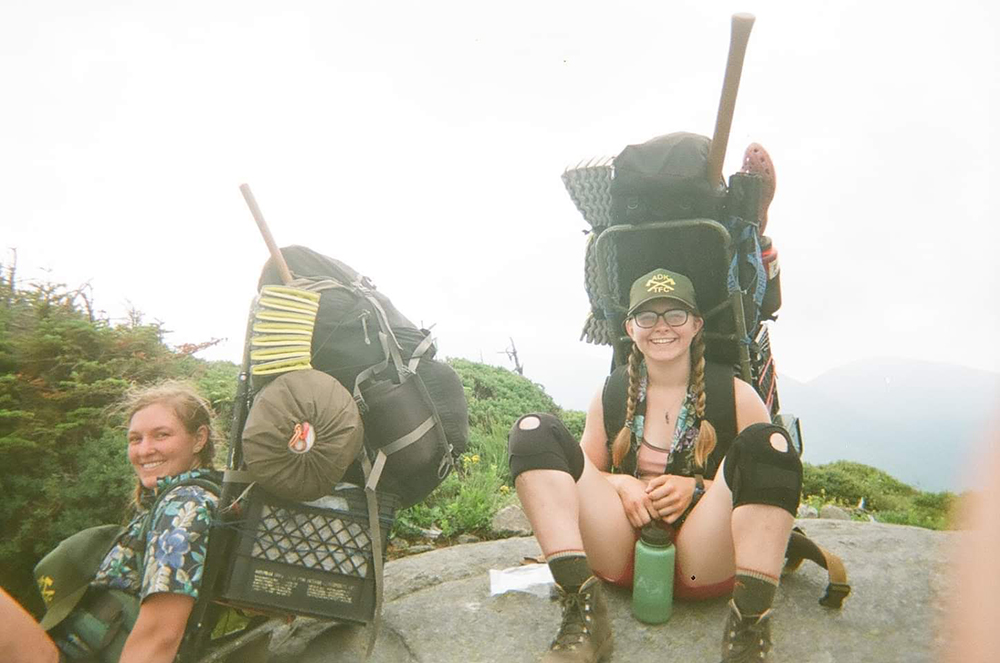 A fellow crew member (left) and me (right) on the summit of Mount Colden packing out from a project.
Photo credit: Adeline Clayton
How Do We Address Overuse?
In short, I've spent a lot of time working on trails and know a few things about them. I also spent a lot of time in the towns surrounding the Forest Preserve. My weekends were filled with exploring communities of the Adirondacks. Over time, I became friends with others who also call the Adirondacks home and listened to their stories of living in the Park. In and out of the woods, I navigated the waves of visitors throughout the seasons. I saw first-hand the challenges that the Adirondack Park faces both in and out of the woods, and what kinds of effort are required to address those challenges:
After pouring over maps, studying trails and exploring different regions, I've come to understand that the Adirondack Park requires conscientious planning and protection. Regions of the Adirondacks have different strengths and weaknesses, which require special consideration. The Park needs to be considered as a whole, too. How do we protect the natural resources found in the Adirondacks? At the same time, how do residents and visitors experience the Park? How do residents and visitors want to experience it?
While working on trails it has become abundantly evident that the Adirondacks require increased education and outreach, to residents and visitors alike. I believe that anyone who has a relationship with the Adirondacks would say that the region prides itself on having something to offer for everyone. However, when people decide to recreate, it's essential to be educated. Education is necessary to ensure that users are safe, have a positive wilderness experience, and reduce their impact on natural resources.
Backcountry and front country infrastructure must be improved and maintained. It's estimated that about 10 million people visit the Adirondacks annually. Popular summits in peak summer season see up to 500 people per day, and hiking trails are suffering. Every footstep has an impact, particularly because these trails were not intended to ever have such high levels of traffic. Adirondack hiking trails were created before sustainable trail design strategies were developed. Our front-country infrastructure was not designed for large numbers of recreators either. Trails heads, parking lots, roadside parking, restrooms and campgrounds are seeing an influx of people that they cannot handle properly. It creates safety issues, puts more stress on backcountry infrastructure and can create a negative experience for residents and visitors alike. Investing in front-country services and infrastructure will abate these situations. Increasing personnel and funding is the first step in working to solve these issues and ensure long-term stewardship and preservation of Forest Preserve land and water in the Park.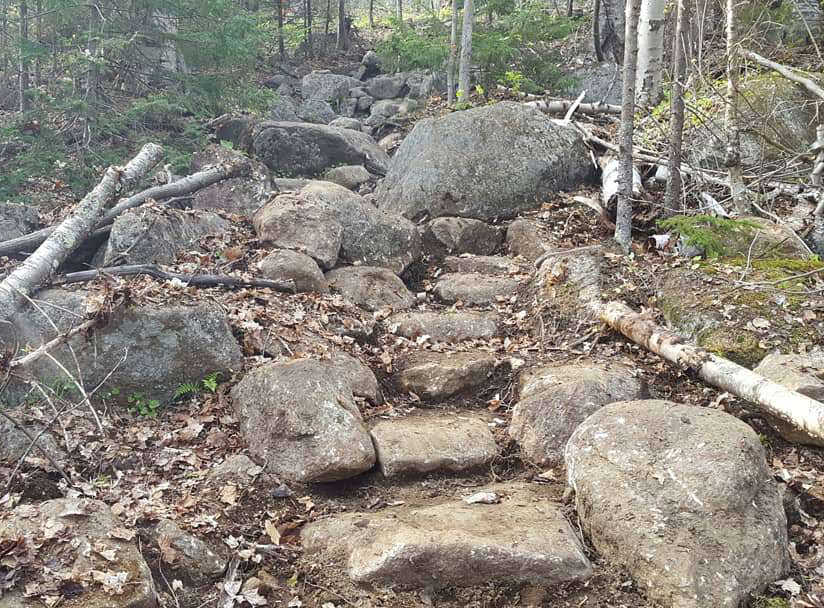 A stone stair case I built during the beginning of the 2019 summer season. Photo credit: Charlotte Staats
As more people recreate in the Adirondacks, the need for more state employees such as Forest Rangers, foresters and non-state personnel such as Summit Stewards and Trail Crews is also growing. They are important for monitoring limits, backcountry and front-country infrastructure, and updating/creating educational resources. Without an adequate number of staff, they will be over their carrying capacity, just like the trails. If we don't address the carrying capacity with education, outreach and infrastructure, setting use limits sometimes, in some places, might ultimately be the best way to preserve the natural resources of the Adirondacks and maintain the characteristics of wilderness that many hold near and dear to their hearts. Limits on use could potentially look something like the creation of a permitting system or fees.
From Trail Worker to Advocacy Intern
During my fulfilling time working on Adirondack trails, I spent time learning and thinking about the Adirondacks regionally, holistically, and philosophically. I became an expert in trail infrastructure, when and where it is needed, and how it is built. I travelled all over the Park to work on a variety of trail projects and saw how regions of the Adirondacks have vastly different needs and distinct challenges. This winter, I am excited to use my experiences from trail crew and living in the Adirondacks to continue my stewardship through advocacy with the Adirondack Council. After five years of observing, learning and listening to the place I call home, I'm excited to share what I've seen, learned and thought along the way in upcoming blogs. Through upcoming blogs, I will take a deep dive into what trail work is and why it's done, the challenges I saw facing the Adirondacks, and some lessons I learned along the way.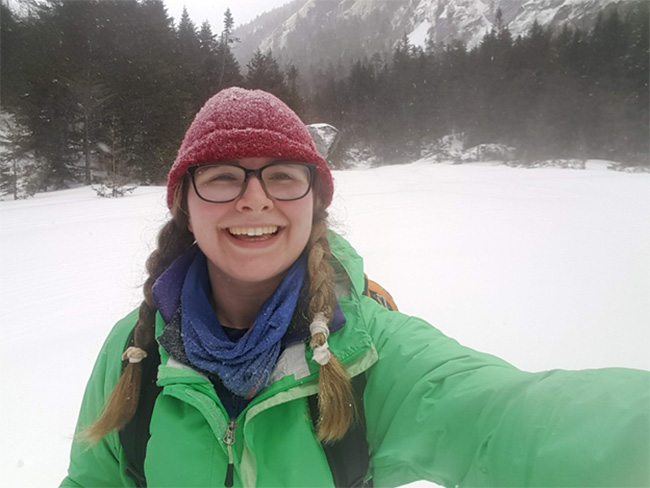 Charlotte Staats is the Adirondack Council's Clarence Petty Advocacy Intern for the 2020 legislative session. She grew up in Westport, New York, and graduated from Clarkson University in 2017 with a Bachelor of Science in Environmental Science and Policy. For the past five years, Charlotte worked on a professional trail crew, building and maintaining hiking, skiing, mountain biking, and snowshoe trails throughout the Adirondack Park.