How to Recreate Responsibly During COVID-19
By: Mary Godnick - Marketing and Fund Development Assistant
Monday, July 20, 2020
There is no doubt that being able to get outside has been a key part in moving through the COVID-19 pandemic for many. Recreating in the outdoors is beneficial for our physical, mental and emotional well-being. Like our food, housing, criminal justice, and many other systems, the COVID-19 pandemic has shown the holes in our outdoor recreation and wildlands management systems.
Many areas are experiencing record high-use while facilities are closed, causing overflowing trash in public parks, limited opportunities for education and outreach, and more overuse on our already taxed public lands.
Personally, I have been extremely privileged to shelter in place in the six-million-acre Adirondack Park, with roughly 2,000+ miles of trails, more than 2,500 lakes and ponds, and thousands of miles of rivers easily within an hour's drive. While it is hard to cancel vacations, family gatherings, parties and to move away from traditions, it is necessary to protect everyone from this virus. There are still hundreds of people testing positive for COVID-19 in New York State. And the numbers are on the rise again in almost every county in the North Country, pointing to the need for continued and renewed vigilance. The COVID-19 pandemic is not over, and there are easy, proven and effective things that each of us can do to slow the spread.
As we move ahead with the new reality we are living in, there are a few things that you can do to keep your family, fellow recreators and community members safe while recreating during the Coronavirus pandemic.
1. PLAN
While you may have relied on a quick Google search to find a back-up plan or place to grab a bite after a long hike in the past, this is the time to really plan ahead before you get outdoors. Have a couple back-up plans for what to do if you get to a trailhead, beach or boat launch and it is full or more crowded than you're comfortable with. Some facilities, such as restrooms or information centers may not be available this year. Bring extra water and snacks for the car ride home, or research take-out options in the area and places to safely have a picnic. Add your mask to your pocket and hand sanitizer to your backpack. Generally speaking, abide by the New York State Department of Health's guidelines. Additionally, do what you can to avoid unnecessarily needing rescue, choose less intense recreation and be extra prepared. Make sure you have a map and compass, flashlight, etc.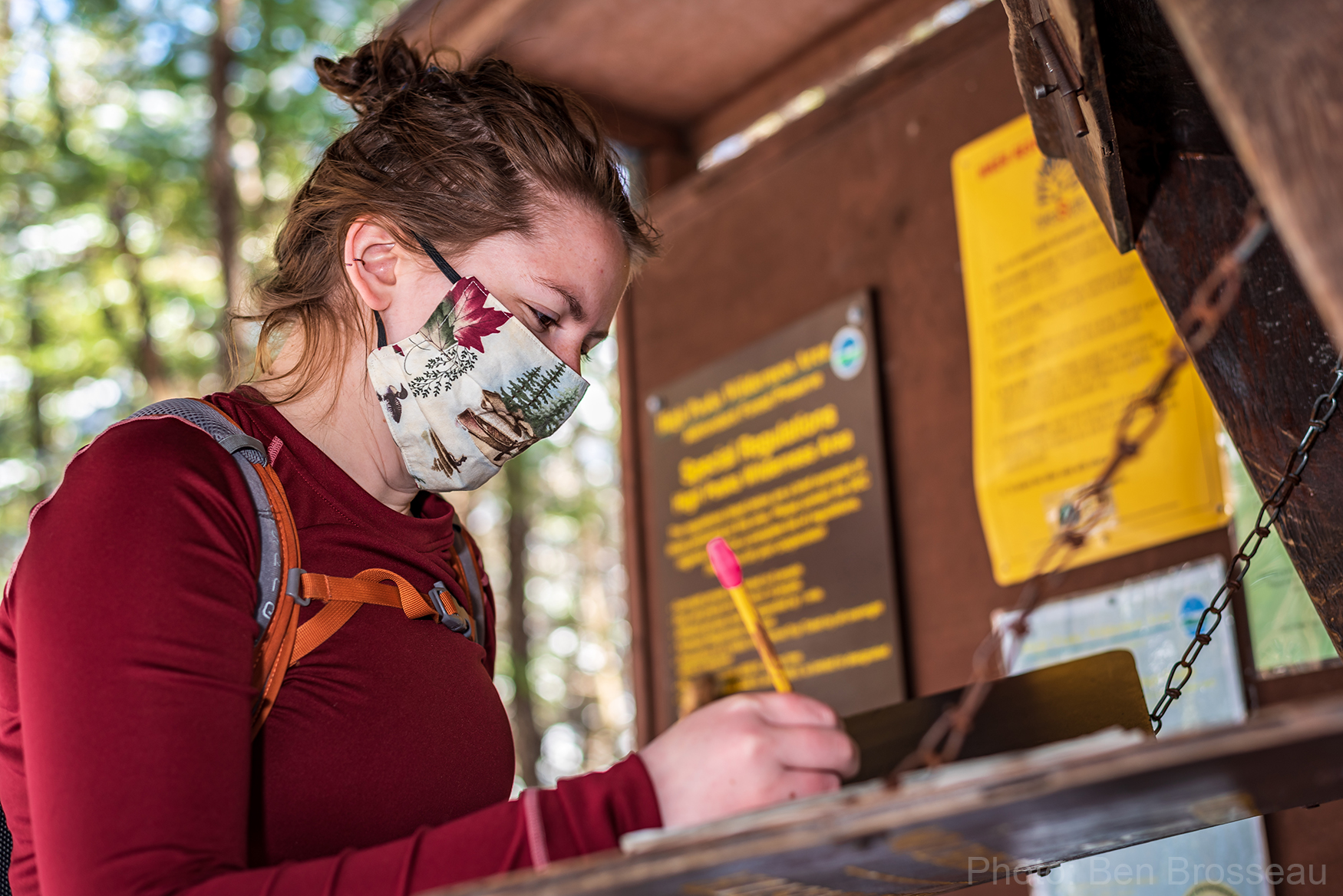 Photo by Ben Brosseau
2. PRACTICE
Wear a face-covering around your neck so that it is easily accessible for when you're inevitably near other hikers, boat inspection stewards and beachgoers. A bandana or buff is a good comfortable option this time of year. By covering your face you're not only preventing the spread of COVID-19, but you're showing respect for other people around you and the people whose community you're visiting. Practicing social distancing can be extra difficult on trails, crowded summits, beaches, swimming areas, boat launches etc. If an area seems too busy to visit safely, move on to one of your back-up plans.
3. EXPLORE LOCAL
To prevent the spread of COVID-19, the New York State Department of Environmental Conservation has asked that people recreate in their own region as it relates to phased re-opening and management. There may be many recreational opportunities near you, and while they may not be what you traditionally do during the summer, consider this an opportunity to get to know your backyard better. Plan to visit less popular areas, where you know you will run into fewer fellow recreators. Whether traveling or not, remember to show kindness, patience and respect for those you interact with. Even when visiting remote wildlands, remember that you will almost certainly be in close proximity to others at some point.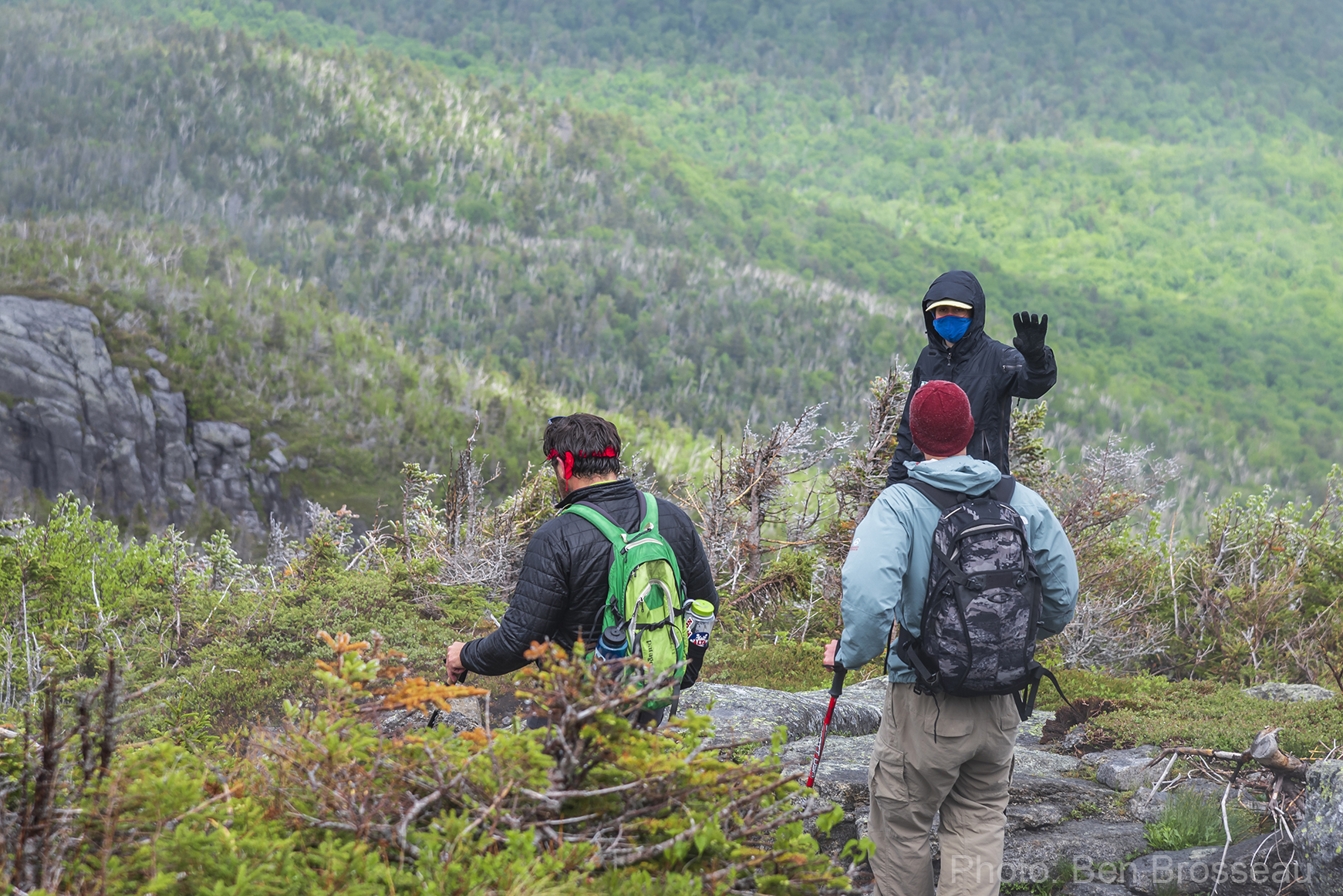 Photo by Ben Brosseau
4. LEAVE NO TRACE
Many things are still closed and services are still limited. Plan that port-a-johns and bathrooms will be closed. Do you know how to use the "facilitrees?" Bring an extra plastic bag to pack out any trash you bring in. There has been an increased risk for wildfire this year, practice campfire safety- or forgo a fire altogether. Due to the hot, dry weather, animal activity has been high—if you're camping, be sure to keep food, trash, toiletries, and anything with a scent in a bear canister, bear hang or car, depending on recommended practices of where you're recreating. Enjoy seeing wildlife, but give them space, particularly if they're trying to access water. Act as self-sufficiently as possible. Follow the Leave No Trace principles.
Whether you are spending time in a community in the Adirondack Park, enjoying the wildlands of the Forest Preserve, or recreating in another favorite place, natural areas provide a healthy dose of medicine for the soul and the body during these challenging times. Together we can use this time to learn more about being good stewards of our public lands while keeping ourselves and others safe and healthy.
---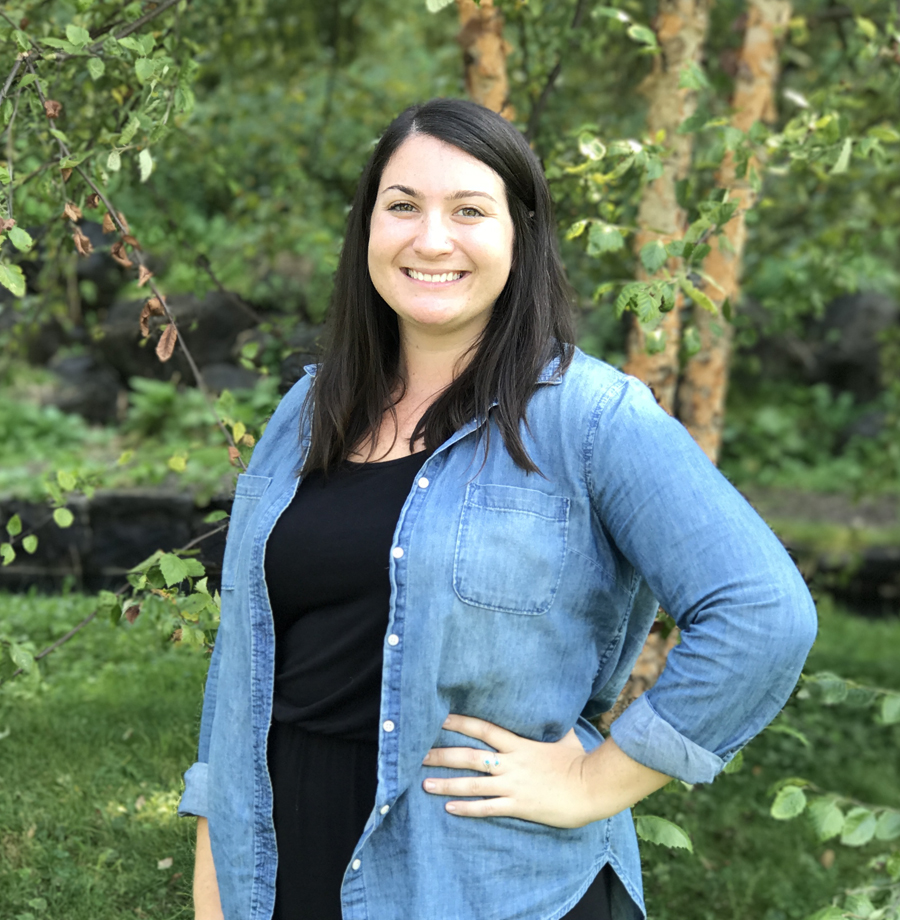 Mary joined the Council in August 2016. As the Marketing and Fund Development Assistant, Mary works with the team to coordinate marketing and fundraising efforts. She develops, manages and implements strategic social media and marketing campaigns to grow the visibility of the Council's efforts. She also works with the Fund Development team in the production of materials, mailings and reports to help expand our support to preserve the Park for future generations.
Mary grew up in Harford, NY. She graduated from SUNY Oswego with a Bachelor of Arts degree in Public Relations in May of 2014. Previously, she worked in digital marketing, search engine optimization and social media management. Outside of work, she enjoys cooking, gardening, yoga, and enjoying all that the Adirondack Park has to offer.