How to Help Protect Adirondack Alpine Plant Habitats
Friday, September 15, 2017
By: Kaitlyn Thayler - Adirondack Council Hamilton Program Intern
The Adirondack 46 High Peaks draw both locals and tourists from near and far, as people hope to see the spectacular views from the summits. While the High Peaks are a great challenge for hikers, as well as fun to climb and explore, they are also the natural habitat for many alpine organisms. In honor of Habitat Awareness Day this past Sunday, I began to reflect on these habitats that are often forgotten.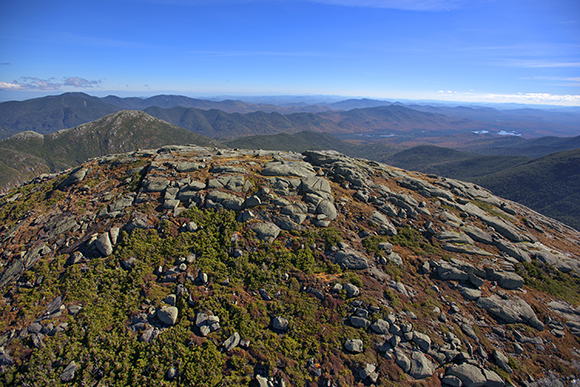 Mount Marcy © Carl Heilman II/Wild Visions Inc.

A mountain top is a very hard place for any plant organism to survive. Species must combat a very short growing season and soil that is acidic and lacks important nutrients. Plus, they must battle snow, ice and wind for the majority of the year, then intense sunshine in the summer. Alpine plants, like Bootts's Rattlesnake Root, Dwarf Willow, and Alpine Azalea, have evolved to survive these brutal and ever-changing conditions. Many alpine plants have a short yearly life cycle, and are small and cushiony in order to avoid the fierce winds and to stay warm.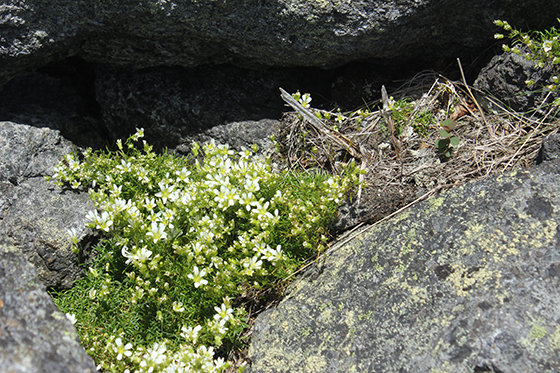 Saxifrage

However, the increase in human interaction in the High Peaks region adds another obstacle that alpine plants must combat. Hikers will blindly walk all over the summit in order to find the best view and take the best picture, crushing alpine species and putting some at risk of extinction. Fernald's Bluegrass is one such species; the Adirondack Mountain Club estimates that the tufts near the summit of Mount Marcy are possibly the only 10 tufts of this alpine meadow grass left in all of New York State. Since Marcy, the highest peak in all of New York, is one of the most popular hikes in Adirondack region, Fernald's Bluegrass is at serious risk of extinction.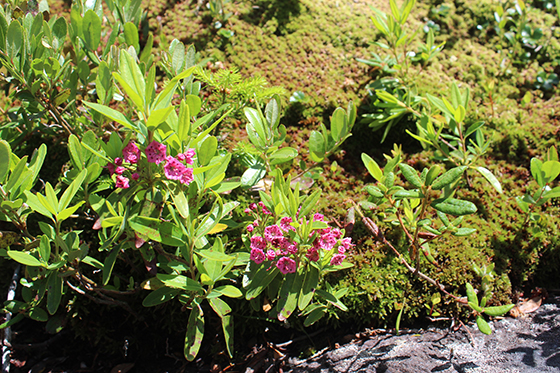 Sheep Laurel

Today, there are many people dedicated to preserving the natural alpine habitat. There are also many initiatives that hikers can undertake to help protect these resilient species.
Stay on the rocks and trails: Trails have been created and groomed for a reason. Staying on the path and rocks at the top of a peak, as well as camping at a designated camping site, will reduce the risk of you stepping on and crushing endangered plant species.
Leave No Trace: Keeping peaks clean allows alpine species to live freely and undisturbed in their natural habitat.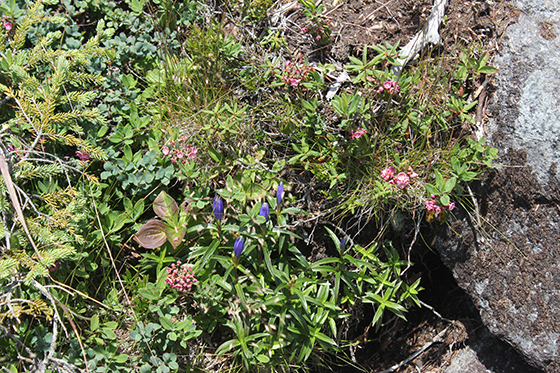 Blue Gentian and Sheep Laurel
Talk to a Summit Steward or Forest Ranger: You may have met one of the Adirondack Mountain Club's Summit Stewards or a DEC Forest Ranger the last time you climbed a peak. Their role is to protect alpine species from human interference and trampling, as well as educating hikers on the importance of mountain conservation.
Bring a rock up to the mountain summit: Summit Stewards have been working to define the trailheads and protect alpine habitats on Mt. Marcy, Algonquin, Wright, and Colden using small rocks to outline the path. You can help out by bringing a small rock to the top of these peaks and placing it by the sign for the Stewards to use.
There has been great progress in alpine habitat conservation over the last few years, but work must still be done continually in order to protect the Adirondack Park's natural environment. For more information on how you can help protect alpine habitats, visit the ADK Mountain Club or the New York State Department of Environmental Conservation online.
Would you like to comment on what you've read or viewed? We'd love to hear from you. Please click to send us a message.
---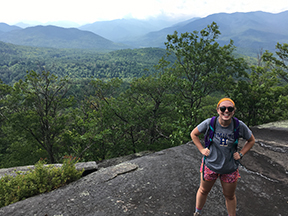 Kaitlyn Thayer is our Hamilton Program Intern intern our Elizabethtown office. She is a junior majoring in Environmental Studies at Hamilton College and is participating in Hamilton's Adirondack Semester in Keene this fall. She grew up visiting and hiking in the Adirondacks when she was young, and now hopes to immerse herself in the Adirondack community and learn more about the Park's conservation. When Kaitlyn is not blogging doing schoolwork, you can find her hiking, painting or mastering her baking and cooking skills.