Foliage Report Sept 29| Fall Foliage in the Adirondacks
Friday, September 29, 2017
By: Mary Godnick- Adirondack Council Marketing and Development Assistant

Today we are continuing our weekly Foliage Friday series, celebrating Autumn in the Adirondacks. Each week we are featuring some of the amazing photos shared with us on Instagram showcasing fall colors in Adirondack communities, wilderness and water. Tag us in your Adirondack foliage photos on Instagram at @AdirondackCouncil to be featured next week!
Adirondack Foliage Update
It says it is September on the calendar, but the weather is telling us that it is summer this week. Today, the temps are back down to fall temps. In the Champlain region, we've noticed that the foliage seems to have "paused" with the warm weather. However, our friends in the Saranac Lake and Old Forge areas have seen a lot of color. Perhaps this warmer weather will extend the fall colors? Time will tell.
Foliage Fact:
Did you know that fall colors are not just for hardwoods? The Tamarack tree also sheds its needles each year. Tamaracks turn a vibrant golden color and eventually lose all of its needles leaving the tree bare. A great place to spot Tamaracks changing color is at the Paul Smith's VIC, and our Deputy Director Diane Fish recently shared a few great shots of changing Tamaracks at Boreas Ponds!
Check out the great shots of this week's color display below!
Would you like to comment on what you've read or viewed? We'd love to hear from you. Please click to send us a message.
---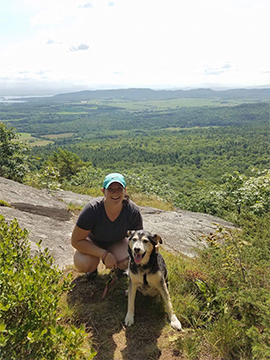 Mary joined the Council in August 2016. As the Marketing and Fund Development Assistant, Mary works with the team to coordinate marketing and fundraising efforts. She develops, manages and implements strategic social media and marketing campaigns to grow the visibility of the Council's efforts. She also works with the Fund Development team in production of materials, mailings and reports to help expand our support to preserve the Park for future generations.
Mary grew up in Harford, NY and is a graduate of SUNY Oswego and earned a Bachelor's of Arts degree in Public Relations in May of 2014. Previously, she has worked in digital marketing, search engine optimization, and social media management. Outside of work, she enjoys cooking, blogging, gardening, yoga, and enjoying all that the Adirondack Park has to offer.