Exploring My New Backyard
In mid-June, I got the opportunity to paddle down the Marion River – an inlet on the western shore of Raquette Lake – with some of my fellow Adirondack Council colleagues. The fat drops that fell on our heads while we put in our boats on Utawana Lake were not exactly reassuring of ideal weather, but fortunately the rain held off for most of our trip. If the previous night's storm had reminded me of my smallness, the morning paddle reminded me how grey skies and slow water can create a wonderful sense of tranquility. Despite the gloomy weather, I was particularly excited about this outing because it was literally in my backyard.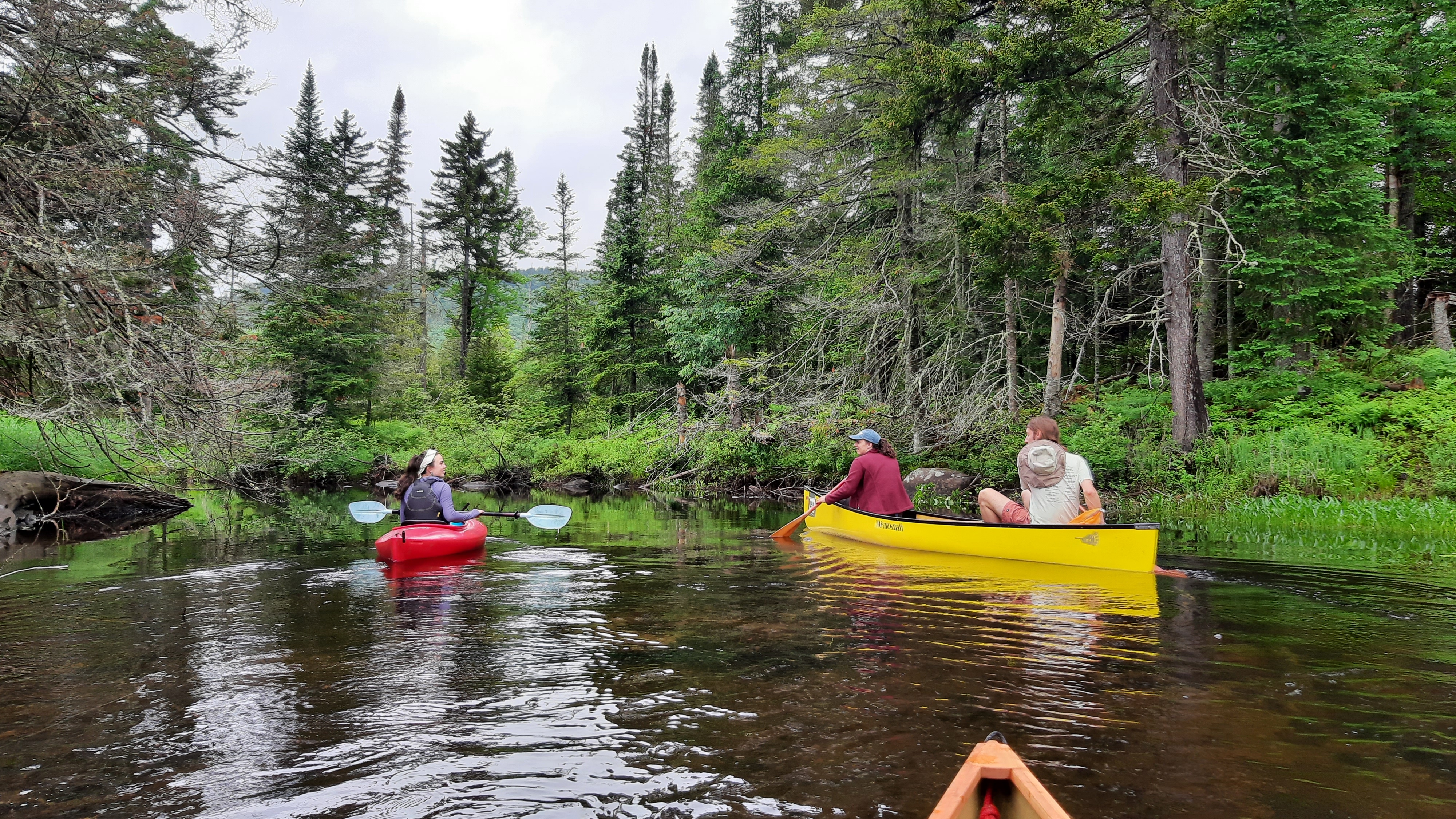 Variable Leaf Milfoil, An Unwanted Guest.
This summer I have been living near Raquette Lake as a Clarence Petty intern working with the Raquette Lake Preservation Foundation (RLPF). So far, I have been really loving all the varied aspects of this job and I often joke that I learn so much that it hardly feels like work at all. However, since our first meeting with RLPF, it was clear that variable leaf milfoil, the invasive species of greatest concern to Raquette Lake, was particularly worrying the board members. Having never seen VLM in person, I was hoping to catch a glimpse of it during this paddle. We were told that the species has a particular affection for the conditions in the Marion River and as expected, we saw many patches as we paddled along.
Marion Carry: A Portage Through the Past.
When we arrived at the Marion carry, despite the discomfort of my kayak digging into my collarbones, I couldn't skip reading the signs put up by Open Space Institute (OSI), which bought that land in 2013 to prevent it from being developed. It was funny to think that the very spot I stood on with sandals and modern plastic gear was the same one where stiffly dressed people, in big hats and fine coats, would step out of the trains over a hundred years ago. Moments such as these remind me of how rich the history of the Park is. I filed this memory next to all the wonderful Raquette Lake history that Ken Hawkes, former president of RLPF, shared with me on a tour of the lake one day.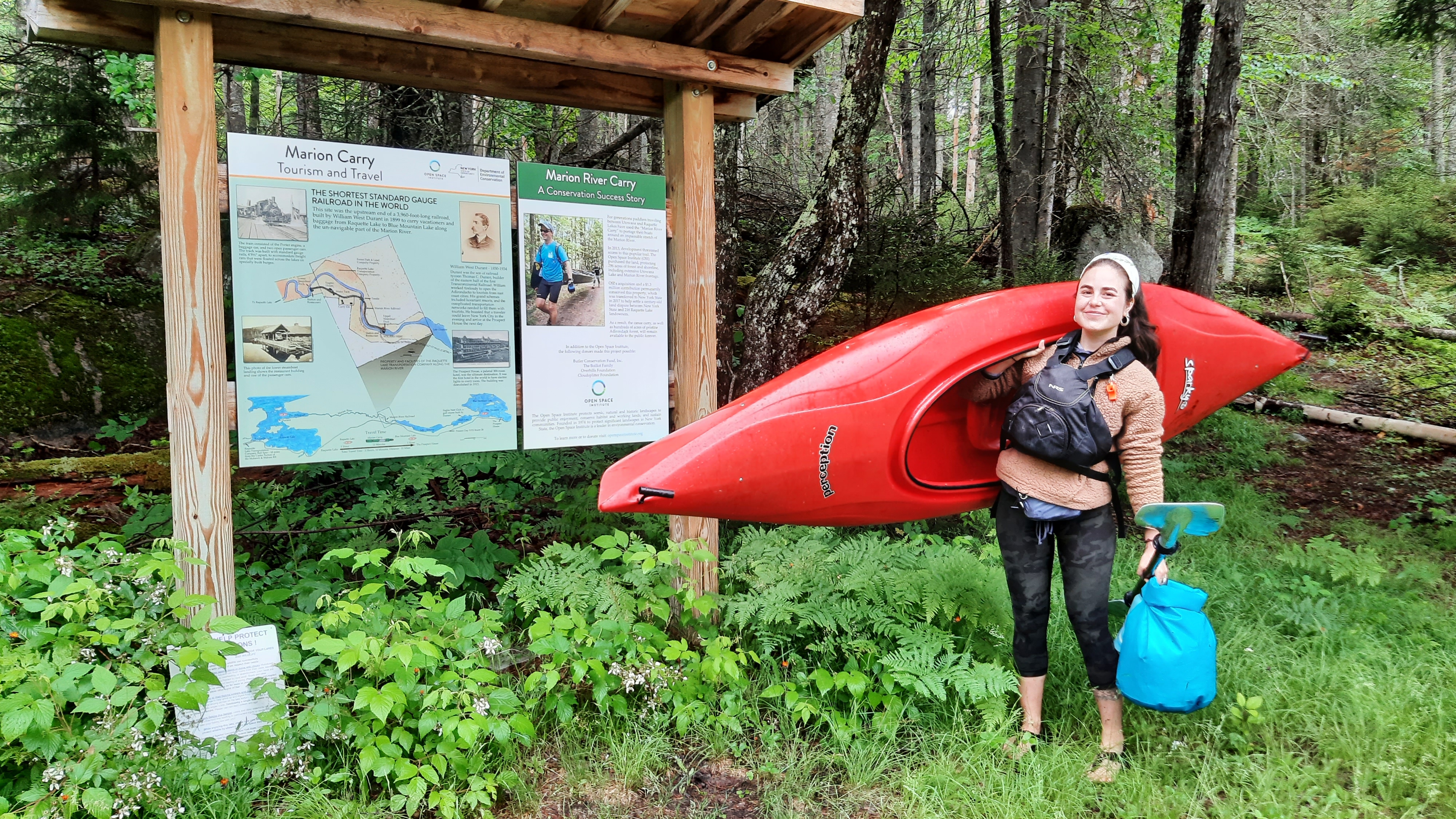 After the carry, we continued to float down the Marion until we eventually reached the hamlet of Raquette Lake. After a pitstop at St. William's on Long Point and a rather brutal traverse across a windy South Bay, we finally reached the take out. After strapping down our boats we all went down for a well-deserved meal at the Taproom.
Cultivating a Sense of Place
I often feel compelled to move to new places before I have truly gotten a sense of where I am currently residing. Floating down the Marion has reminded me of the importance of building a sense of place in this area which I am lucky enough to call home for the summer. It has also reminded me that many generations and many different species call this place home and that conservation is not a clear-cut goal, but rather a never-ending practice of integrating ecosystem wellness alongside vibrant human communities.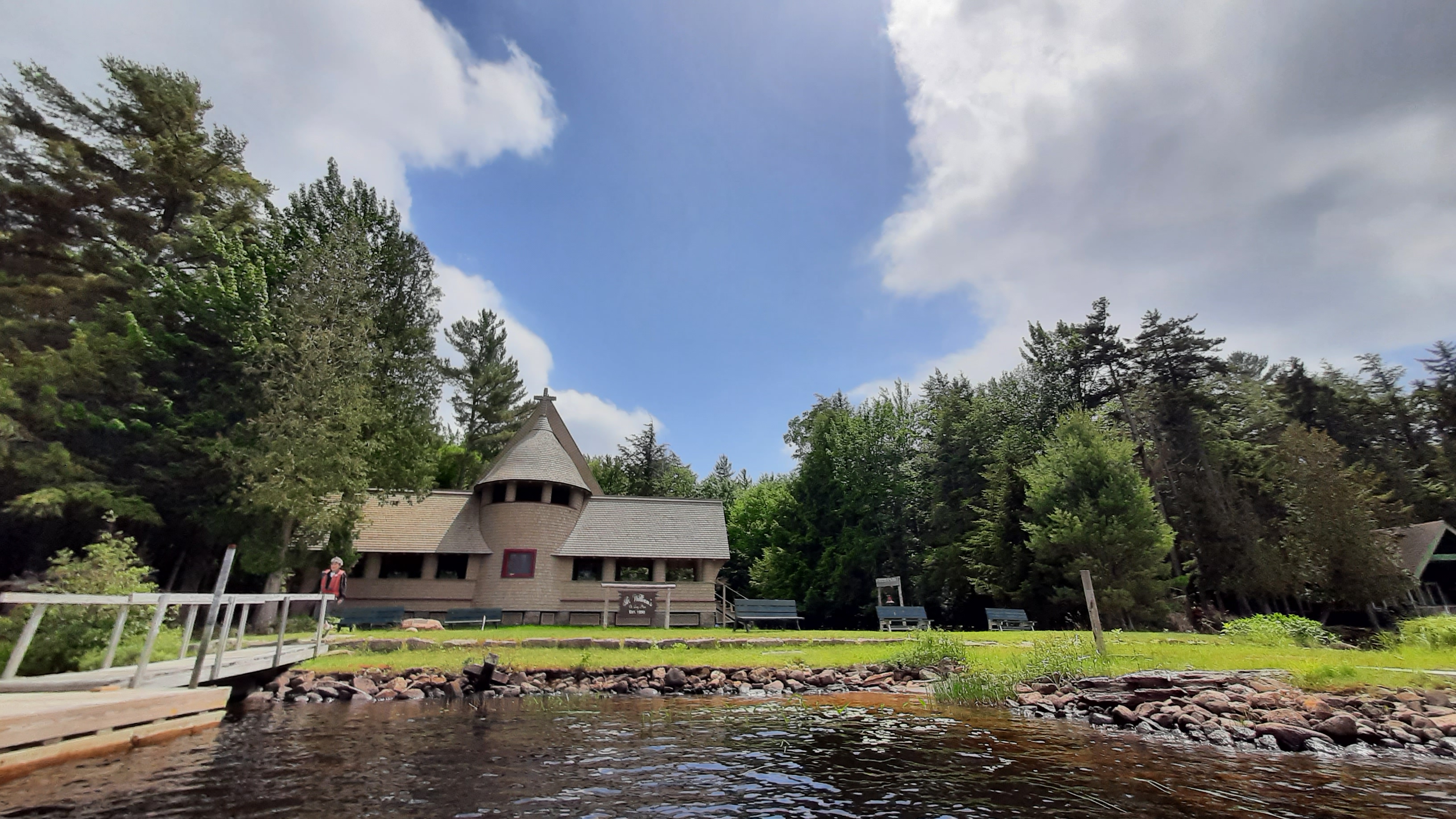 I am very grateful for all the people, especially those at RLPF, for their generosities in sharing their stories with me and their patience as I learn more about the place they love.