Expanded ATV Riding Raises Big Concerns
Wednesday, April 27, 2016
By: John F. Sheehan - Adirondack Council Communications Director

The 13th annual SNIRT Run all-terrain vehicle (ATV) rally arrived on the Tug Hill Plateau west of the Adirondack Park last Saturday after a long, nearly snowless winter had washed out the snowmobiling season.
The 2016 SNIRT Run set new records for participation, with local media reporting more than 4,200 registered riders and an unknown number who were unregistered. It also set new records for personal injury crashes, for search and rescue missions and for Driving While Intoxicated arrests, the Watertown Daily Times reported.
Normally, an event held outside of the Adirondack Park would not be in the purview of the Adirondack Council. But the SNIRT Run, hosted by a snowmobile club in Lewis County, takes place on the edge of the Adirondack Park boundary. The route for the event changes each year. Some years, it creeps closer to the Park border and in some years, riders have crossed into the Adirondack Park to visit nearby amenities and attractions. There were no published reports of SNIRT spilling into the Adirondack Park this year, but some riders did join the event by riding their ATVs from Brantingham Lake, which is inside the Park's boundary.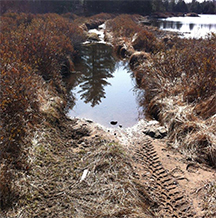 ATVs are a persistent problem in the "forever wild" Adirondack Forest Preserve, where they can cause severe damage to trails and off-trail areas. The Adirondack Council supports a general ban on ATV riding in the Forest Preserve, but also supports the establishment of legal riding areas on private lands and on lands where the state has purchased recreation rights.
In the past, trouble has emerged from two main features of the SNIRT rally. First, it invites riders to use local roads as connections between legal riding trails. ATVs aren't designed to be ridden on roads. In fact, ATV manufacturers and the U.S. Consumer Product Safety Commission both advise against using them on roadways. Furthermore, inappropriate use of ATVs on roadways can lead to trespass on both state and private lands. Currently, the New York State Strategic Plan for State Forests identifies recreational ATV use as an unsustainable practice on state-owned lands. Most years, some SNIRT participants go off-route on to state highways, and this year was no exception. In fact, at least two of this year's 10 DWI arrests were reported to have occurred on state highways.
In addition, many of the accidents that occurred at this year's SNIRT run took place on roads. These accidents typically involved riders who collided with other riders and parked ATVs due to poor visibility in dusty conditions and operating at unsafe speeds. All of the personal injury accidents involved rear-end collisions or roll-overs.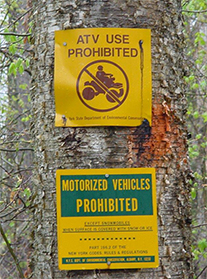 The second problem has been trespass. Two years ago, many riders went off the main route, due to deep snow blocking their path. In trying to avoid the snow, riders caused extensive damage while trespassing on private property. This year, riders were arrested while riding illegally in Whetstone Gulf State Park. Riders who go off-route inside the Adirondack Park can easily damage the Forest Preserve.
Earlier this year, the Adirondack Council mounted a successful legal challenge to a western-border town ordinance that illegally opened a local road to ATV riding. Opening up these roads to ATVs could have led to unsafe conditions, and environmental damage stemming from ATV trespass on adjacent and nearby state Forest Preserve lands.
Ultimately, the Adirondack Council does not oppose ATV riding. ATVs are important tools on farms, on private lands, on construction sites, and during search and rescue operations. But ATVs are unique machines and that means they require unique management that does not ignore the reality of their impacts.
Inappropriate ATV use is difficult for law enforcement to stop.
ATVs have large, knobby tires and operate best on soft and rugged terrain, which typically causes serious damage and erosion.
ATVs perform poorly on hardened surfaces, and are at risk of rollovers.
ATV use causes significant air and noise pollution, which displaces other user groups and creates challenges for local tourism economies.
The Adirondack Council envisions an Adirondack Park with clean water and air, large core wilderness areas, working farms and forests, and vibrant communities. Part of what makes a community vibrant is having a robust and sustainable economy. Recreation events can play a valuable role - if they function in a manner making sure that the public remains safe and healthy. ATV operation in the Adirondacks should be limited to the right places, and must be sensible and safe.
Would you like to comment on what you've read or viewed? We'd love to hear from you. Please click to send us a message.
---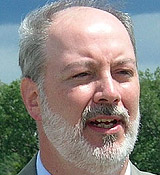 For the past 25 years, John has been the voice of the Adirondack Council on radio and television, and on the pages of local, regional and national media. John develops and executes the Council's public relations and communications programs.
He works with the media to explain the unique nature of the Adirondack Park and to help the public understand the Council's efforts to sustain its clean air, wilderness, wildlife, clean water and vibrant communities. He is the principal author of our annual State of the Park Report and assists with the editing of all Council publications.
Born in Troy, NY, John Sheehan is a graduate of Catholic Central High School and the State University at Albany. Today, John and his wife Deborah live in Albany and have a family camp in the Adirondacks. Their daughter Hannah attends Clarkson University.