Defending a Paddler's Paradise | Celebrating World Rivers Day in the Adirondacks
September 29, 2017
By: Kaitlyn Thayer - Adirondack Council Hamilton Program Intern
While much of people's attention is focused on the high elevations within the Adirondack Park, the rivers, lakes and streams in this region are some of the most beautiful and impressive in the state. Canoeing, kayaking and exploring the Adirondacks' incredible number of rivers are a great way to get outside and enjoy the Park's vast backyard. However, it is important to remember that these rivers, ranging from seven miles to over 150 miles, serve a very important role within Adirondack ecosystems. In addition, the Park's five major watersheds help protect water for the health and enjoyment of millions of people.
This week, we are celebrating World Rivers Day on Sunday, September 24 by advocating for river health and the respect of our rivers. Today, while water quality in the Adirondack watersheds is generally very good, these areas do still have prominent water quality challenges and issues that have been a concern for quite some time.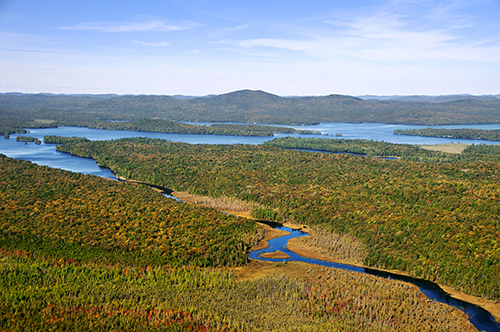 Marion River
Photo by Carl Heilman II
Acid Rain
As many locals know, the Adirondacks have experienced some of the worst acid rain in the country. It affects all aspects of the Adirondack community, but rivers and river ecosystems have been hit especially hard. The sulfur dioxide and nitrogen oxide from acid rain causes mercury contamination in river organisms, making them essentially poisonous. For the hundreds of species, including humans, that consume and rely on river fish populations for food – loons, great blue herons, bears, eagles, beavers to name a few – this is detrimental. Smaller aquatic organisms are also hit hard as the acid and chemical interactions weaken invertebrates, snails, insects, and even fish eggs, preventing them from functioning properly within the river system.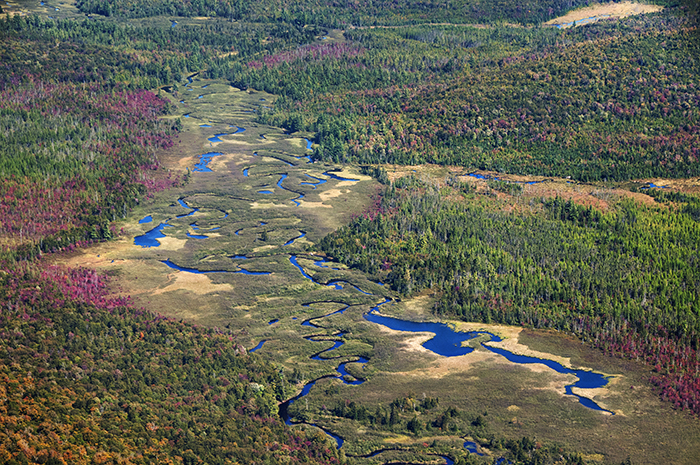 Oswegatchie River
Photo by Carl Heilman II
Ground Water
Animals are not the only things affected by polluted rivers. River water feeds the groundwater taken in by plants and trees in the surrounding area, and human wells. Human activity from miles and miles away can pollute groundwater that can sneak into water systems. Although rivers can be five or 100 miles away from your home, human impact on those rivers can negatively impact the ground water in your neighborhood.

What can you do?
So, as one of the organisms directly involved in river health, what can we do? How can we all make individual efforts to protect our rivers? You can take steps to expand your understanding, help educate others and prevent further river health deterioration.
Keep track of your trash and dispose of it properly! One of the most repeated, but most important actions you can take is to take out what you brought in. Waste and trash left at campsites, near shorelines and in the woods can easily make their way into rivers, and the chemicals used in packaging will be released into the water.
Learn more about your own watershed and rivers in your area. The more educated you and your neighbors are about the environment around you, the more you will want to protect it. Simple actions like helping to control soil erosion, not wasting water and keeping dangerous household chemicals out of the water system can make a huge difference.
Support the Adirondack Council's efforts, accomplishments and goals to end acid rain altogether. Reading this blog was the first step! The 1990 Clean Air Act helped kickstart the acid rain control program, but there is still much to be done to keep our air and waterways clean and free of toxins. Help us Take Action and learn more about how you can become involved.
Lastly, enjoy your rivers! A few weeks ago, hundreds of people come out to paddle, support or cheer on participants at the annual 90 Miler Canoe Classic. Over three intensive days, paddlers (including our own Willie Janeway!) traveled 90 miles from Old Forge to Saranac Lake, and enjoyed the scenery the rivers offer them. Events like these are a great way to introduce people from all over the country to the natural beauty of Adirondack waters. The more appreciation people have for their rivers and water now, the more likely they are to work to protect them in the future.
Helping to combat these concerns keeps rivers clean and undisturbed, which protects the habitats of hundreds of organisms, and will allow these areas to be enjoyed by future generations. Learn more about our rivers and what you can do to protect them at the Department of Environmental Conservation.
Would you like to comment on what you've read or viewed? We'd love to hear from you. Please click to send us a message.
---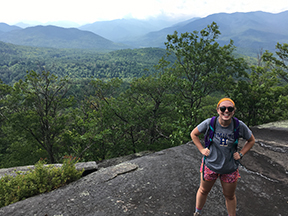 Kaitlyn Thayer is our Hamilton Program Intern intern our Elizabethtown office. She is a junior majoring in Environmental Studies at Hamilton College and is participating in Hamilton's Adirondack Semester in Keene this fall. She grew up visiting and hiking in the Adirondacks when she was young, and now hopes to immerse herself in the Adirondack community and learn more about the Park's conservation. When Kaitlyn is not blogging doing schoolwork, you can find her hiking, painting or mastering her baking and cooking skills.