Cool Farms/Healthy Park Micro-Grants Program
March 27, 2017
By: Jackie Bowen - Adirondack Council Conservation Fellow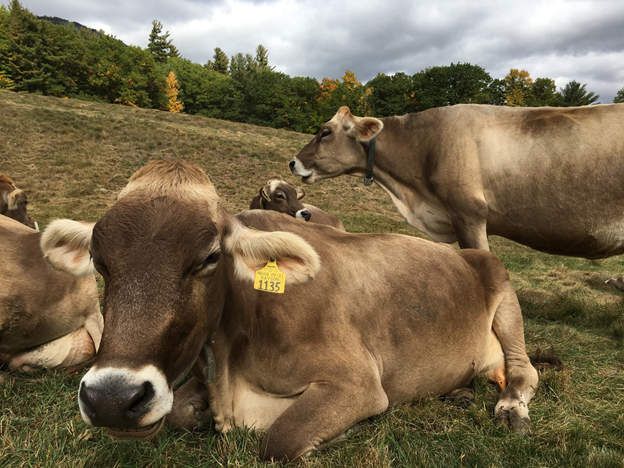 Swiss-brown cows

Local farmers and small entrepreneurs are on the front lines of the battle against climate change working hard to be economically and environmentally sustainable and resilient. Supporting the growth of a low-carbon economy in the Adirondack Park starts by supporting these farmers and small entrepreneurs who contribute and enrich our vibrant communities.
The Adirondack Council's micro-grant program started in 2016 to help Adirondack farmers adapt to and mitigate the effects of climate change. Now, we are broadening the scope of our program to include not only farms in the Champlain Valley within the Blue Line, but small businesses and entrepreneurs as well! Small businesses within the following five central Adirondack towns are eligible to apply: Indian Lake, Long Lake, Minerva, Newcomb, and North Hudson.
We re-launched our Cool Farms/Healthy Park Micro-Grants Program on March 1.
Micro-Grant Awards: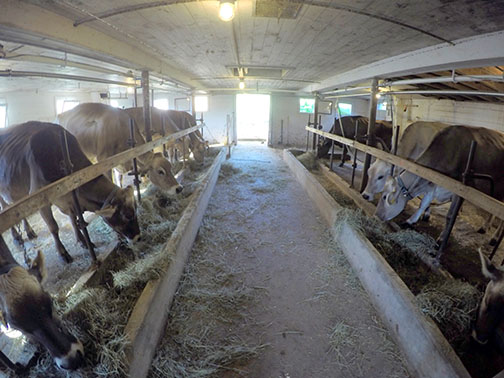 The Sugar House Creamery's milking parlor
with the new pipeline system seen overhead.
The pipes were part of their 2016 grant project.
Micro-grants of between $500 and $1,500 will be awarded for energy conservation, carbon emission reductions and sustainable and environmentally healthy farming and small business projects. These efforts should enhance the economic, human and/or environmental sustainability and climate resiliency of the Adirondack Park.
Projects:
Listed below are last year's micro-grant recipients and their projects, and examples of small business projects that could be considered for an award.
Farms/Food Producers—last year's projects included:
1. Black Kettle Farm: horse-powered wood-splitting operation
2. Boquet Valley Farm: modified and enhanced beekeeping equipment
3. Echo Farm: made improvements to a solar -powered watering system
4. Harris Family Farm: purchased draft horse gear for the organic dairy
5. Hub on the Hill: made solar power improvements
6. Juniper Hill Farm: upgraded cold storage and decreased energy use
7. Kelsie's Creamery: increased seeding and pasture sustainability
8. North Branch Farm: diversified more climate resilient crops
9. North Country Creamery: expanded/improved grazing rotations
10. Reber Rock Farm: expanded marketing campaign
11. Sugar House Creamery: upgraded milking technology
12. Tangleroot Farm: installed a growing tunnel to support early season crops
Small Businesses/Entrepreneurs:
Projects may include (but are certainly not limited to): solar panels, skylights, low energy appliances, insulation preventing heat or cold air loss, compact fluorescent (CFL) skylights, high efficiency evaporation and condenser fan motors for walk-in refrigerator and freezer units, etc.
How You Can Help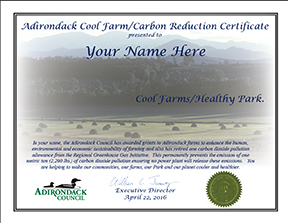 Click image to enlarge
In addition to grants from the Klipper Fund, the Lookout Fund and International Paper, the Council supports the micro-grants program through the sale of "Cool Farms/Healthy Park" Carbon Reduction Certificates. The purchase of these certificates allows donors to fund future micro-grants help efforts to meet lower carbon pollution standards. For every $25 donated, the Adirondack Council will multiply the positive impact of the micro-grants while permanently and legally retiring one carbon emission allowance from the Regional Greenhouse Gas Initiative (RGGI). Every allowance retired equals a ton of pollution that power plants will never be allowed to emit. The proceeds of these certificate sales will help replenish the micro-grants fund and support the continued purchase and retirement of pollution allowances while supporting local Adirondack farming and small businesses.
Want to help support our micro-grants program? Purchase a Cool Farms/Healthy Park Carbon Reduction Certificate, available HERE.
Would you like to comment on what you've read or viewed? We'd love to hear from you. Please click to send us a message.
---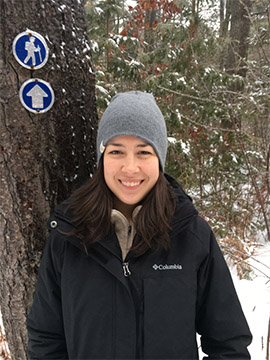 Jackie is the Council's Conservation Fellow. She has a Master's Degree in Environmental Law and Policy, with a certificate in Land Use Law, from Vermont Law School. During her year and a half program she interned in Washington, D.C. at American Rivers where she worked with the Government Relations team to track legislation, identify federal funding sources and research tribal water rights.

In 2013, Jackie graduated from SUNY Geneseo with a degree in Anthropology. Although she enjoyed learning about the cultural nuances that influence the way people act and interact with one another, her love of this mountainous region never ceased, and, ultimately, drove her back to graduate school to learn how to help protect this unique corner of the world.

As a native of nearby Plattsburgh, Jackie grew up hiking, swimming, cross-country skiing, and camping in the Adirondacks. The 'Dacks represent restorative and spiritual beauty and the intersectional balance between human and natural life. This is just a sliver of what propelled Jackie to become focused on not only land conservation, but on preserving the ecological integrity and wild character of the beautiful Adirondack Park.