Coniferous Foliage in the Adirondacks
Tuesday, October 3, 2017
By: Kaitlyn Thayer - Adirondack Council Hamilton Program Intern
It takes just one quick look out your window to enjoy the beautiful array of reds, oranges and yellows produced by Adirondack foliage this time of year. However, hardwoods are not the only trees producing autumn color. Our own Diane Fish ventured out to Boreas Pond a few weeks ago and found a variety of coniferous trees displaying autumn colors.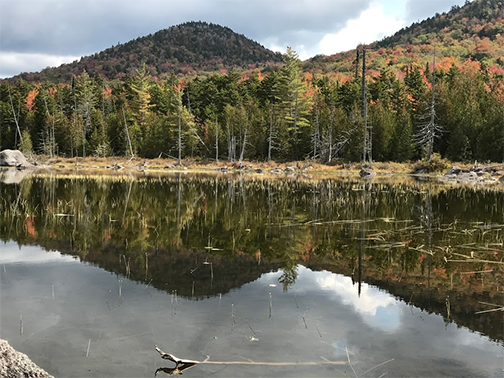 Despite the name, evergreen trees do not stay entirely green throughout the year. While browning conifers may look abnormal, the annual needle shedding process is natural and expected. Conifers will keep their needles for a few years, but in the fall season most will drop their older browning needles in the fall.
The Northern White Cedar
In late-summer and fall, the year old needles on cedar trees begin to turn brown and shed. Newer needles from that previous year keep their green color throughout the season.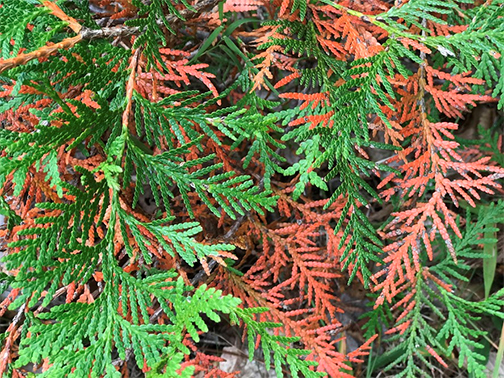 White Pine
The browning needles on the white pine, one of the more recognizable trees in the region, are also due to age. Needles will grow on the tree for around three years before they begin to die and turn brown, eventually falling.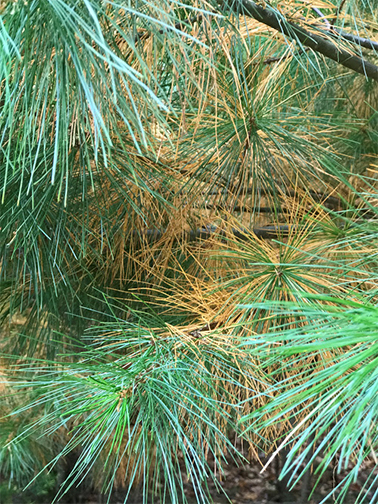 Tamarack
Unlike most conifers, the Tamarack tree sheds all its needles every fall. Bright green during the spring and summer months, the needles turn golden yellow in late summer and fall and eventually fall off leaving the tree bare. The tree will regrow its bright green needles the following spring.
To learn more about Conifers in the Adirondacks, as well as Hardwoods, visit Paul Smith College's Trees of the Adirondacks webpage as well as Professor Curt Stager's book, Field Notes from the Northern Forest.
Would you like to comment on what you've read or viewed? We'd love to hear from you. Please click to send us a message.
---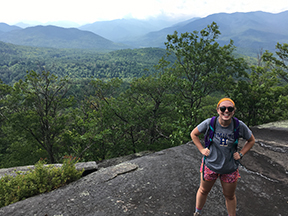 Kaitlyn Thayer is our Hamilton Program Intern intern our Elizabethtown office. She is a junior majoring in Environmental Studies at Hamilton College and is participating in Hamilton's Adirondack Semester in Keene this fall. She grew up visiting and hiking in the Adirondacks when she was young, and now hopes to immerse herself in the Adirondack community and learn more about the Park's conservation. When Kaitlyn is not blogging doing schoolwork, you can find her hiking, painting or mastering her baking and cooking skills.