Columbus Day Weekend| Events & Fall Foliage in the Adirondacks
Thursday, October 5, 2017
By: Mary Godnick- Adirondack Council Marketing and Development Assistant

Today we are continuing our weekly Foliage Friday series, celebrating Autumn in the Adirondacks. Each week we are featuring some of the amazing photos shared with us on Instagram showcasing fall colors in Adirondack communities, wilderness and water. Tag us in your Adirondack foliage photos on Instagram at @AdirondackCouncil to be featured next week!
Adirondack Foliage Update
Okay, let's address the elephant in the room. The foliage is noticeably less vibrant this year in some areas of the Adirondacks. We had color come out strong in September, and then warm weather. The Old Forge, Lake Placid, and Tupper Lake areas are past peak. But we have some great news, the colors around our Elizabethtown office have popped over night! Our friends at the Adirondack Mountain Club report that colors at Heart Lake are past peak, and less vibrant this year. The I Love NY foliage map shows most of the Adirondacks are at peak, or just past it. But don't worry, it is beautiful up here, and fall festivities are in full swing.
Columbus Day Weekend Events
This weekend is big for leaf-peeping and there are a lot of events happening this weekend in the Adirondacks! You can visit local Adirondack farms on the Essex County Cheese Tour, watch top ski jump talent compete at the Flaming Leaves Festival in Lake Placid, enjoy Harvestfest at Gore Mountain, take a tour on the Thurman Fall Farm Tour, or shop at the Long Lake Harvest Craft Fair, Westport Fall Festival, Warrensburg Garlic Festival, or the last Keene Farmers Market of the year.
Safety Information
As a road safety precaution, the Department of Environmental Conservation is temporarily moving parking for Cascade, Porter and Pitchoff West for this weekend. Parking will be at the Mt. Van Hoevenberg Sports Complex and will be free of charge. Volunteers will be available to guide you to where you need to go.
Last weekend, snow fell on a few High Peaks. Remember that weather changes on summits. Wear warm layers and proper footwear. Bring extra food, water, a flashlight, compass, map and notify friends and family about your trip. Bowhunting season has begun, so make sure that you and your pet are wearing bright colors when hiking. Stay on the trails, and have a safe and fun weekend!
Check out the great shots of this week's color display below!
Would you like to comment on what you've read or viewed? We'd love to hear from you. Please click to send us a message.
---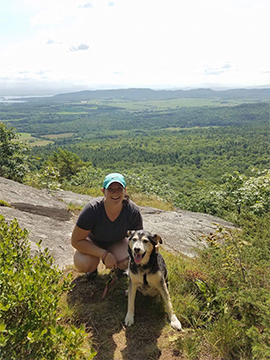 Mary joined the Council in August 2016. As the Marketing and Fund Development Assistant, Mary works with the team to coordinate marketing and fundraising efforts. She develops, manages and implements strategic social media and marketing campaigns to grow the visibility of the Council's efforts. She also works with the Fund Development team in production of materials, mailings and reports to help expand our support to preserve the Park for future generations.
Mary grew up in Harford, NY and is a graduate of SUNY Oswego and earned a Bachelor's of Arts degree in Public Relations in May of 2014. Previously, she has worked in digital marketing, search engine optimization, and social media management. Outside of work, she enjoys cooking, blogging, gardening, yoga, and enjoying all that the Adirondack Park has to offer.