Another Victory on Acid Rain! New York's Dirtiest Power Plants to Close
Wednesday, September 2, 2015
By: John F. Sheehan - Adirondack Council Communications Director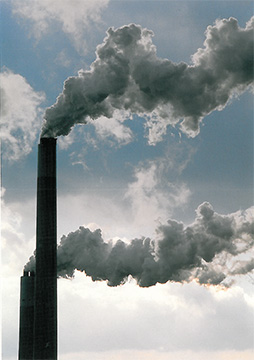 Photo by Jenny Hager
The long battle against acid rain in the Adirondack Park reached a major milestone in August, as the owners of New York's two largest coal-fired power plants said they would shut down their operations or convert them to cleaner fuels. This is good for clean water, wildlife, wilderness, and vibrant communities. The loons on the High Peaks' Boreas Ponds and the people from Tonawanda outside Buffalo to North Hudson on the southern edge of the High Peaks will benefit from these closures.
Slated to close are the massive, coal-fired units at Huntley Station, located on the Niagara River Tonawanda, a suburb of Buffalo, and Dunkirk Station, in Dunkirk on Lake Erie in Chautauqua County. Aside from being the state's largest coal-fired power plants, they are also among the oldest and least efficient plants still in use in New York. Each was built more than 60 years ago by the Niagara Mohawk Power Corp. (NiMo) and its predecessors. Houston-based NRG Energy bought them after NiMo was broken up.
While their total acid rain output is dwarfed by some plants in the Ohio Valley, Huntley Station's and Dunkirk Station's proximity to the Adirondacks means a much higher percentage of their pollution actually reaches the Park's forests and waters each day, carried by prevailing winds.
This victory was won by clean air advocacy efforts that began in the Adirondack Park in the 1970s. They continued to this day, leading to energy conservation plans, major investments in renewable energy and effective pollution-control programs. The Adirondack Council is proud to say it has been a national leader in the struggle to stop acid rain since it was founded in 1975.
NRG plans to halt energy production at Huntley by March 1, 2016 and close the Dunkirk plant after its contract with National Grid expires at the end of this year.
State officials at the NYS Independent System Operator (ISO), which manages the state's entire electric grid, must decide whether the closing of the plants would create power-supply reliability problems in Western New York. Experts are predicting that the ISO will allow the plants to close.
Both plants could have remained open if NRG was prepared to meet modern emissions standards. However, it appears most of the oldest power plants in the nation will be closed as federal programs are implemented to regulate carbon, mercury and other toxic chemicals produced by burning coal.
In the 1970s when Congress passed the Clean Air Act, it exempted power plants that were already decades old, including both Huntley and Dunkirk. It was assumed older plants would be replaced with more efficient, modern plants. But, owners of the power plants were reluctant to comply with stricter emissions regulations because it was cheaper to pollute.
State and federal acid rain programs tried to solve that problem by requiring companies to pay for the sulfur dioxide they emitted. Each plant had to obtain one government-issued pollution allowance for every ton of sulfur they emitted from their smokestacks. Each year, the supply shrunk and the price rose higher.
New York ordered emissions reductions at Huntley and Dunkirk using its own acid rain program. However, the plants exemption from the federal Clean Air Act allowed them to avoid a second round of stricter cleanup efforts. So the owners of Huntley and Dunkirk continued to repair and operate the plants rather than scrapping them for new ones.
By 1999, so much of each plant had been reconstructed, then-Attorney General Eliot Spitzer sued NRG claiming that both plants now constituted new power plants – ones that must meet tougher federal standards.
As part of the settlement, NRG agreed to reduce its acid rain-causing emissions by 87 percent and emissions that cause smog by 81 percent. That meant both Dunkirk and Huntley needed to make a major shift to new emissions control technology or to a new fuel. Both plants slowed their operations and worked on plans to connect them to natural gas supplies as the best hope for remaining open. However, an NRG spokesperson said last week that while it was possible to convert both plants to natural gas, it was more likely they would close.
The plant closures are a mixed blessing to the towns where the plants are located. They will cause job losses (about 70 plant workers are expecting layoffs in each community), and a short-term loss in tax revenues. However, they will also provide cleaner air in those towns and an opportunity to redevelop two massive waterfront industrial sites with sustainable, attractive businesses. In June 2014, the NYS Legislature approved a $19-million fund to assist these two communities in dealing with the closures.
In the end, this action is good for the state, for public health and for the future of the Adirondack Park.
Would you like to comment on what you've read or viewed? We'd love to hear from you. Please click to send us a message.
---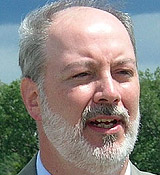 Born and raised in Troy, NY, John Sheehan is a graduate of Catholic Central High School and the State University at Albany (1985; BA). Before joining the Council's staff in 1990, John was the managing editor of the Malone Evening Telegram, just north of the Adirondack Park. Prior to that, he worked as journalist for the Troy Record, (Schenectady) Daily Gazette, Watertown Daily Times and Newsday.

For the past 25 years, John has been the voice of the Adirondack Council on radio and television, and on the pages of local, regional and national media. Sheehan has overseen the production of two films about the Council (The Adirondack Council, 1992; and, ACID RAIN: A Continuing National Tragedy, 1998), appeared in the independent film Inside the Blue Line (1993) and has produced a series of radio and television public service announcements with entertainers Bonnie Raitt (1994), Natalie Merchant (1997) and brothers/band mates Michael and Kevin Bacon (2009-10).
John is a regular guest lecturer at several New York colleges and universities, including Colgate University, Hobart & William Smith College, Hamilton College, Rensselaer Polytechnic Institute, Union College, Siena College, SUNY Albany, SUNY Binghamton, SUNY College of Environmental Science and Forestry (Syracuse), and SUNY Potsdam. He has also addressed dozens of local organizations including local Rotary and Kiwanis clubs and chambers of commerce, scientific societies and community forums.
John and his wife Deborah live in Albany and are seasonal residents of the Adirondack Park. Their daughter Hannah attends Albany public schools.