ANCA's Clean Energy Economy Conference
By: Emily Liebelt - Adirondack Council Clarence Petty Intern
Recently on the SUNY Polytechnic Institute campus in Utica, the Adirondack North Country Association (ANCA) held its fifth annual Clean Energy Economy Conference. Three days of exhibits, presentations and discussions brought together a variety of people involved in renewable energy in northern New York. I attended the conference's Tuesday events as the Adirondack Council's Clarence Petty Intern to learn about the possibilities for Adirondack communities to adopt clean energy solutions and divert away from fossil fuel usage.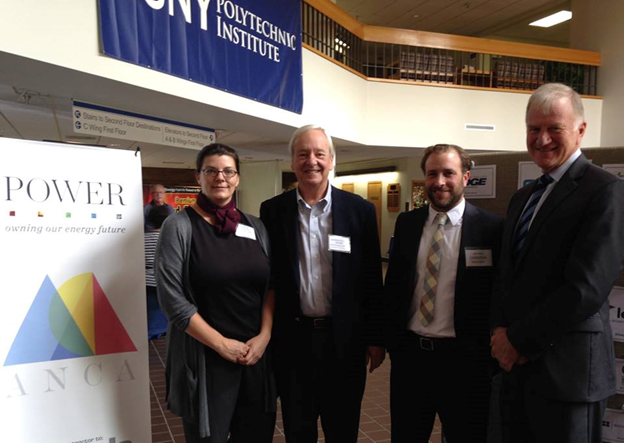 Amanda Levigne and event chairsThe clean energy industry is quickly changing, as Amanda Levigne ANCA's energy program director said during a presentation at the ANCA conference. If someone isn't keeping track of the changes and opportunities that arise, they could be completely out of touch within two weeks. Such rapid growth presents a need for collaboration between organizations involved in creating clean energy opportunities.
ANCA is rolling out their new One Stop Shop for Community Sustainability, a program designed to assist municipalities in the seven-county North Country Economic Development Region to achieve significant savings in energy costs. ANCA is not an Energy Service Company (ESCO) but an advocate for the needs and interests of the communities involved in the program. Understanding that there is no one-size-fits-all solution, ANCA will provide a handbook for community leaders and a support team of experts, called Energy Circuit Riders, who will be there in person to assess each municipality's situation and goals. The Energy Circuit Riders will keep communities up-to-date on clean energy possibilities while also learning about the short and long-term effects of transitioning from fossil fuels to renewable energy. Above all, they will facilitate the relationships between providers and consumers of clean energy. By putting interested people in touch with Energy Circuit Riders, they will be assisted with technical know-how and an understanding of the economic landscape and the entities involved in clean energy supply.
Levigne described ways the Energy One Stop program can supplement and collaborate with other initiatives that are reaching the same areas, such as the Cleaner Green Communities program established by New York State Energy Research and Development Authority (NYSERDA).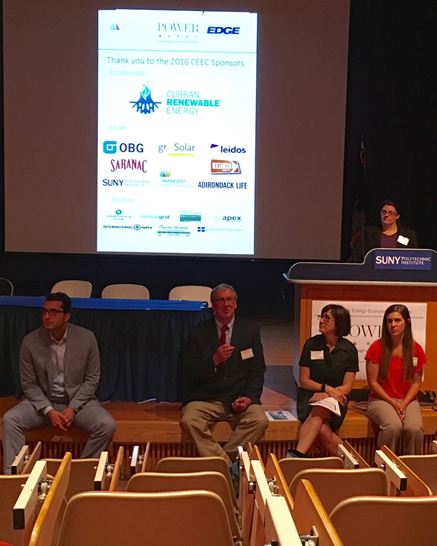 Members of the "Regional Success Stories" Panel
One point that several of the presenters at the ANCA conference drew attention to was the fact that schools, government buildings and public-purpose building owners face complicated barriers to transitioning to clean energy, including limited staff and budgets. They also lack dependable information to help identify cost savings opportunities and have limited access to expertise and acceptable financing. The Energy One Stop program is developing an innovative public-purpose financing approach to remove these barriers.
Communities of the Adirondacks and northern New York have a huge opportunity to invest in and transition to more clean energy. The energy resources of the Adirondacks have high value and potential for transforming low-middle income (LMI) communities into more prosperous and resilient ones. The Adirondack Park is renowned for its abundance of natural resources, yet relatively few of them are utilized for the energy demands of the population, which rely on fossil fuels instead. ANCA believes sustainable wood supply management is another option that is well-suited to Northern New York and the Adirondacks because of the rich timber resources found here. Biomass fuel technology, represented by a number of companies at the ANCA conference, is making the use of timber and other sustainably sourced material more efficient and cost-effective. The Adirondack Council supports forest biomass energy as a limited component of a renewable energy portfolio for the region, and as a market for low-grade wood.
As a large portion of the Adirondack Park's residents live in LMI rural communities, they are even more vulnerable to changes in energy markets and are energy-insecure. Rural communities commonly do not have access to natural gas and therefore depend heavily on oil to heat their buildings. This results in added cost to taxpayers and higher greenhouse gas emissions from the building sector than in other regions of New York. State grants can return taxpayer money to LMI communities in the form of local clean energy initiatives endorsed by ANCA's Energy One Stop. Localizing the energy economy would alleviate the financial stress on LMI households, address the pollution problem, and free up more funds for renewable energy. Each community and Circuit Rider would be able to assess their best options for local energy such as hydro, solar, wind, and biomass depending on their geographic location.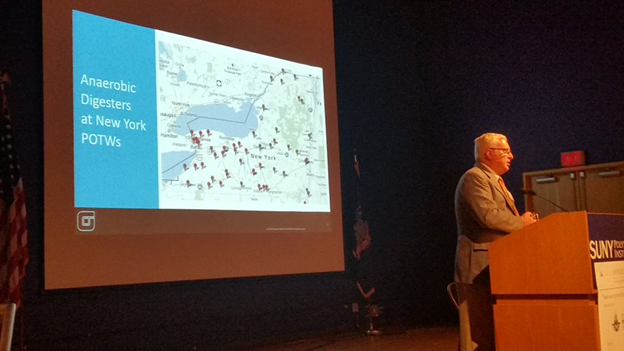 Dr. Mark Greene - one of the presenters
Increasing energy resiliency also helps the Adirondack population become more climate resilient. As a region of vast open space and unique communities, it is essential to the preservation of local culture and improving citizen's quality of life. As local communities are already adopting clean energy solutions, we must consider what we are gaining over that which we are giving up. When the benefits are so obvious,
Would you like to comment on what you've read or viewed? We'd love to hear from you. Please click to send us a message.
---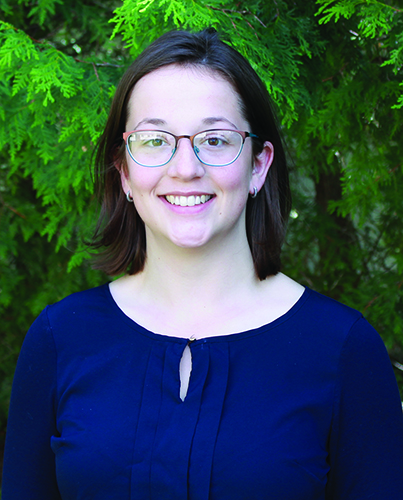 Emily Liebelt is the current Clarence Petty Intern working in the Council's Elizabethtown office with a special focus on climate change communications. Emily is a recent graduate of St. Lawrence University, where she received a BA in Anthropology with a minor in English. This summer, Emily will examine public attitudes toward climate change, understand the impacts on local communities and help communicate climate policy, actions and programs. As someone who grew up in the park, Emily has an enthusiasm for the outdoors and an appreciation for local culture. During her spare time Emily enjoys playing the bassoon, camping, skiing, and gardening.
The Council's internship program seeks to carry on the legacy of beloved Adirondack conservation activist Clarence Petty (1904-2009) by training and inspiring the next generation of conservation leaders