Advice for Aspiring Stargazers and the Impacts of Outdoor Lighting
Friday, August 10, 2018
By: Kevin Chlad - Adirondack Council Director of Government Relations
When is the last time you saw an exceptional view of the stars in the sky? Last night? Last year? Can you even remember the last time you saw a truly magnificent night sky? Well, this Saturday night, you'll have an opportunity to see a spectacular event.
Check out the Perseid Meteor Shower this Weekend
This weekend, the Perseid meteor shower will be at its peak, meaning you can gaze upwards at as many as 200 "shooting stars" per hour on Saturday night. The show will be especially stunning this year, because the moon is only a thin crescent. This incredible display occurs annually in August, and is worth marking in your calendar. You don't need binoculars or a telescope… just step into the darkness and look up.
The Decline of the Night Sky
While we are lucky enough to still experience events like the Perseid meteor shower, the night sky is a diminishing commodity in modern times. Development sprawls and newer and better technology is bringing more light-spewing bulbs and screens into our daily lives. As I observe the world around me celebrating these magnificent technological gains, I have found myself wondering… are we losing touch with our universe? As someone who lives and works in the City of Albany, I often look upward on clear evenings, only to see the brightest of the planets or constellations. It's a suffocating feeling. The universe is out there, but I cannot connect with it.
Darker Skies of the Adirondacks
Thankfully, in the Adirondacks, we get to enjoy some of the darkest skies in the northeast. As the largest park in the continental United States, the Adirondacks enjoy a wild character that still allows people to get away from the bright lights that are common for most. Wildlife still get to enjoy environments that achieve full darkness, preserving the balance between daytime and nighttime that is best for breeding, hunting and hiding.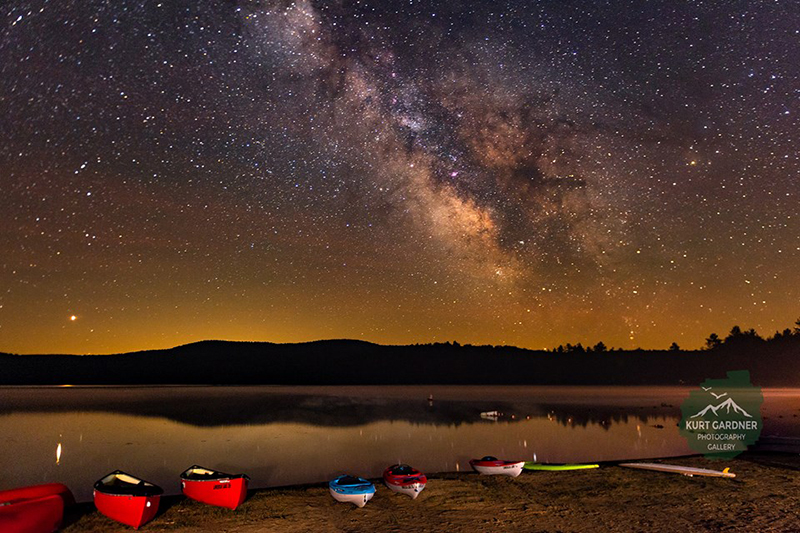 Limekiln Lake in Inlet NY
Photo by: Kurt Gardner Photography
Impacts of Outdoor Lighting
Nighttime outdoor lighting is widely used in cities and suburbs to provide safety for travelers and community residents. But that light can often be excessive and poorly planned and can act as a form of pollution by preventing the ability of humans and wildlife to adapt to darkness. That limits our ability to enjoy the stars, and inhibits the ability of nocturnal wildlife to migrate, find food and breed in the dark.
Effects on Humans

The lack of darkness has been shown to manifest negative effects on the circadian rhythm (biological clock) humans have evolved over thousands of years, effecting our production of melatonin. Melatonin is known to have antioxidant properties, lower cholesterol and induce sleep. Disrupted sleep cycles have been shown to increase the likelihood of depression, obesity and diabetes.
Up until the last century, our night sky was available to everyone, regardless of location, and inspired art, religion, philosophy, and adventure. Starry nights inspired us to think bigger than ourselves, and ponder our place in the universe.
And Wildlife

In the wild, predators have gained an advantage in the last century in the way of manmade outdoor lighting that makes it easier for them to hunt and harder for their prey to hide. Near wetlands, outdoor lighting diminishes the nighttime qualities that signal to amphibians that it is time to breed, thereby reducing their populations and resulting in less of that spectacular croaking. Bats are strongly affected by nighttime lighting, as their prey, insects, are drawn to outdoor light bulbs. Bats tend to be light averse, creating a separation of predator and prey in this instance. This means that in areas with outdoor lighting, you're more likely to be bitten by mosquitoes and overwhelmed by moths.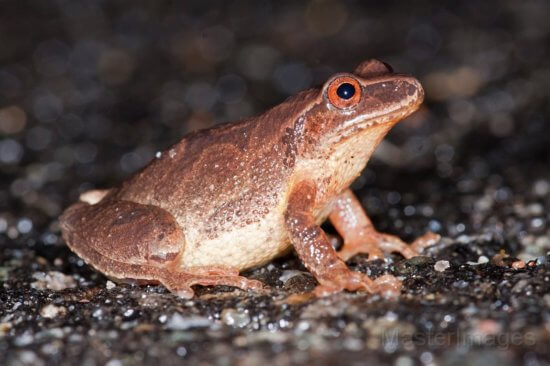 Spring Peeper
Photo by: Larry MasterLegislative Success
In 2014, the Adirondack Council was proud to support the passage of a bill that was designed to curb light pollution from state facilities and preserve dark night skies in the Adirondack Park and beyond. The state is now be required to purchase low-profile lighting whenever it installs or replaces light fixtures at its facilities. Because state buildings are among the largest and busiest buildings in the Adirondacks, their impact on the Park is substantial.
Advice for Aspiring Stargazers
More and more, the night sky of the Adirondacks is being recognized as a tourism draw in and of itself. The recently established Adirondack Public Observatory, situated in Tupper Lake, offers year-round stargazing opportunities with a handful of quality telescopes in a premier location. To stargaze in such a dark portion of the Northeast is a special treat worth a trip for its own sake. If you decide that you would like to take the trip yourself, the best time to view the stars is when the weather is clear, humidity is low and the moon is as close to "new" as possible. The combination of such a dark location with clear skies and a new moon is sure to equal the experience of a lifetime.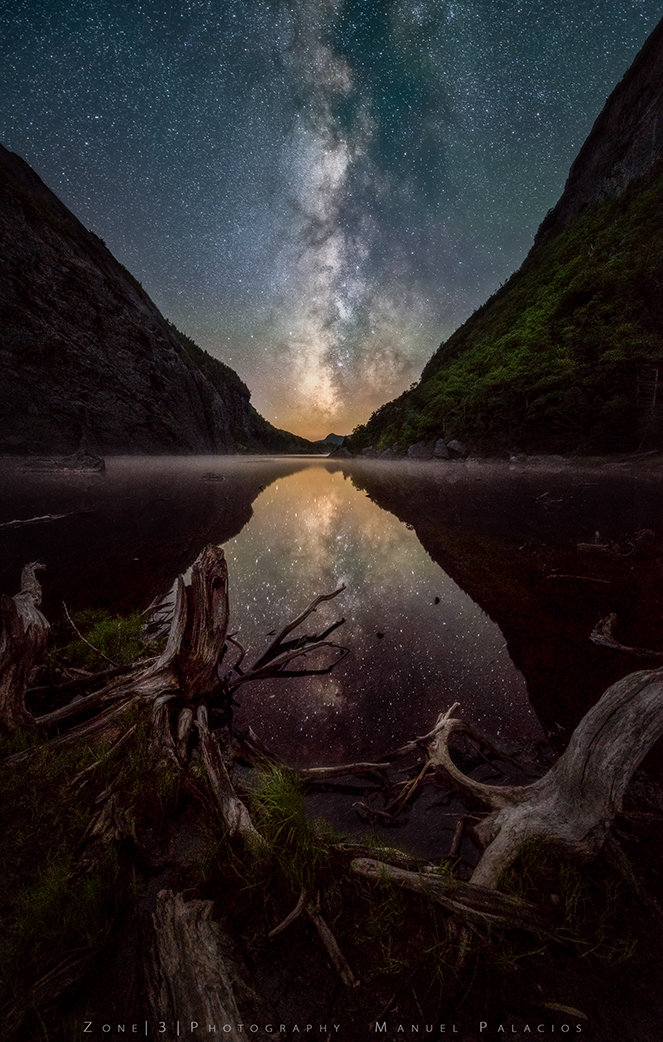 A Starry Night Over Avalanche Lake
Photo by: Manny Palacios
That's not the only time you can get a great look at the sky when you're in the Park. You don't even need a telescope. If you have a pair of binoculars, do not underestimate the quality of an experience you can have gazing at the moon when it is anywhere close to full in size. You'll want to be situated at your selected viewing location around dusk, as it is the best to look at the moon before it gets especially bright. Even without binoculars, a summer night on an easy summit or shoreline in the Adirondacks is a special memory in the making.
For those who enjoy the Park in winter, check out one of the many advertised "full moon parties" at various cross country ski facilities. On the brightest winter nights, it is possible to ski without the use of a light (but you should always travel with one handy, day or night). When the moon is "new," the dry weather of winter lends itself to stargazing, because there is less water in the atmosphere to gaze through.
Helpful Links
If you're interested in planning your own stargazing experience, or want to learn more about light pollution and where to find dark skies, here are a handful of links that you may find useful:
The International Dark Skies Association, dedicated to preserving dark skies around the world:
darksky.org
Handy moon phase calendar:
moongiant.com/phase/today
"Clear sky forecaster" that astronomers heavily rely on:
cleardarksky.com/csk
Light pollution map of the globe. (Be sure to check out the Adirondacks!):
lightpollutionmap.info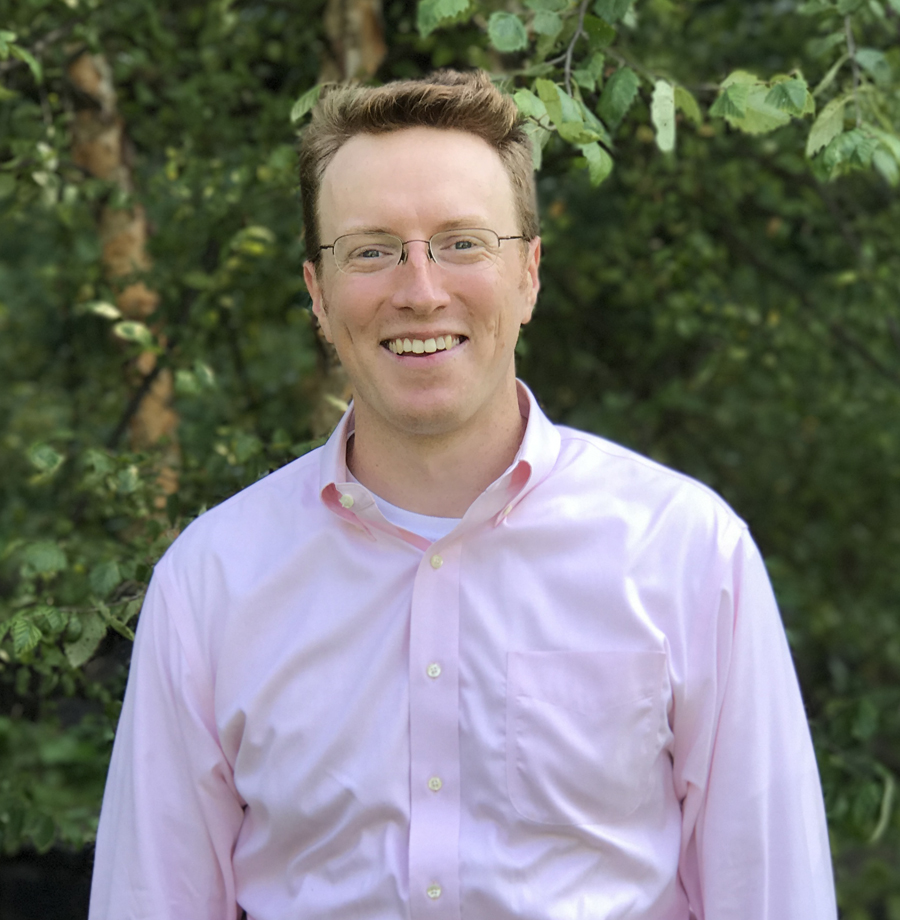 Kevin Chlad joined the Adirondack Council staff in 2011. He leads the Council's Albany-based Government Relations team, building coalitions and lobbying government officials to improve protection and grow funding for the Adirondack Park.

Kevin graduated in 2008 with a degree in Environmental Studies of the Adirondacks from SUNY Potsdam. Kevin was a Council Clarence Petty Intern in 2009, and has held numerous other Adirondack occupations, including Ausable River Steward, canoe guide, and fire tower summit steward. When not advocating for the Park, Kevin can be found on the golf course, deep in the wilderness, or clinging to the occasional rock face or hanging from an icicle drip.