Adirondack Wilderness & Communities Win in State Budget
By: Casey Marvel - Adirondack Council Policy Fellow
Friday, April 3, 2020
Each year, the New York State budget is an opportunity for state leaders to renew their commitments to supporting Adirondack Park wilderness, wildlife and communities. Typically, the Governor and both chambers of the Legislature spend the month of March working through a budget process that includes many proposals and negotiations to finalize a budget agreement among state leaders. However, the world we live in today is undoubtedly much different than just a month ago. All aspects of our daily lives seem to be affected one way or another by this unprecedented global health pandemic. The state budget process was no exception. This past month brought on economic uncertainty and forced state leaders to adopt new ways of virtually negotiating and passing the state budget all while practicing safe social distancing. Despite overwhelming challenges, the Governor and the Legislature made it clear with the passage of this budget that the fight against climate change, wilderness preservation, clean water, and a vibrant Adirondack Park will remain a priority for New York State.
The best-known highlights of the budget include a $300 million Environmental Protection Fund (EPF) with new funds to protect Wilderness from overuse and a historic $3 billion "Restore Mother Nature" Bond Act. The Bond Act will still need to be cleared to go to New York State voters in the 2020 November election and then passed. In addition, the budget also included a new $500 million in clean water infrastructure funding, a permanent ban on high-volume hydraulic fracking, and a new measure to fast track large scale renewable energy facility sites as we work to achieve the state's goal of 70% renewable energy production by 2030. Altogether, this package of environmental measures, plus more, highlight a bright future for a healthy environment and vibrant communities in the Adirondack Park.
Highlights of the Environmental Protection Fund in the Budget
The EPF is a cornerstone environmental funding source and supports numerous programs for clean water, wildlands and communities throughout the Adirondacks. Thankfully, the final enacted budget did not include a proposed provision which would have allowed the EPF to be used for state agency staffing. This would have been a poor precedent to set and would have jeopardized the success of future EPF capital projects.
Within the $300 million EPF is $34.4 million for state land stewardship, including specific language that authorizes funding to be used for "trail crews or other activities related to sustainable use of the Forest Preserve and other state lands that are threatened by overuse." It also includes $1.2 million in funding for "Essex County Overuse" that could support a shuttle system, educational programs and other needed components of a comprehensive visitor management plan. With the Adirondack High Peaks Advisory Committee's recommendations to the state due in June, it's a very positive step to see state leaders providing funding now so that implementation of recommendations to address overuse can begin soon. This is a major budget victory for sensitive Wilderness areas, visitors and surrounding communities that have been negatively impacted by overuse.
The EPF also provides $13 million for invasive species management, some of which funds an expansive voluntary network of free boat inspection and decontamination stations throughout the Park. There is also $450,000 for the mandatory boat inspection program in Lake George, the success of which has led many to consider requiring boat inspections throughout the Adirondacks to best encourage boaters to utilize this crucial clean water protection program.
Other appropriations in the EPF include $31 million for open space land protection, a portion of which could be used in the Adirondack Park. Also, $10 million is provided for climate-smart communities as well as $4.5 million for Climate Resilient Farms. The Park will also benefit from $250,000 for the Adirondack Diversity Initiative and $300,000 for the Visitor Interpretive Centers in Newcomb and Paul Smith's College. All are projects that have direct positive impacts on the economic and environmental well-being of the Park.

The Restore Mother Nature Bond Act
In November, if voters approve the $3 billion "Restore Mother Nature" Bond Act, it could fast track many needed environmental and community projects in the Park. Last June, the Legislature and the Governor passed the Climate Leadership and Community Protection Act, a nation-leading climate change law. Less than a year later, Adirondack advocates are excited to see that state leaders are already following up on their commitments to fight climate change and make sure that vulnerable communities that are already negatively impacted receive expedited assistance in building infrastructure to withstand the impacts of extreme storms and climate change.
The Bond Act includes $1 billion for flood risk reduction and shoreline protection which could potentially benefit nearly all rural committees in the Park that are located on a lake or river shoreline. It also provides $550 million for water quality improvement and resilient infrastructure that could assist in the repair or replacement of crucial water culverts throughout the Adirondacks. There is $75 million dedicated to fish hatcheries, $200 million for open space and $100 million for farmland protection. These are all funding categories that could support the Adirondack water, wildlands and communities.
In these times of uncertainty, with an ongoing public health crisis that is uprooting lives and impacting communities across the globe, we know New Yorkers also care about the future of the Adirondack Park. In this historic budget, state leaders have made sure that the Park is well-positioned to overcome the many challenges it faces and continue its 125-year legacy as a national treasure when this challenging moment is behind us.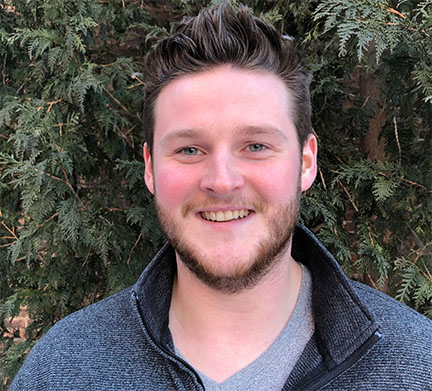 Casey Marvel is the Policy Fellow in the Council's Albany office. He assists the government relations and communication teams by tracking legislation, researching issues and advocating for the Adirondacks. A native of Niskayuna, New York, Casey recently completed his Bachelor's Degree in Political Science from the University of Albany, and is currently pursuing his Master's in Political Science. Casey has always been intrigued and passionate about the Adirondacks, having visited the Park throughout his life, from fishing at Paradox Lake, to recently pursuing the 46 High Peaks.