Adirondack Common Ground Alliance Releases its "Blue Print for the Blue Line"
Thursday, November 13, 2014
By: John F. Sheehan
Yesterday, the Adirondack Common Ground Alliance (CGA) announced its list of priorities for state government, when it released its 2015 "Blueprint for the Blue Line."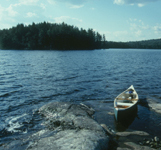 The Common Ground Alliance is made up of people who work as community development leaders, elected officials or directors of not-for-profit organizations. The Adirondack Council helped form the CGA several years ago along with partners who were also eager to work together on Adirondack issues and change the tenor of the debate in the Adirondacks. Together, the thinking went, a diverse set of voices would "speak to Albany with one voice," strengthening our advocacy for policies and funding that would benefit the Park.
Each year, Alliance participants jointly identify problems affecting the Park's environment and economy, and work together to seek solutions. In the recently updated "Blueprint for the Blue Line," the Alliance lists a set of budget and legislative priorities for the Adirondacks for 2015 and beyond.
The "Blueprint for the Blue Line," created using feedback from a legislative poll of Alliance participants, calls for increased infrastructure funding and restoration of budgets for state agencies that serve the Adirondacks. It also mentions policy innovations that support renewable energy, smart growth and more.
One thing the Alliance heard over and over again was the need for assistance in maintaining the facilities that protect clean drinking water, including storm water runoff control and better sewage/wastewater treatment. Specific Park needs identified in the Blueprint include:
• Matching funds, loans and grants for clean water, waste water and storm water.
• Capital fund grants for preventing and combating invasive species.
• Buried, broadband communications lines and well-screened functioning cell service.
• State land infrastructure, trails, bridges, signage, and ecological restoration.
• Farmland protection funding distribution.
The Alliance also believes Adirondack communities would benefit from an increase in funding for the Department of Environmental Conservation (DEC), the Adirondack Park Agency (APA), and other agencies which have experienced significant budget reductions in recent years. The Blueprint seeks the following:
• Continued and expanded I Love NY funding.
• Increased resources for Forest Preserve stewardship.
• Restored APA and DEC staffing for outreach, support and stewardship.
• Greater emphasis on promoting local farm products and increased support for local food production and young farmers.
Also, the Blueprint proposes a series of policy updates.
Earlier this year, NYS Comptroller, Tom DiNapoli, issued a new report Growing Cracks in the Foundation: Local Governments Still Challenged to Keep Up with Vital Infrastructure Needs. The report outlined billions of dollars of needed repairs and upgrades that local governments need to make, but can't afford.
The Alliance wants the Legislature and Governor to recognize that the Adirondack Park attracts 10-million annual visitors and hundreds of thousands of seasonal residents, bolstering New York's number-two industry: tourism. Grants for wastewater control and clean water would help farmers too, while protecting the environment. Farming is New York's number-one industry.
"Some have said those in the Adirondacks would rather fight than win. We say the common ground agenda gives us something to fight for together so the Adirondack Park's wilderness, clean water, wildlife, visitors, communities, and economy all win," said William C. Janeway, executive director of the Adirondack Council, when the "Blue Print for the Blue Line" update was released. "The Adirondack Park draws 10 million annual visitors and hundreds of thousands of seasonal residents, all of whom require clean water and effective wastewater treatment facilities. Most Adirondack communities have only a few hundred households to pay back the multi-million-dollar costs of building and rebuilding modern water and sewer systems. Low-interest loans aren't good enough. Grants are needed to protect the Park's environmental and economy."
Would you like to comment on what you've read or viewed? We'd love to hear from you. Please click to send us a message.
---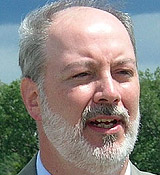 Born and raised in Troy, NY, John Sheehan is a graduate of Catholic Central High School and the State University at Albany (1985; BA). Before joining the Council's staff in 1990, John was the managing editor of the Malone Evening Telegram, just north of the Adirondack Park. Prior to that, he worked as journalist for the Troy Record, (Schenectady) Daily Gazette, Watertown Daily Times and Newsday.

For the past 20 years, John has been the voice of the Adirondack Council on radio and television, and on the pages of local, regional and national media. Sheehan has overseen the production of two films about the Council (The Adirondack Council, 1992; and, ACID RAIN: A Continuing National Tragedy, 1998), appeared in the independent film Inside the Blue Line (1993) and has produced a series of radio and television public service announcements with entertainers Bonnie Raitt (1994), Natalie Merchant (1997) and brothers/band mates Michael and Kevin Bacon (2009-10).
John is a regular guest lecturer at several New York colleges and universities, including Colgate University, Hobart & William Smith College, Hamilton College, Rensselaer Polytechnic Institute, Union College, Siena College, SUNY Albany, SUNY Binghamton, SUNY College of Environmental Science and Forestry (Syracuse), and SUNY Potsdam. He has also addressed dozens of local organizations including local Rotary and Kiwanis clubs and chambers of commerce, scientific societies and community forums.
John and his wife Deborah live in Albany and are seasonal residents of the Adirondack Park. Their daughter Hannah attends Albany public schools.