Acid Rain in the Adirondacks: A Road Map to Recovery
Tuesday, October 14, 2014
By: John Sheehan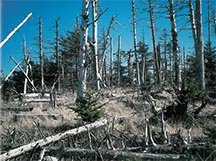 The Adirondack Council has been working to solve the problem of acid rain in the Adirondack Park since the organization was founded nearly 40 years ago. We played a key role in identifying the problem in the 1970s, working with colleagues in New England and Canada to study, understand and publicize the issue.
Through the decades, we have achieved some impressive successes, and suffered some disappointing setbacks.
Last fall, the Adirondack Council and the Environmental Defense Fund decided it was time to take stock of what we have accomplished in the fight against acid rain, measure the long-term impact of that progress and determine what else still needed to be done.
While we were planning, the U.S. Supreme Court turned one defeat into a victory when it reinstated the Cross-State Air Pollution Rule that had been nullified in 2012 by a Washington, D.C. appeals court. While we had hoped for such an outcome, neither group was certain which way the court might rule.
We also knew we could expect other opportunities for progress in the near future, as the Obama Administration considers limits on carbon pollution and additional rules on control of smog. Cuts needed to achieve these new goals will result in diminished emissions from the same power plants that cause acid rain.
That discussion led the organizations to jointly sponsor host a scientific conference with support from the F.M. Kirby Foundation this week in Saratoga Springs (Thursday, Oct. 16, 9 a.m. to 3 p.m., Saratoga Hilton at City Center).
We know that acid rain (can be rain, snow, fog, or dry particles of acidic compounds) has harmed forests, soils and water in sensitive regions of North America, Europe and Asia.
Ecosystems in Adirondack Park have been especially hard-hit due to limitations on the Park's natural ability to withstand acidic pollution (thin soils, steep slopes, hard bedrock, high precipitation rates). These local factors allowed damage to our ecosystems to start sooner and penetrate deeper than it did in other locations around the Northeast.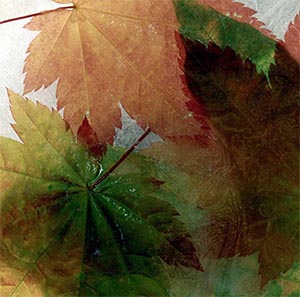 Soil acidification has negatively impacted the health of sugar maple and red spruce and has potentially effected the health of wildlife that dwell in forests. Acidification of surface waters has led to the loss of fish populations and other aquatic life.
Following the Clean Air Act Amendments of 1990, which created the first national acid rain program, scientists have measured profound decreases in acid rain. The first were decreases in sulfates, brought on by new controls on sulfur dioxide emissions from electric power plants. Decreases in nitrates came in the early 2000s as the U.S. Environmental Protection Agency introduced new smog controls from power plants and automobiles.
While these new pollution limits have made lakes, ponds, streams, and rivers less acidic, soils have not responded as quickly.
The newly reinstated Cross-State Air Pollution Rule and the Mercury and Air Toxics Rule should lead to further decreases in acid rain. This should accelerate recovery in acidified lakes, followed by recovery of acidified soils.
It is vital to remember, however, that acid rain damage in the Adirondack Park has continued for the better part of a century. Scientists predict that a full recovery, if possible, will take decades or even centuries. They also doubt that emission controls alone will be enough to allow a full recovery of impacted forests and aquatic resources. This begs the next question, which is: What else do we need to do?
Join us in Saratoga Thursday for the discussion, or watch for news stories in regional media outlets, as well as our "In the News" page on this web site.
Would you like to comment on what you've read or viewed? We'd love to hear from you. Please click to send us a message.
---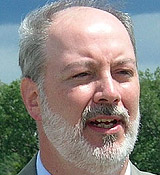 Born and raised in Troy, NY, John Sheehan is a graduate of Catholic Central High School and the State University at Albany (1985; BA). Before joining the Council's staff in 1990, John was the managing editor of the Malone Evening Telegram, just north of the Adirondack Park. Prior to that, he worked as journalist for the Troy Record, (Schenectady) Daily Gazette, Watertown Daily Times and Newsday.

For the past 20 years, John has been the voice of the Adirondack Council on radio and television, and on the pages of local, regional and national media. Sheehan has overseen the production of two films about the Council (The Adirondack Council, 1992; and, ACID RAIN: A Continuing National Tragedy, 1998), appeared in the independent film Inside the Blue Line (1993) and has produced a series of radio and television public service announcements with entertainers Bonnie Raitt (1994), Natalie Merchant (1997) and brothers/band mates Michael and Kevin Bacon (2009-10).
John is a regular guest lecturer at several New York colleges and universities, including Colgate University, Hobart & William Smith College, Hamilton College, Rensselaer Polytechnic Institute, Union College, Siena College, SUNY Albany, SUNY Binghamton, SUNY College of Environmental Science and Forestry (Syracuse), and SUNY Potsdam. He has also addressed dozens of local organizations including local Rotary and Kiwanis clubs and chambers of commerce, scientific societies and community forums.
John and his wife Deborah live in Albany and are seasonal residents of the Adirondack Park. Their daughter Hannah attends Albany public schools.