A Meeting of the (Park) Minds | Council Meets with 23 International Park Leaders
Nigeria, Poland, China…just to name a few. I stood with my Adirondack Council colleagues greeting individuals from across the globe. The travelers entered the Kelly Adirondack Center and individually shook each of our hands. It was an indelibly fantastic experience.
At that moment in time, my two educational backgrounds came colliding momentarily together - undergraduate anthropology meets graduate environmental policy. My idealistic, undergraduate self was satiated knowing that despite the fabrics of culture that we exist within, and often divide us, these 23 individuals had converged for a single purpose: environmental conservation. We were all about to weave our cultural fabrics, ideas and passions together for the purpose of preserving this world for the sake of life.
Conservation should know no boundaries. It's a simple idea, right? But then again, maybe not. Cultural norms, ideologies and practices often prescribe how individuals view and interact with their environments, both at the individual and macro levels. One need only look to heated land management debates in the Adirondacks to understand varying cultural views within the Park alone. Our cultural lens (yes, I too wear a pair, which have a lovely horn-rimmed frame) influence how we perceive the world. Identifying cultural distinctions can act as a key to understanding why some may feel inclined to protect the environment and why others believe it is meant to be utilized.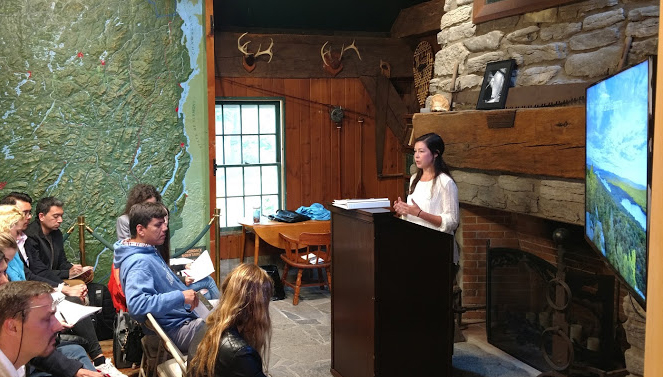 Knowing that cultural diversity shapes how we perceive and interact with environments begs the question of how to transcend these differences to achieve a common goal, such as conservation. Climate, water, wildlife, and ecosystems do not play by nor respect our prescribed political and territorial boundaries, so how can we work together to protect them? I can answer that question quite simply – communication and receptivity.
The need to share information and work collaboratively beyond local to international borders is ever apparent within this world, and the Council recently had the opportunity to partake in an open dialogue with international conservationists about how to foster conservation efforts within each of their own corners of the world. My colleagues and I were able to share the unique and effective (holistically speaking) management style of the Adirondack Park with these international scientists and park managers.
The International Center of the Capital Region (ICCR) helped bring this international group to New York and invited the Council and state agencies to share our knowledge of the Park, including its history, regulatory structure, ecological legacy and beauty. The presentation was housed in the Kelly Adirondack Center in Niskayuna, and we couldn't have asked for a better place to set the tone for our presentation. The Center contains a plethora of Adirondack maps, historical objects, and books (within the library). It is located in conservationist Paul Schaeffer's preserved house, no less. For those of you who have not been, I would highly recommend wandering through the museum and library.
Throughout our presentation, we received a multitude of questions about the work the Council does and the nitty gritty of Park management, and about how the park's communities fit into the landscape, both physically and politically. They asked about renewable energy and the pressure to allow it in protected places. They wanted to know whether other state and national parks were like this one, since the ones they had seen -- Olympic NP, Great Smoky Mountains NP, and Shenandoah NP -- were only public lands. They were stunned by the size and scope of the Adirondack Park and Forest Preserve.
We, too, were learning. We found out that China is about to create its first national park on the border with Tibet. It will, by necessity, include private lands and communities. We learned that Slovenia has a gorgeous, but small, new national park and no idea how to protect it from overuse, or how to instill a leave-no-trace mentality. Their fledgling hikers and campers have never heard of such a thing. Multiple individuals were also interested in the Regional Greenhouse Gas Initiative that the Council participates in to retire CO2 credits; the Nigerian representative wants to implement a cap-and-trade program with hydro-power dams, while the Poland representative was interested in exploring how the sale of these credits could be used to buy up lands for permanent protection. It was inspirational to watch and interact with these scientists and resource managers as their creativity was sparked and they thought about how to adaptively apply some of the principles we use to protect our corner of the world to their own.
The culminating take-aways I had from the brief two hours we spent with this diverse and brilliant group include a) the Adirondack Park really is a global model for its management as it fosters a symbiotic relationship between people and the environment, b) what an amazing opportunity and privilege it was to meet with our international colleagues, and c) there is a need for more trans-national information sharing, in all directions, to encourage, guide, and inspire resource management and protection in other parts of the world.
I felt hopeful as I walked out of the room that afternoon. Although we face environmental degradation, climate change, and many more issues at a dizzying rate, the people of this planet are optimistically rising to meet these challenges head on. This may take time, but hope is an infallible force and ingenuity continues to spread.
Would you like to comment on what you've read or viewed? We'd love to hear from you. Please click to send us a message.
---

Jackie is the Council's Conservation Fellow. She has a Master's Degree in Environmental Law and Policy, with a certificate in Land Use Law, from Vermont Law School. During her year and a half program she interned in Washington, D.C. at American Rivers where she worked with the Government Relations team to track legislation, identify federal funding sources and research tribal water rights.

In 2013, Jackie graduated from SUNY Geneseo with a degree in Anthropology. Although she enjoyed learning about the cultural nuances that influence the way people act and interact with one another, her love of this mountainous region never ceased, and, ultimately, drove her back to graduate school to learn how to help protect this unique corner of the world.

As a native of nearby Plattsburgh, Jackie grew up hiking, swimming, cross-country skiing, and camping in the Adirondacks. The 'Dacks represent restorative and spiritual beauty and the intersectional balance between human and natural life. This is just a sliver of what propelled Jackie to become focused on not only land conservation, but on preserving the ecological integrity and wild character of the beautiful Adirondack Park.