A celebration of Wilderness, Communities and Collaboration
Monday, April 27, 2015
By: Kevin Chlad - Adirondack Council's Legislative Director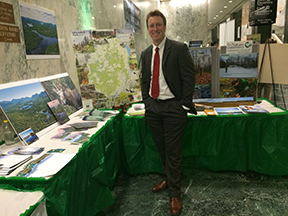 Council Legislative Director Kevin Chlad at
Adirondack Day in the Legislative Office BuildingToday, the "Well" of the Legislative Office Building in downtown Albany will be transformed into a miniature Adirondack Park. The halls will be adorned with cedar and spruce branches. You will see pack-baskets, sample local food products and maybe even meet a real owl! Business leaders, educators, land stewards, Park advocates, and experts in Adirondack tourism, recreation, history, and culture will gather to display all that our Adirondack Park has to offer.

Adirondack Day will be a celebration of one of our state's greatest achievements: the creation of a model that shows how people and nature can thrive together. Much of what we learn in the Park enhances the environmental agenda for the rest of our state.

The mission of the day is to raise the New York State legislature's awareness of what comprises a living, breathing and working Adirondack Park. With our Park on display, we will demonstrate how we ALL have a stake in the environmental and economic success of the Adirondacks.

The Adirondack Council has worked with a broad array of local government and environmental stakeholders to sponsor and help host the third annual Adirondack Day!
Would you like to comment on what you've read or viewed? We'd love to hear from you. Please click to send us a message.
---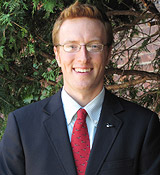 Kevin Chlad joined the Adirondack Council staff in 2011.
Kevin provides support to the Council's Albany-based Legislative and Communications team, assisting with outreach to government officials and the media to help spread the word about the Council's advocacy for the Adirondack Park and specific policies that will impact the Adirondacks.
Kevin Chlad graduated in 2008 with a degree in Environmental Studies of the Adirondacks from SUNY Potsdam. Besides his previous time spent at the Adirondack Council as a Clarence Petty Intern in 2009, Kevin has held numerous other Adirondack occupations, including Ausable River Steward, canoe guide, and fire tower summit steward (Poke-O-Moonshine Mountain). When not advocating ecological integrity, Kevin is an avid ice climber and adventurer.