5 Things You Need to Know | November 2020 ADK Conservation News
By: Casey Marvell - Adirondack Council Government Relations Analyst
Wednesday, November 25, 2020
Adirondack Conservation News is a collection of the most current events taking place in New York's Adirondack Park, a unique national treasure and legacy we inherited over 100 years ago, that we must protect for future generations. Adirondack Conservation News aims to highlight both threats and opportunities concerning the Park's ecological integrity, wild character, and community vibrancy.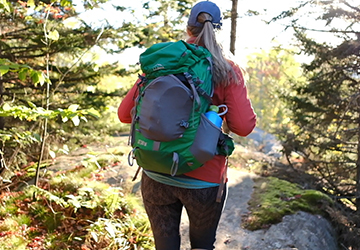 Hikers Seek Solitude and Wilderness in the High Peaks, Survey Reveals
The Adirondack Council and partners released preliminary data from a two-month survey in the High Peaks Wilderness Area, which showed most hikers preferred solitude and wildness and would welcome limits on use visitation to prevent damage to the "forever wild" Forest Preserve. Of 673 hikers surveyed, more than 50% supported visitor management tools such as closing parking lots, requiring parking permits, and closing trails temporarily. Over 90% had heard of "Leave No Trace," but were not further asked to demonstrate their knowledge. These survey results reinforce the need for limits on use to be part of a comprehensive management plan for the High Peaks Wilderness Area to preserve it for current and future generations.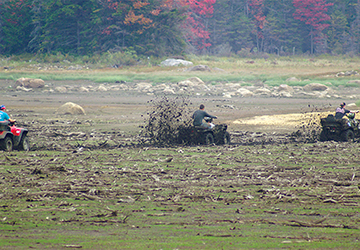 Adirondack Council Again Challenges Clare's ATV Law in Court
The Adirondack Council has once again filed a lawsuit against the Town of Clare for a law that allows all-terrain vehicles (ATVs) on a public highway that impacts the "forever wild" Forest Preserve land in the Adirondack Park. In 2018, the Council won a lawsuit that required the town to close a 10.75-mile stretch of the Tooley Pond Road to ATVs because the town's action violated state Vehicle and Traffic Law, but Clare passed the same law again in 2020. While the Council supports the legal use of ATVs on private land, it is suing to protect the publicly-owned Forest Preserve from the destructive nature of ATV abuse.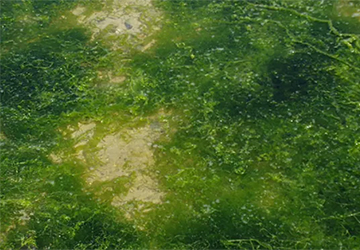 Lake George, Mirror Lake Suffer Algal Blooms
Both Lake George and Mirror Lake recorded their first cases of toxic outbreaks of cyanobacteria, also known as harmful algal blooms (HABs). HABs are caused by nutrient pollution in water, such as leakage from septic system tanks. Warmer weather events are also known to trigger HAB occurrences. While both HAB events were short-lived, they are a serious reminder of the need to double down on clean water initiatives in the Adirondacks. If left uncontrolled, HABs pose a risk to both water for drinking and recreational purposes, thus jeopardizing communities across the Park.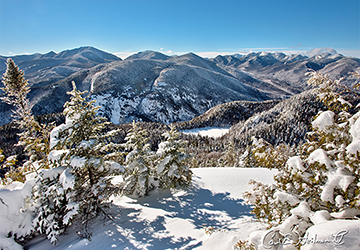 Climate Panels to Determine How NY Can Meet Ambitious Emissions Targets
As New York State continues to implement the Climate Leadership and Community Protection Act (CLCPA), it has established a Climate Action Council (CAC) along with a subset of sector-specific advisory panels to develop a plan. The goal of the CLCPA is to reduce state-wide emissions by 40% by 2030 and by 85% by 2050. In the Adirondacks, residents produce more emissions per person by gasoline-powered cars than in other areas. Therefore, if the state can invest in more infrastructure for electric vehicles, it will aid the Adirondacks to make progress in reducing emissions in its transportation sector. The CAC and advisory panels will continue to meet to develop a draft scoping plan by the end of 2021.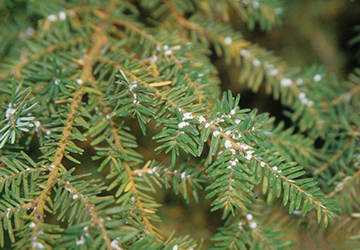 Keeping the Invasive Bugs at Bay
The future of healthy forests in the Adirondack Park is now in the hands of scientists trying fast-track initiatives to control terrestrial invasive species. This past summer, Emerald Ash Borer and Hemlock Wooly Adelgid were found in the Adirondacks. Both invasive species jeopardize native trees in the Park. There is no silver bullet solution to stop an infestation once it begins, but scientists are testing experimental bio-controls and pesticide treatments to slow infestations. The infestations reinforce a need for the state to continue to invest in invasive species prevention and rapid response management. Without comprehensive invasive species management, Adirondack waters, wildlands, and communities continue to be at risk.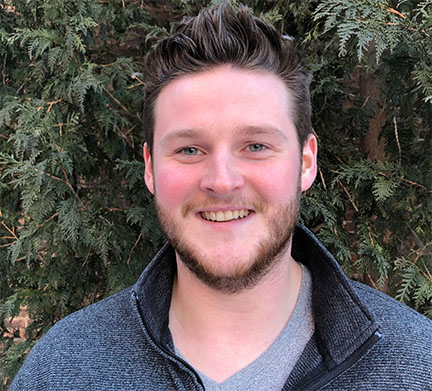 Casey Marvel is the Government Relations Analyst in the Council's Albany office. He assists the government relations and communication teams by tracking legislation, researching issues, and advocating for the Adirondacks. A native of Niskayuna, New York, Casey recently completed his Bachelor's Degree in Political Science from the University of Albany and is currently pursuing his Master's in Political Science. Casey has always been intrigued and passionate about the Adirondacks, having visited the Park throughout his life, from fishing at Paradox Lake, to recently pursuing the 46 High Peaks.