Wilderness for Boreas Ponds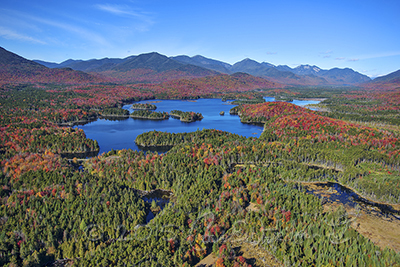 In early 2016, Gov. Andrew Cuomo completed the state's largest Adirondack land purchase in over 100 years, by purchasing the last of the 65,000 acres of former Finch-Pruyn paper-company lands from the Nature Conservancy. The 20,500+ acre Boreas Ponds tract contains some of the Adirondack Park's purest waters and its wildest, rarest and most fragile wildlife habitat. But, purchasing the property is not enough to protect its sensitive water and wildlife habitat. We must protect the Boreas Ponds and their watershed from motorized vehicles to preserve our Adirondack legacy.
Next Steps
Gov. Andrew Cuomo's Adirondack Park Agency is considering a compromise that would protect the Boreas Ponds as "forever wild" Adirondack Wilderness, along with other source waters of the Hudson River in the heart of the Adirondacks. The plan would also provide economic benefits to gateway communities. Click HERE to view map of proposal.
The Park Agency released the compromise plan on Thursday, for consideration at a special meeting scheduled for Feb. 1 and 2. The recommendation must first be approved by the Agency's board and then by the Governor. Click HERE for all APA material on this plan.
If it is approved in its current form, and the buffer to the south of the Boreas Ponds is managed in a way that protects the Ponds, this plan will respect the integrity and legacy of legal protections in the Adirondack Park while benefiting both wilderness and communities.
The state has announced this as part of a compromise proposal for classification of the Boreas Ponds Tract that protects the ponds as part of a 25,000-acre addition to what becomes a 270,000+ acre High Peaks Wilderness (including the former Dix Mt. Wilderness and several other "new" parcels).
The proposal does NOT include a one-mile buffer to the south and will allow for officials say will be "limited" public motorized uses up to within 500' of the Boreas Ponds and the dam. The future management plan (a process that happens after classification) for the corridor and all these lands and waters will be critical.
Environmental groups and towns are expressing support for this compromise.
Click HERE to reaed the Council's press release.
Donate for Wilderness
The Adirondack Council is investing significant time and resources to amplify public support for Wilderness. We are proudly partnering with other groups in the BeWildNY campaign, building coalitions, launching petitions, purchasing advertising, funding research, meeting with officials, working with the media, and more. These investments of staff time and money are critical to a successful outcome.

Please consider joining the campaign for Wilderness at this critical time, so the Adirondack Council can continue our daily monitoring of agencies and effective advocacy for good Park policy, while stretching our efforts now to make history (and Wilderness!) happen.